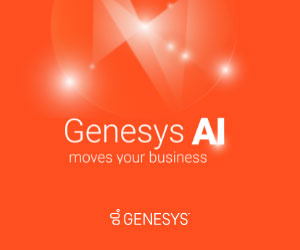 What Is Customer Journey Analysis?
Customer journey analytics is the science of analysing customer behaviour across touchpoints and over time to measure the impact of customer behaviour on business outcomes.
This approach continues to gain momentum as enterprises recognize the value of customer journeys as a means to monitor customer experience performance and identify opportunities for improvement.
Measuring customer experience is still a struggle for many enterprises. For the past three years, organizations have ranked quantifying the return on investment (ROI) of CX initiatives and investments as their greatest challenge.
Data and organizational silos are the primary barriers, particularly for banking, telecom and health insurance companies, who are inundated with overwhelming amounts of data from millions of customers.
Today, more and more organizations rely on journey analytics to overcome these hurdles.
Thanks to Genesys
To analyse your customer journey, you need to know your key customer touchpoints.
In order to do this, it is best to map out your customer journey in an exercise that includes each department in your organization.
Once you have done this, you can determine how you gather data at every touchpoint of the journey – remembering that each touchpoint can influence the customer's decision-making.
Types of Customer Journey Analytics
By analysing the customer journey, we can assess how customers move from one touchpoint to another. But there are multiple ways we can do this.
Let's say we have a specialized customer journey analytics system. We could undertake any of the following five types of analysis:
Comprehensive Analysis
Priority Analysis
Real-Time Analysis
Scaled Analysis
Narrative Analysis
Why Are Organizations Using Customer Journey Analytics?
Organizations are trying to unite each department, using customer journey maps as a diagnostic tool.
For many, the focus has therefore shifted to creating a shared, unified view of the customer and measuring the journey across the whole customer experience.
By observing how customers interact with us, from the first point of their journey until the last, we can spot trends in customer behaviour – allowing us to:
Find areas to improve customer experience
Increase operational efficiency and make it easier for customers to switch between channels
Spot trends that lead to customer churn and try to prevent this
Look for opportunities to increase revenues
Customer journey analytics has a number of benefits, but by using any of the five types of customer journey analysis above, we can answer complex questions like:
What percentage of our customers follow this journey?
Which steps did our MOST satisfied customers take within this journey?
Which steps did our LEAST satisfied customers take within this journey?
Which type of customer is most likely to follow this journey?
What is the best channel to interact with this type of customer?
When is the best time to connect with this type of customer?
Where can we add most value for the customer within this journey?