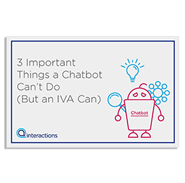 As brands focus on improving the customer experience, incorporating automation into customer interactions is becoming more important.
In this white paper, readers will learn about chatbots and intelligent virtual assistants (IVAs) and what should you consider when selecting a solution.
White Paper written by: Interactions
Click here to download your copy of the white paper.
---