Patrick asked our LinkedIn Community 'Any contact centre leaders here notice their workers have trouble accessing knowledge for work, especially in a hybrid/remote workplace?'
The answers to the poll provided an interesting snapshot of the number of contact centres who face difficulties ensuring staff have access to relevant knowledge resources in a remote or hybrid environment.
| Type of Work and Knowledge Issue | Response % |
| --- | --- |
| Yes and We Are Remote / Hybrid | 45% |
| No and We Are Remote / Hybrid | 35% |
| Yes but Everyone is On-Site | 11% |
| No but Everyone is On-Site | 10% |
With 217 respondents, the results demonstrate that 45% of contact centre leaders have trouble accessing knowledge in a remote or hybrid environment.
However, this does not appear to be the case for all contact centres who operate a remote and hybrid workforce, as 35% of respondents stated this wasn't a problem, a difference of 28.6%.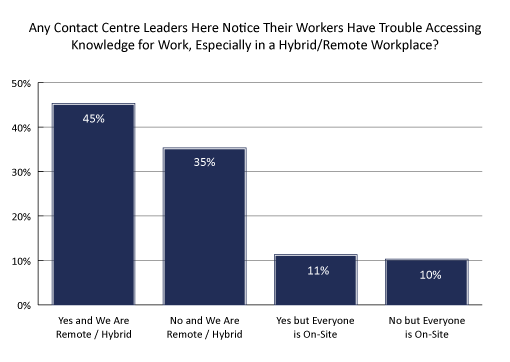 Similarly, the number of contact centres where staff work on site and have trouble accessing knowledge was higher than contact centres who reported no problems with this, 11% and 10% respectively. Although the percentage difference is lower, at 10% it is still significant.
★★★★★
There were also a number of additional responses to the poll that we would like to share with you, which help to shed light on the challenges of ensuring agents have access to the right knowledge to help them in their roles:
It Can Be Solved
YES! But it can be solved with proper training where they all learn where everything is stored!
Thanks to Rachel
Combine Knowledge Bases With Other Technology
My team is entirely remote. I housed our product knowledge in our AI software so the agents could quickly access what they needed. Before we did this, yes, it wasn't easy.
We are a newspaper organization with ten-plus publications, so there is a lot of information an agent needs access to on the fly.
Thanks to Shannon
The Hybrid Remote Process Requires an Update and Change
Contact centres use the methodology of hybrid tools usage due to the vast amount of content and requirements. The knowledge base systems include the standard product services systems to ensure the service is delivered accordingly.
In summary, the hybrid remote process in my opinion requires an update or change to ensure that consultants, leaders, CEOs, execs, etc. all are able to work at an efficient pace and also deliver accurate and fast information to consumers.
In closing, developers are able to change the potential negative perception consumers may have by changing this manner of operation.
Thanks to Ashley
Source: Poll conducted in our LinkedIn Community Sample size – 217 Date: 2022