In this article, we will focus on quality management technology – answering questions such as "How does it work?" and "Which areas of the contact centre can it help to improve?"
What is quality management technology?
In simple terms, quality management technology helps you automatically measure the quality of your agents' performance.
While most contact centres are using some form of quality management and coaching processes, the effectiveness of even the most optimised system is limited by the effectiveness of your primary tools, including recording, quality monitoring, coaching and speech analytics. The simple truth is that your quality management process is only as good as the tools you use to monitor agent interactions and turn findings into effective coaching.
Quality management technology typically consists of a variety of tools used to measure and monitor the delivery of customer services. The approach provides both real-time and historical qualitative measures.
With a good quality management process in place, you should be able to reduce callbacks, identify process improvement opportunities, facilitate employee development, focus employee training efforts and improve the overall performance of your contact centre.
Although most commonly found in contact centre arenas, quality management systems (QMS) can be used across many business areas that need to understand the quality of service delivered, from help desks and desk-based sales teams to individual operators and call attendants. Historically, QMS has been largely synonymous with call recording.
A new generation of quality management technology (QMT) providers have arrived and are offering multichannel solutions. We are also seeing growing use of scorecarding and new more advanced voice technology capabilities such as batch-based and real-time speech analytics, which can be used for training, regulatory compliance, measuring interactive performance and for dispute resolution.
QMT also exists in a number of different guises across very different industries. For example, quality assessment or quality management technology in a car manufacturing company might look at the quality of engine parts, or a crisp manufacturer might look at the quality of the potatoes that are being used.
How does it work?
You need to capture the interactions between the agent and customer, whether voice or text, by recording those interactions in an easily indexed and retrievable form. Selected interactions are reviewed by trained quality experts who evaluate the quality of interactions based on an objective scoring process.
By integrating quality monitoring with recording and survey capabilities, you can identify the most appropriate interactions, evaluate agent performance and capture real-time customer feedback to provide insight on both business issues and contact quality.
Incorporating analytics tools and the voice of the customer through customer surveys helps to identify poor performers, best practices and recurring problems.
Below is a framework that could be used for a call centre quality monitoring process. The QMT should fit seamlessly into this process.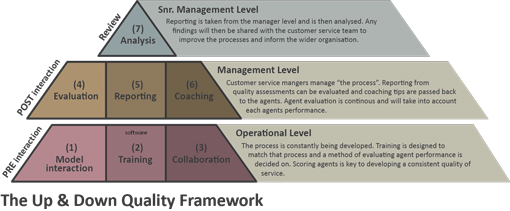 Pre Interaction
The Model interaction: First you need to establish what a best-in-class call looks like. A scorecard should then be built to allow the quality manager to capture the level of the performance by the agent.
Training: A period of training then needs to take place where the new starter sits beside an experienced agent so as to understand what a good call looks like. The agent will become more familiar with scripts or post-call processes and will soon be ready for basic tasks.
Collaboration: After the initial training, when your new agent is starting to answer calls and is building confidence, ongoing tips and tricks are shared from peers as well as supervisors. A more experienced agent might overhear the new agent and give them some feedback, a supervisor might add some training on an area that wasn't covered in the initial basic training.
Post interaction
Evaluation: This is where the quality management software should start to really add value. After the call has been taken, it will need to be listened to and assessed by the Quality Manager. That assessment will need to be captured and kept indefinitely so as to be able to compare performances over time.
Reporting: Your quality management software needs to be able to produce a report from the evaluation stage that highlights a good and/or bad performance and is easy to understand. These reports need to be easy to share with the agent and the management (up & down).
Coaching: The software will highlight the elements of each call that are underperforming as well as those that are performing well. This will enable the Quality Manager to pinpoint the areas that need training and then to go and create a training programme that will address these areas.
Review
Analysis: Trends in interaction handling are reviewed and analysed by senior management. The outcomes from this analysis can be tactical, for example "Our agents don't really know how to use our systems. We need to do some more assertiveness training with the team". The outcomes from this analysis may also be strategic, for example "Calls are taking too long to process; we need to look at a new system". In an ideal scenario, quality management solutions should be integrated with contact centre offerings so you can have administration and reporting all from a single source rather than having to use multiple systems.The best quality management technology today is focused around speech analytics, whether in batch mode or real time. The latter allows live analytics to take place, delivering instant feedback to supervisor and agent while they are on the phone.

Scorecards are generated and stored as part of an agent evaluation report. Even if you are using a batch-mode approach, reports can be available the next day and they can be used for dispute management and also for training, enabling agents to enhance customer service and drive up sales and retention levels.
Key features of a quality monitoring system
Screen recordings & live monitoring – As well as capturing the call, the desktop activity can also be recorded, enabling supervisors to easily identify broken processes and improve the customer experience. Supervisors can also monitor in real time to coach and fix issues immediately.
Call flagging – The ability to tag calls with flags live in real time from the contact centre so agents are able to put in their own flags that can be searched upon within the product and further action then taken if required.
Archiving and controllable retention – This allows users to set the length of time they want to store their calls for.
Identifying trends – In the case of quality management software, it needs to be giving you a view of what is happening during the calls. Are the terms and conditions being read out? Are the agents being friendly and asking if there is anything else that they can do for your customers? Are calls on a Monday morning the same quality as the calls on a Friday afternoon?The software could pinpoint peaks and troughs in these areas.
Automated alerts for incidents (both good & bad) – Call centres are busy places. There is often a lot going on with different desks, different agents, unusual requests from customers, technical issues… things can get missed. And some of these 'misses' can be very damaging to your brand, your finances or otherwise.The software can alert supervisors/managers to the most critical issues that are popping up during a shift so that immediate action can be taken.
The ability to attach a call to a result – Results from scorecards are a very useful training tool for both agent and supervisor. Feedback from the supervisor about elements of a call can be shared with the agent and the agent can then apply that feedback to future calls. This process can be even more useful if the agent can hear the recording of the actual call. Reviews are more meaningful because the supervisor/manager can now sit down with the agent and listen to a recording of the call in question.
Reporting – You must be able to report on the performance of the individual, team or department over time. Understanding how last month went is important, but there is far more value in understanding what is happening over time (trends). Dashboards are really valuable because they show the data in a visual way. Before quality management software, call centres were using spreadsheets which produced tables of data that didn't mean anything. Your reporting needs to be able to tell a story.
Call encryption – This can be used across a range of environments where information is sensitive and needs careful management.
Creation and modification of scorecards – Scorecards should be living and breathing things that enable the Quality Manager to assess and manage these interactions. As a result, scorecards will need to change periodically. Your system will need to be able to create and edit large numbers of scorecards without starting a long drawn-out process with your IT department or your Finance department.
Interaction analytics also offers the following features for an enhanced quality management process:
Multichannel analytics to provide complete visibility of quality performance – ensures that the quality scoring is performed on all customer interactions and associated metadata from any source (phone calls, chats, emails and social media) and across multiple contact centre sites and locations. This enables complete visibility of the quality of your call centre performance.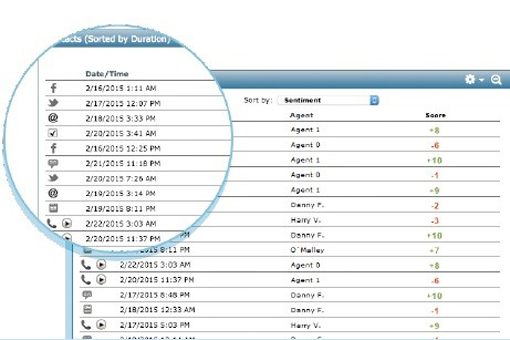 Topic discovery to identify quality issues – Interaction analytics automatically identifies trending words and phrases in customer conversations. These can be used to identify the right parameters for quality scoring and also to identify possible quality management issues before they become a major problem.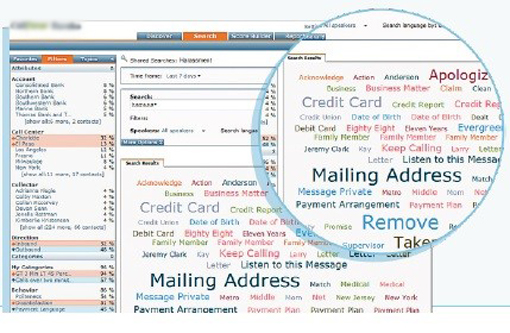 Categorisation and scoring – By automatically tagging contacts that contain certain language or characteristics, supervisors or managers can quickly search for and locate specific sets of interactions. Scores applied to specific tags help with quality monitoring and to measure performance trends over time and across different agent groups or categories.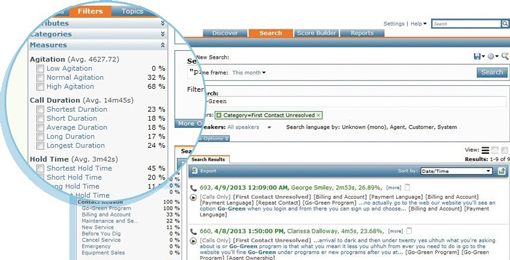 Automated performance feedback to drive a quality culture – This works by automating the agent performance management process by providing direct performance feedback to contact centre managers, supervisors and agents. Feedback can be delivered as continuous plain language alerts and notifications. Each agent is provided with a personal scorecard which measures their performance against agreed quality parameters on a daily basis. By aggregating all the data into a single view, it is possible for supervisors and managers to evaluate and compare performance against key quality metrics.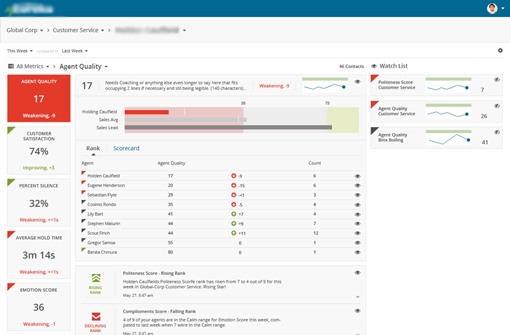 Which areas of the contact centre can it help to improve?
Quality management technology can be used for a wide range of applications across the contact centre. We are seeing it used widely by companies for dispute management, although its primary purpose is to enhance customer service, pinpointing what is good in that respect and addressing what is bad.
Having the right QMT in place can help ensure that you:
Identify process shortcomings: QMT will facilitate good quality conversations with your agents where the real issues around performance can be identified.
Example. An agent in an insurance company might be at the closing stage of a call. The potential customer might be looking for a small reduction. Your agent might need to put the customer on hold and speak to their supervisor. This is slowing down the call, risking a loss of sale and preventing the agent from moving on to the next call.
Giving the agent the autonomy to offer a 5% discount (for example) will enable the agent to close the sale quicker, which will keep your customer happy, give your agent a sense of empowerment, and allow your agent to move on to the next customer without delay.
Identify platform/system difficulties: Back-end systems are too slow to administer account changes on the call.
Example. An agent might answer a call quickly, develop a rapport with the customer and work their way through the call. There might be a task during the call that requires the agent to use a platform that is particularly slow. This will ruin the quality of the call and frustrate the customer.
QMT can facilitate good quality conversations with your agents where issues like these will be highlighted.
Much improved training programmes: Generic training programmes that cover the entire spectrum of skills needed by an agent will never be as valuable to a call centre as a custom-built, bespoke training programme that was developed to address specific issues that are happening in the call centre.
Quality management software can help identify these areas and enable your training department to really address those issues. Agents will take away actionable learnings that can be put into use on their next call.
Consistently improved staff performance: As a follow-on from your improved training programmes, staff performance will be kept consistently high.
Being able to identify issues in near real time will enable your supervisors to have a real control over the quality in the department. Again, a view of trends will give the supervisor/quality manager a view of which areas need attention. That quality manager can now identify those problem areas and then address those issues with either more training or a one-to-one conversation with the agent.
By deploying interaction analytics for the purpose of quality management, the following areas of the contact centre can be improved:
Service quality and first contact resolution
Interaction analytics can automatically highlight the frequency of bottlenecks, unnecessary transfers and repeat calls. By understanding which customer types, employee workgroups, IVR exit nodes, websites, company policies, work procedures, etc. are creating unnecessary call volumes, the call centre manager can focus on appropriate improvement opportunities. With these customer insights, companies can categorise interactions and search for trends in customer behaviour (e.g. uncovering the root cause of customer complaints) and eliminate the need for repeat calls, ultimately raising the quality of service provided to customers.
Measuring the right behaviours in the quality process is critical to leveraging the data in other departments and some of the basic soft skills are very commonly measured during that process. By using interaction analytics to compare some of the soft-skills scores to customer satisfaction scores, you can identify the most impactful soft skills for customer satisfaction. For example, you may find that agents with good active listening skills show a positive correlation to customer satisfaction. You can utilise this information to recruit individuals that will be successful and drive positive results in your call centre.
The same correlation method can be applied to identify skills that drive success in sales. For example, using interaction analytics you can identify different ways of making a sale and select the one with the best outcome to create an optimum path. Agents testing this path can be scored against adherence to the desired script or their ability to identify language which indicates a willingness to buy.
Interaction analytics can help by analysing and scoring every single agent contact, either during or after the call, as opposed to traditional, random compliance checks. The result is lower cost and effort in call centre quality monitoring when it comes to compliance adherence, faster response times, identifying auditing needs and ultimately reduction/elimination of possible fines or lawsuits for non-compliance.
Coaching and culture or self-improvement
Contact analytics tools help you identify individual coaching and training needs as well as provide agents with actionable information they can use to improve their own performance and quality scores. The agents' ability to monitor their scores and listen to problem areas reinforces their training and helps them maintain high scores, creating a culture of self-improvement and possibly preventing agents from leaving.
What to watch out for with quality management technology
There are often organisational barriers standing in the way of implementing a successful quality management process. Even experienced quality analysts have difficulty designing truly objective quality evaluation criteria, and the process is manual at its heart, so there are sometimes inconsistent results. That creates an opening for doubters to challenge its credibility so that contact centre organisations don't always fully "buy in" to the process.
Also, without more extensive investigation, it's often difficult to know whether an apparent quality problem is an individual agent issue, a team issue, a scoring issue, an evaluator issue, or no issue at all. Senior management therefore needs to be fully on-board with quality management schemes to ensure that they are not underfunded and that coaches/supervisors can access the training they need.
One potential pitfall to be aware of is poor integration. Problems can sometimes arise if your local network is unable to handle traffic pushed across the wide area network (WAN). You also need to ensure that your hardware is capable not only of running the software itself but also of storing all the information required to ensure the quality management system is a success.
Other areas that you should be cognisant of are:
Tech does not do sarcasm well: Voice recognition software is great for listing to every call and feeding back the call to the quality manager. One word of warning here is that this software does not get sarcasm or tone. A "thank you very much" sign-off can be disingenuous as well as very nice. Chat, email and social media are other areas where an agent's tone can be misinterpreted.
Scorecards must be editable: Some of the larger enterprise software platforms that provide an all-in-one solution offer the ability to create scorecards. Creating new scorecards and editing existing scorecards has been a painful experience for some users. Whatever software you choose, make sure that you can create and edit scorecards relatively easily. Your product/service and how you support that will definitely change in some form every 12 months.
Must not be channel specific: We don't need to tell you that the customer is changing and how they are connecting with call centres is changing. Calls are still the leading channel but that is changing quickly. To futureproof your organisation, your quality management software needs to be able to monitor a number of channels (chat, email, social media).
Consistent scoring across supervisors/territories (culture): Most of us are human. And as humans we are unique. Some are more 'unique' than others. The scoring of calls is a vital element of quality monitoring, so being able to create a consistent view is key. Your software should have the ability to calibrate each score so that the discrepancy in perception of the quality of a call is minimised.
IT department involvement: Whatever software you choose, where possible, try not to have the IT department very closely involved on a day-to-day basis. Call requirements change, products change, how we handle a call changes… if you need to involve the IT department for every change or edit, your ability to evolve will be slowed down considerably.
Contracts: Watch out for lengthy contracts. The larger software suites can be incredibly expensive so there will be a commitment that may reach beyond your patience.
How much should I budget?
It depends.
Are you using a dedicated quality department or are you using your supervisors to manage the quality in your call centre?
You need to have a clear understanding of the numbers of users you are looking to add to the suite, whether you are just doing call recording or full analytics. Are you looking to implement multiple recorders or a single source?
If you are using your supervisors to manage the quality function, there will not be any extra cost on staff.
If you need to hire a quality manager, in our experience one for every 50 agents is sufficient. Quality managers tend to be business-analyst types with higher salaries. That would be a cost that some might not consider.
In terms of software, you can expect to pay anywhere between £50,000 and £150,000 for an on-site solution, and for a cloud-based solution from £70 to £100 per agent per year up to £500 per agent per year.
Thanks to the contributors who helped supply the information for this article (photographs left to right):
Sarah Quennell at Aspect Software
Craig Baker at Enghouse Interactive
Maureen Szlemp at CallMiner
Dick Bourke at Scorebuddy