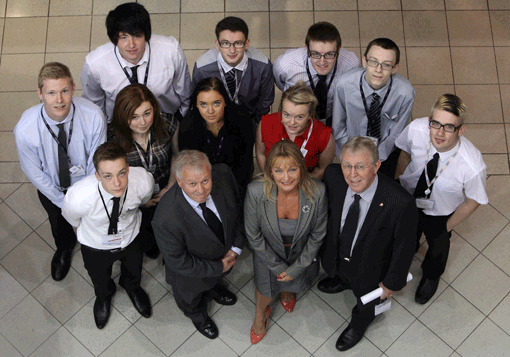 Sunderland contact centre recruits new batch of apprentices.
Richard Banks, Chief Executive of UKAR, joined Councillor Harry Trueman and Bette Huitson (HR) to greet the latest recruits.
"The apprentices bring enthusiasm, energy and a willingness to learn," said Richard Banks, Chief Executive.
The company recruits approximately 20 apprentices every year in a company-wide scheme, and each apprentice is taken through a one-year structured training programme. Those who successfully complete the course gain an NVQ qualification.
"We value the fresh ideas that these apprentices bring to our organisation," said Bette Huitson, HR team co-ordinator. "This scheme is of great benefit to UKAR."
The success of the scheme is undeniable, with 32 out of 40 apprentices hired in the last 2 years now working permanently at the company.
"We work closely with Sunderland's contact centre sector to ensure as many local people as possible can take advantage of jobs in the industry," said Councillor Harry Trueman, Deputy Leader of Sunderland City Council. "This is good news for the apprentices, the company and the city."
Published On: 11th Sep 2013 - Last modified: 22nd Mar 2017
Read more about - Archived Content
---
---