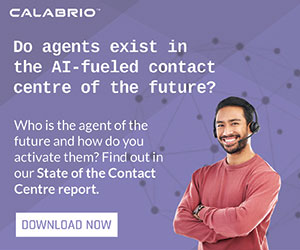 Tom Goodmanson discusses how the eighth time is the charm as Calabrio is again named a Top Workplace in Minnesota by the Star Tribune.
If the past 18 months has taught us anything, it is that almost everything can change in a matter of days, let alone 365. So, I am ecstatic to say that something that has not changed is Calabrio's dedication to creating an employee-centric workplace.
And I'm very proud that the Star Tribune has named Calabrio a Top Workplace for the eighth year in a row. The award recognizes the most progressive companies in Minnesota based on employee opinions measuring engagement, organizational health and satisfaction. 
Every year that Calabrio is included on this list I am immensely proud, but I must say that this year's recognition is extra special. 
The events we all weathered over the past year and a half revealed many challenges to overcome – and that is exactly what Calabrio did, not just meeting the challenges but embracing the opportunities that they presented. 
Indeed, the pandemic posed innumerable challenges to the world at large, yet Calabrio's software and business model had us positioned to support the new world of work for our customers.
This has led to record business success and rapid growth, which in turn presented the challenge for Calabrio to remain employee-centric throughout this company growth, and while operating entirely remotely.   
The Star Tribune award exemplifies that the decisions we made as a company were in the best interests of our employees.
Collectively, we persevered through the obstacles thrown at us, successfully evolved how we work, maintained our commitment to our culture and ultimately continued to grow as a company.  
Our efforts and growth reached a benchmark just this past spring when Calabrio became the fifth Minnesota-based tech unicorn when Thoma Bravo acquired us from KKR. 
The acquisition is a testament to Calabrio's growth and strength as a global team not only over the past year, but over the past several years. 
When I look back on our greatest milestones over the last 365 days, I am constantly reminded that the greatest reason for our success is our employees. One thing I am particularly happy to look back on from the past year is that we were able to avoid any pay cuts, layoffs or hiring freezes.
In fact, we added 130 new employees to our team in 2020, running quarterly virtual new hire training weeks to help our new team members truly integrate into the Calabrio community. 
I often say that our company is only as good as the last employee that we've hired, and we continue to invest in our employees after their onboarding. Over the past year, we have initiated programs to keep our workers engaged in their workplace, even as they worked remotely.
Weekly emails from me, daily "stand-ups" of small teams, virtual happy hours, and "Fika" groups (a coffee break concept from our Swedish office), were all focused on keeping our employees connected and engaged. 
We also supported our employee's wellness, offering virtual yoga sessions and a Calm app subscription for all employees.  
We've equally tried to keep the team rooted to a sense of individual and corporate direction with our annual kick off, transparency about the 2021 vision and a unified, cross-team plan book.
This comes alongside virtual "off-sites" for different functions so that they can really link what they do with where the company is headed.
One of these sessions included a detailed strategy and development opportunity for all of those in our product and engineering team to take time to connect with the company vision, strategize in small groups, workshop, and learn more about cross-functional practices.  
Looking ahead to the remainder of 2021 and beyond, we are reviewing all the initiatives that we have implemented to maintain our employee-centric culture and deciding how we can continue along that path.
For example, I'm excited to welcome our employees back to the office, but we know that the world is not the same as it was before the pandemic.
To be truly employee centric we are committed to workplace flexibility, and we'll be rolling out coordinated flexibility plans for employees to have more control over their workday and workplace environment. 
It is an honour to be recognized by the Star Tribune as a Top Workplace, but I believe that the more accurate award is that Calabrio has a top workforce. 
This blog post has been re-published by kind permission of Calabrio – View the
Original Article
For more information about Calabrio - visit the
Calabrio Website