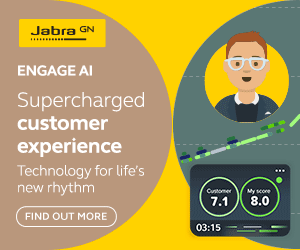 We share examples of IVR messages that will engage customers as they wait on hold.
1. A Callback Opportunity
Example: "Our average wait time is currently 20 minutes. If you would like to wait, that's great. If not, press 1, and we'll call you back once you reach the front of the queue."
As soon as the customer enters the call queue, offer them a callback. Doing so enables them to get on with their busy lives while keeping their place in line. Once the customer reaches the front of the queue, an advisor may proactively contact them.
To bolster the callback offer, add a wait time estimate. Well-informed, the customer may then decide whether they would like to wait in the queue or not.
Opting for a callback could limit customer irritation. However, be mindful that it will not lower queue times. Instead, it may add time if the contact centre experiences sustained high contact volumes.
Why? Because having advisors contact customers adds another step to the call-handling process. Nevertheless, it will still bolster CX for many and will work well when demand is spikey.
2. A Signposting Message
Example: "If you have an order number that relates to your issue, please have that ready."
Using an IVR message that encourages customers to have a relevant policy, contract, or serial number at the ready helps to:
Streamline the upcoming call
Reduce handling times
Engage customers as they wait on hold
Otherwise known as "signposting", this technique tells customers what information they need before the conversation begins. It also encourages customers to participate in the success of their call resolution.
This is according to Allison Smith, CEO at The IVR Voice, who recommends: "Tailor[ing] the message to the call reason, as detected by the IVR."
Extend this idea of adapting messages for various call queues across the system. Such customization improves customer experience and removes IVR frustration.
As an example of how it may remove frustration, consider a situation where a caller enters a technical support queue because their internet is down. A message that informs this customer that they can report the fault online may provoke an inflammatory reaction. It may be best, therefore, to remove this message from that particular queue.
Signposting is a helpful technique for IVR technicians and contact centre advisors alike. Discover more by reading our article: Signposting – Reduce Your Average Handling Time (AHT) by 15 Seconds
3. A Pre-Emptive Message
Example: "Don't go cold this winter. Test your boiler now to make sure that you have a warm and cosy festive period."
Struggling with spikes in contact volumes during particular periods of the year? Steal the march on these contacts during quieter periods with pre-emptive IVR messages.
A utilities company that fields many boiler breakdown queries in the winter recorded a pre-emptive message like the one above for its IVR. By playing it during August and September, it encouraged customers to test their boilers during less busy times.
Such a message keeps customers busy as they troubleshoot a future issue. If there is indeed a problem, customers can relay it to the advisor alongside their original query. The contact centre may then kill two birds with one stone, solving both issues and reducing future demand.
Keen to discover more ideas for reducing spikes in call volumes? Learn from the Domestic & General team by reading their article: Seasonal WFM – How to Prepare for Peaks and Troughs in Contact Volumes
4. A Call to Action
Example: "We are now offering a discount on [ENTER PRODUCT), which is great for X. To find out more, speak to our service rep."
Sales messages in the IVR are a little dicey. They often imply that the company is "great at this" and "fantastic at that". Yet that is not what customers want to hear, especially if they are disappointed with their experience.
As Steve Hindley, a customer experience consultant at iNarrator, says: "A good IVR message will either entertain or inform the customer." The example above does the latter. It notifies the customer of a special discount and includes a call to action that motivates them to learn more.
Such a strategy may also improve business results. Just be careful not to force promotional messages down the customer's throat, particularly in queues that are prone to complaining customers.
Again, this highlights the value of customizing call queues, so the experience aligns with the call reasoning. Doing so lowers abandon rates and customer frustration.
5. A Relevant FAQ
Example: "Noticed that your prices have increased after making a claim? That is because we take your claims history into account when calculating your renewal price."
Customers frequently ask insurance companies: has my price increased because I've made a claim? Such a question has a simple answer. Include this in a message within the corresponding call queue and the contact centre may resolve the query without advisor intervention.
Of course, many insurers will add it to their website FAQs. Nevertheless, some customers will jump straight to the phone or skip past the answer mistakenly. It then becomes a nice safety net.
Also, when an unplanned event increases contact volumes, call queue announcements may help to stem rising demand.
For example, a blackout will cause increased calls to energy companies. Customers ask: why is my power out? An IVR message that informs customers of the blackout provides a quick and easy answer.
6. A Deflection Message (Be Careful!)
Example: "You can now track your delivery online. Visit: www.website.com/delivery with the order number that sits at the top of your confirmation email."
Deflection messages to online solutions are tricky. Take the scenario above. Many customers will dislike hearing a deflection message in such a situation. After all, most delivery interactions stem from failure demand, as customers fail to track their delivery online.
Naturally, some will not know that this is possible and will happily visit the website instead. However, in this day and age, most people check the website for a digital solution first. So, a deflection message may prove irritating.
However, our example is better than most. It tells the customer where to find the necessary information for a successful self-service experience. Many customers will then try again, with a better chance of success.
7. An Acknowledgement Statement
Example: "If you are calling us, we understand that you are not having a great day. Our advisors are getting ready to offer you their helping hand."
In certain industries, nobody calls in unless they face a problem. Take a car repair service as an example. Callers will likely enter the queue in an emotionally escalated state.
Showing acknowledgement to the customer conveys that the company understands the customer's apprehensions. It helps to justify their emotions and demonstrates that everyone is on the same side.
In queues where customers are susceptible to erratic, negative feelings, an on-hold message that shows acknowledgement will remind the customer that they are not alone. Coaching empathy to advisors will calm the customer further and validate the message.
Build acknowledgement further into the DNA of your contact centre by coaching the use of our: The Top 12 Acknowledgement Statements for Customer Service
8. A Multichannel Update
Example: "We've recently opened up a live chat service so you can interact directly with one of our reps online. Visit: www.website.com/chat to try out our new service for yourself."
Informing customers of a new alternative service may bolster the contact centre's channel-shift strategy. After all, many modern customers often opt for digital-first service.
However, it is possible to improve upon the message above. With an omnichannel solution, smartphone users may transfer through to live chat at the touch of their keypad. Doing this lowers customer effort.
Just remember to remove this message from the IVR after a month or two – especially if it includes the word "recently" – as it is no longer an update but "old hat".
Also, be aware that customers may open up a second device to contact through chat simultaneously, as they search for the quickest answer.
9. A Feedback Request
Example: "Would you be happy to answer one simple question and share your feedback with us at the end of the call? If so, press 1 now."
Contact centres regularly collect post-call feedback. An on-hold message that asks customers if they are willing to share post-interaction feedback keeps the customer involved as they wait.
Also, such a message can reduce handle time, as advisors are no longer required to ask customers to share their feedback.
The feedback will paint a much more accurate picture of contact centre performance.
Instead, the rep may track their response and pass the customer back through to the IVR once the call reaches its conclusion. There, they can covertly score the call.
By following this process, contact centres ensure that advisors are not only offering surveys to customers with whom they have had a pleasant conversation. The feedback will paint a much more accurate picture of contact centre performance.
10. A Fun Fact
Example: "Did you know that our Botox injections also help to reduce excess sweating? Ask our service rep to find out more."
Fun facts relating to a business and its products/services may intrigue the customer and add value to their on-hold experience.
Good examples include educational uses of company goods. The Botox message is similar to that used by a US health clinic, which successfully drew more attention to alternative applications of the product. In doing so, they also boosted business results.
However, the message comes with a quick warning: do not overuse the term "Did you know?"
Yes, the personal pronoun and use of questioning will attract attention. It is just a little clichéd, which can begin to grate on customers in a long queue.
So, while it is safe to use it once or twice, submerge it within an array of other messages. Repetition – particularly in long call queues – is the enemy.
11. A Company Voice Note
Example: "We've been in business since 1982. Ever since…"
Many companies choose to greet customers with a long IVR message, which includes a company introduction. Unfortunately, most callers prefer to get through the IVR options as quickly as possible.
To find a happy medium, Allison Smith recommends that contact centres "Consider breaking up the introduction into chunks, repackaging information as on-hold messages."
Overall, this shortens IVR navigation time. The experience also becomes easier to digest, which is important because "A caller's attention span is shorter than you would think," says Allison.
How Often Should I Play On-Hold Messages?
Over time, it seems to have become standard practice for contact centres to play an on-hold message every 30 seconds. Yet perhaps that is not the best option for every contact centre.
The sad truth is that 30 seconds is the default setting in most IVR systems and many leaders never question it. In Steve Hindley's experience, this is often the case. Instead, he recommends assessing abandon rates to find the most impactful moments for on-hold messages.
Also, Steve suggests that contact centres "Examine the average hold time and make sure there are enough messages to cover that period."
If the average hold time is only 20 seconds, perhaps a transfer message from the IVR to the call queue – as well as some hold music – is all that is required.
If the average hold time is only 20 seconds, perhaps a transfer message from the IVR to the call queue – as well as some hold music – is all that is required. Such a message will notify the customer that they are connecting through to a customer service rep.
From 20 seconds to five minutes, playing on-hold messages every 30 seconds may work well. Any longer, however, and it is time to consider increasing the musical interludes in between – particularly if the system repeats the same three or four messages. At that point, it is undoubtedly information overload.
5 Messages to Avoid
Here are five IVR messages to ban from the contact centre, alongside better examples to perhaps replace them.
1. "Answers to many of your questions can be found on our website."
Instead, say: "Have you already checked our website FAQs? If so, we're sorry that you couldn't find the answer that you were looking for. We will continue to expand them and provide a better experience in the future."
We are now in the 2020s. Most customers will check the company website to resolve queries themselves. Unless there is a recent update to inform the customer about, such a message may irritate the customer.
It's also likely that the customer has already visited your website to find the telephone number to call you.
2. "Your call is important to us…"
Instead, say: "It is taking longer than we'd like to answer your call. To thank you for being so patient, we are offering you 5% off your next renewal. Mention the code LDN14 when talking to our rep, and they'll make it happen. That is L.D.N.1.4."
If you would like customers to feel valued, offer them something. Empty statements like the above and other clichés such as: "Your satisfaction is our top priority", are difficult to believe as customers wait in long queues. They seem like lies.
To make this sentiment seem authentic, either cut down wait times or offer a goodwill gesture. The latter may prove particularly powerful for customer retention. After all, poor service experiences damage customer loyalty.
The alternative example may do just the trick. When recording it, however, read the code slowly and clearly. Better yet, simplify the processes by sending a proactive SMS that contains the code.
3. "We're sorry for any inconvenience…"
Instead, say: "We're sorry for the long wait time…"
Always give a reason for an apology. That is what makes it authentic. Saying sorry for an "inconvenience" is disingenuous, while the word "any" only makes it worse. It casts doubt whether or not the "inconvenience" occurred, which it clearly has.
Yet, even with a warm, authentic apology, avoid playing it on a loop. After a while, it will wear thin and constantly refocus the customer on a negative.
Interested in banishing poor apologies from your contact centre? Learn how to by reading our article: "Sorry for the Inconvenience" – How to Offer a Genuine Apology
4. "We're experiencing higher than usual call volumes…"
Instead, say: "It's taking longer than we'd like to answer your call…"
It seems that whenever a call queue lasts longer than a few minutes, a message plays to tell customers that contact volumes are "higher than usual". Yet, if long queues are the norm, such a message comes across as insincere. Companies that follow this practice appear deceptive.
If a contact centre wishes to acknowledge the wait time, it is much more honest and personable to assure the customer that this is not the service that the company desires to deliver.
5. "Please hold. We'll be with you momentarily…"
Instead, say: "We currently estimate that you will be speaking with a service rep in X minutes."
Think about the word "momentarily". A moment is a brief period of time. Generally, customers wait much longer to talk to an agent. Such a contradiction seems like a deception.
Go back to the reason for playing this message. It is likely to reassure the customer that help is on its way. However, if the advisor does not pick up within a few seconds, it aggravates them instead. Providing an update of how long the customer has left in the queue is more reassuring.
There are more classic contact centre phrases that your customers despise. The following article, however, will help you turn their frowns upside down: Positive Scripting for Customer Service
Track the Impact of Each Message
IVR messages have two goals: keeping customers engaged and deflecting customer contacts. Abandon rates will measure the success of both aims.
Messages written to engage should have low abandon rates. Messages designed to deflect should have high abandon rates.
With this in mind, consider the impact of each message on abandon rates. A/B tests can work well. Learn from them, evolve the IVR flow and continuously update the system.
3 Quick-Fire Tips for Writing Great IVR Messages
Here is some speedy, practical advice for writing winning on-hold messages.
Split up long messages – 30-second messages that contain three different ideas are tricky to digest. Separating these points into individual recordings played over a few minutes is much more palatable.
Use "everyday language" – Use simple language that everybody understands, not industry jargon. Remember, frustrated customers are less likely to listen clearly and take on board new ideas.
Order by importance – Which on-hold messages drive the most value to the customer, advisor and business? Across each call queue, consider this carefully and begin with the most critical. More customers will then hear these.
Uncover more quick-fire ideas for enhancing IVR messaging by delving into our article: How to Write the Best IVR Messages – With Examples
A Final Point
In an ideal world, nobody will enter the call queue. Instead, every customer talks to an advisor within ten seconds of being connected.
Unfortunately, with staff shortages and high contact volumes, this is more difficult to achieve. Better managing the call queue is thus becoming an urgent priority. It may make all the difference between a content and an upset customer.
So, no more sticking to default settings and on-hold announcements that have not changed since the 2000s. It is time to review and improve the contact centre's IVR messaging.
In doing so, operations may well reduce abandons, increase retention and ease the angry customer burden on the contact centre team.
Eager to learn more ways of improving your contact centre IVR? Then check out the following expert articles: