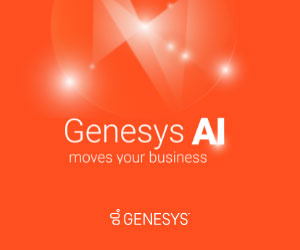 It's a more efficient but somewhat impersonal world when it comes to customer service, according to a new survey sponsored by Genesys.
Genesys gauged the sentiments of 5,000 adults in six countries: Australia, Germany, Japan, New Zealand, the United Kingdom (UK) and the United States (US).
While a majority (71%) believe that customer service has become more personalized in the last five years through the use of technology, nearly half (48%) still note a distinct lack of compassion in their treatment.
While many say customer service experiences have become more personalized, others say they haven't reached their full potential – showing an opportunity for companies to truly stand out.
Just 21% say their customer service experiences have become "much more" personalized. Exactly half of those surveyed (50%) say their experiences are only "somewhat more" personalized, leaving a lot of room for improvement.
Despite the perceived increase in personalization when contacting a company to resolve a support issue, just over half (52%) of survey respondents feel they're shown empathy when they need help.
What's worse, participants sense this lack of commiseration from companies with which they regularly do business.
"Businesses that recognize the inextricable link between empathy and truly personalized experiences hold the key to establishing customer trust and long-term loyalty – especially as we navigate the longer-term impacts of COVID-19," said Mark Turner, executive vice president of global sales and field operations at Genesys.
"With Experience as a ServiceSM, we're helping organizations leverage cloud and artificial intelligence technologies to individualize the service they deliver while showing customers they're truly heard and understood."
Knowing Customers Is Key
Younger consumers especially recognize the benefits of personalization. They know what they want, how they want it and when, and are more willing to share personal details to get it.
A full three-quarters of Millennials (76%) and Gen Zers (76%) in the survey say customer service experiences have become more personalized in the last five years, compared to 69% of Gen Xers and 66% of Boomers.
Consumers of varying ages expect different levels of empathy, with older generations wanting more understanding from organizations.
While most Gen Zers (63%) believe businesses work to resolve issues with empathy, only half of Gen Xers (50%) and even fewer Boomers (47%) feel the same.
Perhaps because they're more accustomed to exercising patience, parents seem a bit more likely to hear empathy from customer service representatives.
More than three in five parents (61%) say companies show empathy when resolving an issue, significantly more than their child-free peers (48%).
Location, Location, Location
The Genesys survey data also shows that the degree to which consumers recognize personalized service varies depending where they live.
While consumers in Germany (77%) and the UK (75%) are the most likely to say that customer service has become more personalized in the past five years, a full third of those in Japan (34%) and New Zealand (33%) think service has become less personalized.
US respondents were the most likely to say they experience empathy from their service providers (58%). It's the reverse in Germany (47%) and Japan (40%), where less than half said the businesses they deal with feel their pain.
Rather surprisingly, city dwellers (58%) are considerably more satisfied with the level of empathy they receive than participants in the suburbs and rural areas (both at 49%). Perhaps the pace of city life leaves less time for pleasantries, so the empathy bar is lower?
UK-Specific Results
The survey also included some additional insights that are specific to British customers.
Personalization Insights 
75% of UK respondents believe customer service has become more personalized in the last five years.
22% see a "much more" personalized experience, versus the 54% who notice "somewhat more" personalization.
72% of rural UK participants notice increased personalization through technology compared to 74% in suburban and 79% in urban areas.
Empathy Insights 
Older people expect more understanding from the companies with whom they do business.
When it comes to gauging empathy, Gen Xers (58%) and Millennials (59%) are similar in their outlook.
Younger Gen Zers (70%) believe they receive a lot of empathy.
Boomers at 47% drag down the UK average.
Almost two-thirds of UK survey participants who have children (64%) see companies as empathetic.
52% of non-parents see companies as empathetic.