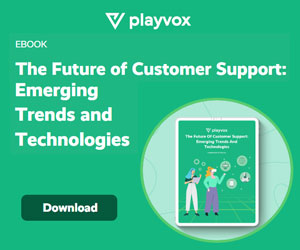 Charlie Mitchell presents a contact centre action plan for empathizing with customers.
First, Understand Customer Empathy
Defined as the ability to understand and share emotions, empathy allows advisors to build connections with customers. They can then use that understanding to improve conversations.
Empathy is, therefore, a soft skill. As such, it needs coaching that goes beyond a simple e-learning model and a set of empathy statements.
Such coaching involves reviewing both good and bad calls with advisors, getting to grips with the role of empathy in those contacts. Ideally, there will also be a safe training space to role-play customer scenarios and practise empathy in context.
Why is this important? Well, according to customer experience practitioner Erica Mancuso: "Empathy is not a box to check. It's not a skill that you either have or you don't. It's something that you can continue to develop and get better at."
Coaches should also be trained to identify advisors who are struggling with empathy and react effectively. Quality Assurance (QA) can play a vital role here.
Yet, at a simpler level, leaders should recognize the importance of empathy within the success of a call too. In fact, everyone – across the contact centre – should, starting with recruitment.
Hire for Empathy Skills
Yes, empathy can be coached. But it will come much more naturally to some than others, and "mission-ready" recruits can be targeted through the hiring process.
For starters, recruiters can turn to professions such as social care, where empathy is also a required skill. These potential employees will have had many years' experience in flexing their "empathy muscle".
Active listening is the cornerstone of empathy.
In terms of the actual interview process, first consider whether the advisor is actually listening to your questions instead of taking tangents. Active listening is, after all, the cornerstone of empathy.
Other observations, such as how the candidate treats the receptionist, can help to screen for empathy too. Some contact centres have even manufactured scenarios to test empathy-friendly traits. One of these is purposely leaving litter on the floor to see whether or not the candidate puts it in the bin.
However, a more forthright approach is to simply ask: what is empathy to you? This question was recently put forward during a LinkedIn live session.
Customer Service Trainer Jeffrey Victor also recommends following the question up by saying: "Tell me an example of how you've demonstrated it." From his experience: "You'll learn pretty quick who talks the talk, or who walks the walk."
Want to scan future advisors for more great qualities? Find a whole host of other interesting customer service interview questions in our article: Top 50 Customer Service Interview Questions – with Answers
Remove Empathy Blockers
Advisors who have the potential to demonstrate high empathy levels are now being brought into the contact centre. But, before empathy training begins, quickly sense-check the culture, ensuring that no empathy blockers are in place.
The classic example relates to Average Handling Time (AHT). If a contact centre were to make this metric the number-one measure of advisor performance, empathetic behaviour will likely be at a premium.
On the metric theme, if "legal risk" is central to quality criteria – particularly across written channels – then empathy is less likely to be expressed and prioritized.
Also, as Leslie O'Flahavan, Founder of E-Write, adds: "If advisors aren't given ample training in talking about policy, you'll stamp out their empathy. This is because it's where the customer 'bangs-up' against company policy that empathy becomes most challenging to express but is most needed."
There are then other issues that can impact an advisor's willingness to understand a problem fully and be able to display proper empathy. These include high occupancy levels, inflexible shift patterns and enforced script adherence, as each can provoke poor attitudes.
So, take each point under consideration because, as Leslie says: "Oftentimes, advisors have the required empathy levels but we are not good enough employers and damage their soft skills."
Build Self-Awareness and Unlock Extra Empathy
Self-awareness is a key slice of the empathy cake, as it involves identifying your own emotions. This is important for following the traditional advice of "putting yourself in the customer's shoes".
Building self-awareness amongst the contact centre population can, therefore, be a great exercise for improving empathy. After all, if an advisor doesn't understand their own emotions, how can they be expected to understand the customer's?
If an advisor doesn't understand their own emotions, how can they be expected to understand the customer's?
Reflecting on customer contacts and asking advisors to think about what they could have done better can work well.
When doing so, request that advisors focus on their emotional response. Did they feel frustration, impatience or sadness? What caused that? Thinking this through will enable advisors to gain better control of their emotional response.
To encourage this further, some contact centres have encouraged advisors to write a journal, just for a couple of minutes, at the end of each day. This enables advisors to spot patterns within their thinking, which they can then become more aware of and – if necessary – adapt.
Self-awareness is an important ingredient to emotional intelligence. Find out more about this link in our article: Emotional Intelligence FAQs Answered by an Expert
Coach in Customer Empathy Statements to Make Things Easier
Even when the advisor gets a sense of a customer's emotions, it can be difficult to find the right words to comfort them. Having pre-prepared empathy statements at the ready makes this process much easier.
Of course, the use of these statements should be coached, so advisors use them authentically. False empathy can cause customers to become resentful, so it's crucial to check that advisors are using them appropriately, with a warm tone of voice.
Again, role-playing is a great activity to put statements into practice, while coaches can also train advisors to use verbal nods in order to appear attentive.
But, enough of the helpful tidbits. Let's identify ten top empathy statements to comfort customers:
"That sounds very frustrating indeed."
"I can certainly see why you feel that way."
"I can imagine that this is a very frustrating issue."
"It seems like a very stressful situation."
"That's disappointing, especially when you… [reflect back the customer's efforts]"
"This situation is definitely unacceptable."
"I would ask these questions too if I was in your situation."
"It's only natural that you feel this way."
"After this, anyone would be frustrated."
"I realize how upsetting these situations can be."
Coaching advisors to back these expressions of empathy up with reassurance statements can also be a good practice.
Statements such as: "Let's see what we can do," and "Fortunately, I'm here to help," are great examples, helping advisors to move away from the negative and focus on the solution.
Check out the following article to uncover even more examples of how to demonstrate customer empathy: 18 Empathy Statements That Help Improve Customer-Agent Rapport
★★★★★
Exercises to Increase Customer Empathy
To continuously coach customer empathy, here are a couple of exercises that provide the perfect nutrition for each advisor's empathetic muscle.
Horror Stories
Every advisor has a customer horror story, according to Dave Seaton, principal consultant at Seaton CX
"I ask them to tell me that horror story and listen to how they describe the customer," says Dave. "You can hear the empathy, or lack thereof."
If the advisor talks only about their emotions and not the customer's, that can be very revealing, and pointing this out (nicely!) could provide an invaluable lesson.
Review the Tape
Playing call recordings of what good customer empathy looks like in practice will help advisors to understand the key components of empathetic customer service.
However, it can also work well to share not-so-good examples as a group, while asking each advisor to write down each emotion that the customer is exhibiting.
Discussing what's written down will help advisors to get to grips with the tell-tale signs of certain emotions and encourage them to actively consider the customer's feelings.
Then, the team can talk about how the advisor could have handled the situation better, providing insights that can further improve their customer conversations.
Discover even more great exercises for improving customer empathy by reading our article: How to Coach Empathy in the Contact Centre – With Three Training Exercises
Keep an Eye on Current Events
Remember, customers are often not only upset by company failures but by other things going on in their lives. If these become clear during conversations, address them with empathy.
Many of these external frustrations will relate to key events happening within their area. For example, there could be floods, snowstorms or even riots.
If any of these events apply to their region, which advisors will realize when they uncover the customer's address, coach the team to politely ask whether the event impacted them and show empathy. This can build rapport by demonstrating interest in the customer.
☆☆☆☆☆
One Australian eCommerce company pushed this principle further at a time when Melbourne was in lockdown during the COVID-19 pandemic.
Realizing that a big segment of their customer base was impacted by the decision, the service team came together to discuss what could be done to empathize with customers during this difficult time.
"They decided that it was not the time to send off a package with a note saying: "Have a great day," because chances are that customers are frustrated, upset and hurt," says Aileen Day, Owner of The Value Driven Brand.
"So instead, they specifically targeted people ordering products from Melbourne and wrote a personalized, handwritten 'stay safe' note."
By doing so, the company created a powerful initiative, which showed customers that they recognized their emotions and had the thoughts of everyone within the business.
Key Takeaways
Empathy is the skill of understanding and sharing the feelings of another. Some people are naturally better at empathy and can be targeted by recruiters.
Fostering strong customer connections through empathetic customer service can – after all – prove to be a welcome initiative.
Yet empathy levels are also impacted by an advisor's willingness to engage with customers.
Cultures can often harm this willingness, so assess the contact centre environment and remember: the ability to show empathy is sustained by an employer's trust.
After doing this, managers can start to build self-awareness, equip advisors with empathy statements and run coaching sessions. These may include role-plays and the other exercises that we've highlighted.
Finally, look for opportunities to display customer empathy that perhaps lie outside of the contact centre. Fostering strong customer connections through empathetic customer service can – after all – prove to be a welcome initiative.
Want even more insights into demonstrating customer empathy within the contact centre? Then, make sure that you read each of the following articles: