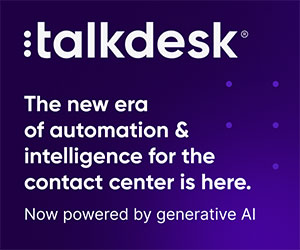 Christina Gates of Talkdesk discusses how customizing the customer experience can really benefit your organization during challenging times.
Continuously improving the customer journey in order to achieve the perfect customer experience (CX) is the Everest of the CX-obsessed.
Historically, contact centre customization — whether that's changing the agent interface, building custom dashboards or integrating systems for improved context or process automations — has been a hassle.
This is largely due to complex and inflexible tools that are difficult to customize and require IT resources, developers or professional services to build and manage.
These dependencies slow agility and make it difficult to access the data needed to adapt to unexpected changes in customer behaviour and needs.
While out-of-the-box integrations are often easy to manage and can help you achieve some elements of customization, they may not meet all your specific needs, and you'll find yourself limited by the set of integrations your vendors choose to provide.
Customize to Deliver Great CX in Turbulent Times 
The need for a customizable customer support solution is present in many industries and is particularly pressing for travel and hospitality. This industry presents unique challenges, namely, the existence of mixed target groups, split among different customer value tiers requiring a multitude of support languages.
In response to the COVID-19 pandemic, many global agencies have issued travel advisories or restrictions, large conferences and entertainment events have been cancelled, and companies are beginning to ban business-related trips.
The consequences are estimated to cost the US travel and tourism industry at least $24 billion in foreign spending alone.
Globally, travel could be adversely impacted by up to 25% this year — a total loss of three months of travel.
This developing crisis is wreaking havoc on contact centres who are now struggling to keep up with a sudden influx of enquiries and cancellations while simultaneously strategizing on ways to keep customers informed, engaged and loyal.
Retaining customers is more important than ever, as companies face incredible pressure on the bottom line.
During this time, customers are struggling to reach businesses when they need to most.
Call centres are overloaded with heavy volumes resulting in long hold times and time-to-callback.
Travel and hospitality companies can ease the struggle by redesigning interactive voice response (IVR) systems and routing to better anticipate callers' questions, offer more relevant self-service and target segments with proactive outreach.
IVR and Routing Customization
To reduce strain on your overtaxed call centre and lower costs during the downturn, you should prioritize customizing your IVR for a smooth self-service experience.
Build IVR menus to deflect common questions related to cancellation policies or service continuity, as well as handle frequent requests such as booking cancellations.
In order to achieve this quickly, it helps to harness the power of a flow builder with:
A visual interface that allows for DIY design using intuitive methods like drag-and-drop,
Extensibility to integrate with any of your systems through simple configuration,
Complete flexibility to customize flow actions and events
These features will help you rapidly adapt your IVR to meet evolving needs while ensuring an intelligent, efficient and friction-free customer experience.
For example, you can integrate your customer relationship management (CRM) and booking system to distinguish when a VIP frequent flyer calls in.
If that caller cancels an upcoming flight while in the IVR, you could play a special message thanking them for being a loyal customer and extending a special marketing offer on their next booking.
If the caller is interested in learning more, they can be automatically redirected to a dedicated group of agents trained on the new offer and experienced with handling high-value clients.
When the agent is connected with the caller, they will immediately see all the actions the customer took in the IVR, as well as any relevant context such as flight history, travel preferences and VIP status tenure.
It may be operationally beneficial to split inbound traffic according to hotel location refund policies, or split certain calls to another call centre.
A highly customizable system will let you take complete control over how you design routing, letting you create any combination of custom criteria tailored to your specific business requirements.
This blog post has been re-published by kind permission of Talkdesk – View the
Original Article
For more information about Talkdesk - visit the
Talkdesk Website