Knowing how many emails you can expect an agent to handle per hour can help with staffing and forecasting.
With this in mind, we asked our LinkedIn followers 'How many emails should an agent be able to handle per hour?'
232 industry professionals responded to the poll and the results are below: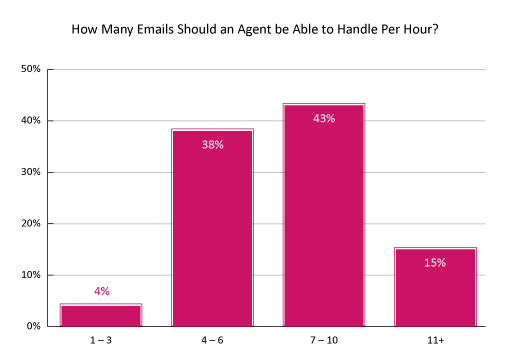 | Emails Handled Per Hour | Response % |
| --- | --- |
| 1 – 3 | 4% |
| 4 – 6 | 38% |
| 7 – 10 | 43% |
| 11+ | 15% |
Please note, as this was a LinkedIn poll, these results are very high level and didn't capture any additional details about the nature of the emails, the complexity, or the circumstances surrounding the agent (e.g. if they are handling other channels too). This was left up to the respondent to interpret, yet the results are still of interest.
4% said that an agent could handle 1–3 emails per hour. This suggests that the professionals who selected this option took into account that the agent may be handling complex enquiries, have to perform follow-up tasks, or are also supporting other channels.
81% of respondents chose the middle ground and selected either 4–6 (38%) or 7–10 (43%). Those who chose the first likely saw that there was some variety in the complexity and other tasks being performed by agents, whereas those who selected the latter could see that potentially the agent is more focused on the emails themselves.
The results do show a clear divide in how many emails people think an agent can handle per hour, although before you take any action, you should perform a time and motion study to ascertain how long email takes in your contact centre.
★★★★★
A number of respondents also provided additional insights into their response that we wanted to share with you:
Handle Time and Shrinkage
Depends on the handle time and shrinkage. We just did a study and a 6-minute handle time with 85% shrink would be 7–10 emails an hour for us.
Thanks to Desiree
Are They Handling Other Channels
Depends if they are handling other channels at the same time (voice, chat, WhatsApp, etc.)
Thanks to Jamie
Focus Should Be Quality
The appropriate amount of time to resolve the enquiry thoroughly. The focus should be quality not churn.
Thanks to Jackie
3 Emails per Hour Is Kind of Slow
It is never just a number. It has to do with a lot of things and surely has to do with the nature of the emails and/or the company.
On the other hand, 3 emails per hour is kind of slow…
Thanks to Stefanos
Not a Defined Number
There cannot be a defined number. It depends on the type of email, whether it is a mere response, or the resolution provided. The lesser the complexity, the higher number of emails per hour.
Thanks to Shailendar
If you are looking for more information on email, read these articles next: