The emergence of new channels and technologies has made it easier for agents with hearing difficulties to find a career in the contact centre.
In a text-based contact centre being deaf is no longer a disability
Text-based channels – including webchat and social media – are now a standard feature of many contact centres. This influx in digital interactions has made it possible (and in some cases necessary) for contact centres to employ full-time agents just to handle these text-based channels.
This has opened up new opportunities in the industry for people with hearing difficulties, who may previously have avoided contact centre work due to a lack of confidence on the phone.
While team meetings may still pose the occasional challenge, text-based channels empower agents with hearing difficulties to handle email, webchat and social media conversations without having to worry about the impact of their disability.
Hearing difficulties
Jake Huggett has worked as a customer co-ordinator at the CSCS contact centre in Bircham Newton since September 2015.
For this to be a continuing success, some would assume he must handle webchat or email correspondence. However, Jake is treated no differently from his colleagues and works alongside his team handling customers' phone calls.
"Considering his condition, some might say a call centre is not the best place to work. However, what has impressed me is his will to succeed and his never say die attitude," said Oliver Denison, fellow customer co-ordinator at CSCS contact centre. "Occasionally there has been the odd circumstance I have helped Jake out by taking over some of his phone calls. This is because the customer has been extremely quiet over the phone and even I have struggled to hear them."
He was also treated "like everybody else" during the recruitment process.
Jake uses a specialist headset that links up with his hearing aids
Technology has played a key role in supporting Jake in his position as customer co-ordinator, as he uses a specialist headset which links up to his hearing aids.
"Companies should always supply you with the equipment that you need to the job right," said Jake. "I think people should forget about barriers to work and just know that if you tell your employer that you suffer with hearing problems or you are deaf, they will help you and provide you with everything you need."
"I enjoy talking to customers, learning new things every day and knowing that my hearing isn't stopping me from doing my job," continued Jake.
We have worked together to help support him in every way that we can
Jake is supported on a day-to-day basis by his team leader, Sophie Woodhouse.
"Jake has a big character and initially he had some struggles with some of the day-to-day business of being a customer co-ordinator on the phones, but he now deals with this on a call-by-call basis," said Sophie. "This has been a challenge, but we have worked together to help support him in every way that we can. Jake and I talk regularly about how things are with his hearing and if there is any further support we can provide – he has even taught me some sign language!"
"Sophie has been brilliant with my hearing," continued Jake. "Sometimes I really struggle and Sophie has supported me through my time here."
Jake isn't the only person working at CSCS with hearing difficulties, as both a fellow customer co-ordinator and team leader have special needs that are accommodated within the contact centre.
Businesses need to be more open to employing people with hearing difficulties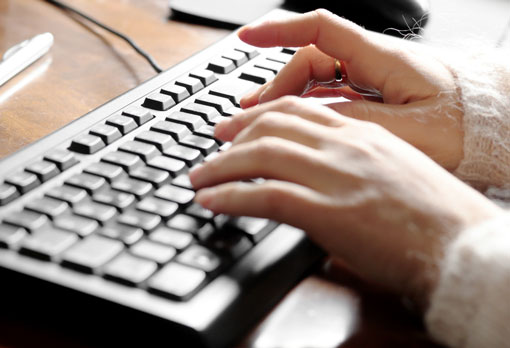 According to GOV.UK, employers must make reasonable adjustments to make sure disabled workers (including contract workers, trainees, apprentices and business partners) aren't seriously disadvantaged when doing their jobs.
This includes:
Making reasonable adjustments during the recruitment process
Doing things another way – e.g. allowing someone with social anxiety disorder to have their own desk instead of hot-desking
Making physical changes – e.g. installing a ramp for a wheelchair user or an audio-visual fire alarm for a deaf person
Letting a disabled person work somewhere else – e.g. on the ground floor for a wheelchair user
Changing their equipment – e.g. providing a special keyboard if they have arthritis