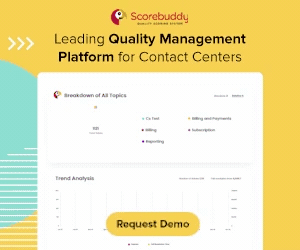 There has been a lot of talk about which single metric is best to improve contact centre performance.
In this article, Alex Loach provides some insight about how you can pool all of your key metrics into a single overall score that you can track.
A single contact centre metric
The idea here is to look at every contact centre metric that you have at your disposal, and weight them based on importance to give you an overall weighted score/percentage.
This is then the figure or score that you and all employees can look at and improve based on the decisions that you are all making.
Given time, it will work in reverse as employees will start making decisions based on how they feel it is going to affect it. What you have therefore created is a guide for empowered employees to consciously or subconsciously base their decisions on, and for you as a manager, director or owner to use as a truly personalised measure of your call centre's performance that can be used to take you in the right direction.
The Authentic Core Linkage
In our case, we call this score the Authentic Core Linkage (ACL).
If, as a very basic example, we just took the 6 factors identified by Paul Weald, Strategy Director of Customer Innovations at ProtoCall One in the Call Centre Helper 2011 article on Call Centre Metrics You Can't Live Without, these would be:
Customer feedback scores – relating to the agent's performance and the overall customer advocacy, e.g. net promoter score or customer effort score.
Quality scores – from call and email assessments.
Achievement of call outcome, e.g. percentage of first-time fix in a service environment; percentage conversion rate in a selling environment.
Adherence to schedule – so that the planning integrity of the contact centre's roster and schedule is maintained.
Productivity – the number of work items processed per hour together with agent availability.
Lateness and sickness – so that unauthorised employee absences are tracked.
These can then be weighted individually out of 10 based on the importance to you at that particular point in time, or based on the ongoing strategy of the contact centre. For example:
| | | | |
| --- | --- | --- | --- |
| | | | |
| Customer Feedback Scores | | | |
| Quality Scores | | | |
| Achievement of Outcome | | | |
| Adherence to Schedule | | | |
| Productivity | | | |
| Lateness & Sickness | | | |
In this example, the overall agent-weighted score would be 250 (sum of weighted scores) out of a possible 370 (total of weightings multiplied by 10) and consequently providing an Authentic Core Linkage (ACL) of 68%
Now this is a very basic example based purely on agent experience metrics, but it can be done on a much larger scale to include further customer experience metrics and stakeholder experience metrics as well as anything else relevant to the forward-thinking perspective you are trying to create within the business (and of course with different metrics and weightings for every individual and type of organisation).
This single metric becomes the reason why empowered employees make the decisions they do
That's what this metric is doing for you. It is there for no other authentic purpose but to lead you and others to perform better as a whole, and to look at the larger picture when making core decisions. Over time, this single metric becomes the reason empowered employees make the decisions they do. Will it stop those employees asking questions? No. Will it stop those employees making mistakes? Again, no! In time, will it improve individual and departmental performance? Yes!
Now, had we been talking about a new piece of software or technology to help enhance this core performance, we'd be questioning the 'Return on Investment' of it.
However, in this case, you already have all the core aspects that you need; you're just linking them together, and it truly can encompass sales, service, revenue, cost per units, customer retention, data collation, answer speeds, drop rates, whatever you feel is important enough for your call centre to include.
This isn't just a management metric; this is about leading and guiding you and your employees to a decision. It's about them being engaged in the bigger picture, and you being engaged with them, and for you to work together to reach a common goal.
We're truly seeing better performing agents
In our case, there is a direct correlation between this linkage and our employee engagement scores, which, as previously discussed, directly correlates to our customer engagement scores. If you have a strong call centre culture that promotes engagement towards a common goal, and it is clear at all times what is being done and where you are going, productivity, satisfaction and retention results just seem to follow. This is a real commitment, though. This will not be achieved through annual or quarterly appraisals or even monthly reviews, this is an ongoing commitment by managers and team leaders to spend their working day, every day communicating with their team.
Again, though, this needs to be consistent, whatever channel you are using, and especially if you have different teams working with different channels in a multi-channel environment. If they truly are empowered as they should be, the decision on what to do, what to say and how to say it depending on the channel becomes even more important, and I'm not just talking about the front-line agents but also the team leaders, training staff and quality assurance employees.
Everyone needs to have queries communicated to them on an ongoing basis in a way that lets them choose the best resolution, because then when employees do the same, they'll instantly react to think about the solution themselves and act on it, and that is the major step towards improving that 'Authentic Core Linkage' score, and reaching those goals we first spoke about.
Alex Loach is Head of Customer Services at Serif (Europe) Ltd.