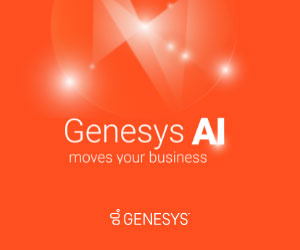 Ginger Conlon at Genesys explains how digital CX is more than just channels
When customer experience (CX) leaders think about digital transformation, it's often in terms of adding digital interaction channels. But digital CX means more than that.
In her session, "Start your digital conversation anywhere and take it everywhere," at Customer Contact Week 2022, Elcenora Martinez, Senior VP of Product Marketing at Genesys, emphasized that companies embarking on or aiming to improve their digital transformation journeys need to broaden their perspective.
Martinez discussed best practices for ensuring your company's digital CX is as engaging and effective as agent-assisted interactions. Because that's what customers expect.
"Customers are expecting personalization; what used to be the gold standard becomes the expectation," she said, adding that 70% of consumers globally believe a company is only as good as its service experience.
And, when customers have an exceptional experience with one company, they expect that level of service from the other companies they do business with.
But "in the digital world, a bad experience is just a screen capture away from going viral," warned Martinez.
When planning a digital CX transformation, companies need to consider what success will look like and how they can make that shift in every dimension as an end-to-end strategy. This includes planning in three areas:
What new digital interaction channels to add and how they'll fit into an omnichannel strategy
How to track, analyze and understand, and then use digital body language – indications of mood or engagement that could change the meaning of digital interactions – effectively to personalize the customer experience
Which digital tools customer experience agents need to more effectively communicate with customers
For Customers, Digital Means Real Time
Resources are tight and interaction volumes have increased. Customers are connecting with companies digitally via apps, chat, email and social.
If you're not bringing together your strategy, you're fostering disconnected experiences for customers and creating frustrating interactions for agents.
Supporting multiple channels in the contact centre can create complexity that inhibits seamless interactions.
But consumers still want a first-contact resolution (FCR) most in their service interactions, and they want speedy resolution.
"In the digital world, it's all about real time," said Martinez. Companies need to address that — and that means connecting functions like service, marketing and sales to transform the contact centre into an experience centre.
In most companies, different channels have different "owners," which can create issues that stall digital transformation efforts.
Marketing "owns" web and martech, for example, while services "own" the contact centre. Plus, KPIs are rarely connected across functions.
Marketing focuses on metrics such as conversions and time on site, while the contact centre prioritizes metrics like handle time and FCR. These points of disconnect can create a digital divide.
"The bigger your digital divide is, the better it is for your competitors," said Martinez, adding that whoever can better answer customers' questions and resolve their issues will set the tone for their competitive set.
Whether having more channels helps or hinders your digital CX also depends on who's setting the strategy — and if your channels are connected or siloed. Customers don't think about a company's experience by individual channel; they think of it holistically. So, a bad experience in one channel will define the overall experience with your brand.
"Your customers experience your brand, not your channels," said Martinez.
Empower Customers and Employees With Digital CX
Digital transformation isn't just about company-centric improvements like cost savings gained by shifting more interactions away from phone calls.
It's possible to digitally empower customers and employees, said Martinez. This can do this with the tools you give agents and in self-service tools you provide to customers.
There are three steps companies can take to improve the digital experience for customers and employees:
1. Continually Connect and Refine the Data Around Each Customer's Unique Experience.
Use journey management to remove friction so you can better meet customer needs and guide them more easily to a desired outcome.
Assemble and curate knowledge from all channels to provide more relevant information to customers and employees — and resolve issues faster.
2. Transform Digital Capabilities to Gather Insights From All Sources of Customer Data.
Capture and understand your customers' past and present activities and use that information to provide more personalized interactions.
Make better use of your agents to build trusted customer relationships by helping them work smarter amid the growing volume of data.
3. Learn and Adjust Faster to What's Happening Across Digital Channels.
Use journey optimization to understand and improve not only what's happening in individual interactions in real time, but also to improve entire customer journeys.
Dive deeper into emerging issues to uncover opportunities to improve interactions and respond faster to customers evolving needs. Measure and analyze performance and outcomes.
Customers want empathy — to be listened to and understood. They expect personalization in the form of contextual relevance across interactions.
"What if you could deliver that Main Street feel with every digital interaction?" asked Martinez, referring to how well "mom-and-pop shops" get to know their customers.
Her advice: Listen for all the small moments that create customers' perception of your brand. Show customers you know them. Anticipate their needs. Use digital interactions (in self- and agent-assisted service) to wow them. "That's what we need to re-create Main Street in the digital experience."
This blog post has been re-published by kind permission of Genesys – View the
Original Article
For more information about Genesys - visit the
Genesys Website