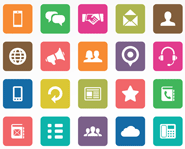 Hugh Garber shares some suprising insight into how much companies really understand their customer communication needs.
I recently presented on a webinar, the Six Critical Pieces of an Outbound Engagement Solution. The webinar provided practical tips to help organisations choose a new outbound engagement solution.
During the webinar, I polled attendees to understand their customer communication needs. This yielded several interesting results, some expected and some surprising!
Expected: "Want To Use More Outbound Channels" and "Too Many Avoidable and Low-Value Inbound Calls" were ranked as top issues to address
It is no shock that organisations realise using multiple communications channels to proactively engage and interact with customers results in improved campaign response rates and performance, as well as in fewer inbound calls by frustrated customers.
Hundreds of companies have expanded their outbound engagement efforts beyond traditional voice calls to include more channels such as text, email, and push notifications.
Surprise: "High Customer Churn" rated lowest in the poll at 23%
This was a bit of a surprise given the pain of losing – and thus needing to replace – customers. Companies who use outbound channels to keep their customers informed and properly set expectations keep churn down.
My hunch is that respondents were not considering the direct correlation between proactively communicating helpful information to customers and delivering a great customer experience, which often positively impacts customer retention.
Expected: "Want Self-Service Campaign Controls" ranked third highest at 56%
I am not surprised at all by the high emphasis attendees placed on wanting self-service tools so that they can dynamically create, manage and tune their own outbound campaigns.
I've had many companies tell me that a primary reason they chose to deploy Outbound Engagement is their previous outbound solution forced them to rely heavily on the vendor for even basic campaign management, which was often very expensive and also resulted in long lead times.
Surprise: "Struggling With Compliance" only selected by 36%
While not ranked as high as some of the other drivers, I predict that having compliance tools integrated into outbound solutions will swiftly become a big focus for organisations worldwide.
The compliance regulator may not be tapping on your shoulder yet, but he is coming. A good example is how the FCC's recent Telephone Consumer Protection Act (TCPA) ruling has resulted in heightened awareness by companies of the need to comply with regulatory requirements.
Mild Surprise: "Inefficient Agents" chosen by 27%
This evoked a bit of a mixed reaction for me. I expected it would rate lower than it should, but was surprised at just how low it actually rated, since underutilised agents can have a major impact on contact centre performance.
We work with many companies who have seen agent utilisation soar north of 90% through the use of outbound dialling, and many have further optimised agent utilisation by successfully blending inbound and outbound calls to the same group of agents.
For more information about Genesys, visit their website.
---
---