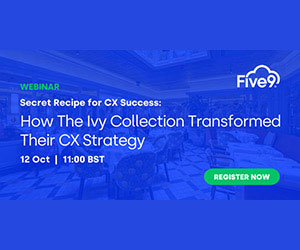 Five9 has announced that the company is expanding its global presence by partnering with Conn3ct.
Conn3ct is a trusted communications solutions provider that draws on over 30 years of experience in assisting multinational organizations around the world solve their communications challenges.
Conn3ct is widely recognized for their global network providing SIP and public switched telephone network (PSTN) services to many countries across the globe.
This new strategic partnership between Five9 and Conn3ct will help stabilize, enhance and transform global cloud contact centres.
"As we continue to build our strong footprint in EMEA and across the globe, Five9 is proud to partner with Conn3ct," said Brian Atkinson, GM and VP EMEA at Five9.
"To support businesses with scale and capacity as Five9 rapidly expands across the region, it is important to develop our partner ecosystem with like-minded organizations that help meet the diverse needs of our customers in the everchanging market landscape."
The suite of communications channels offered by Conn3ct, combined with the omnichannel contact centre experience from Five9, delivers high-touch customer engagements and a customizable contact centre to meet the unique needs of the customer.