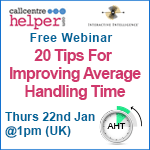 In this webinar, we looked at 20 tips to help bring down Average Handling Time.  Our experts also be shared some quick-fire improvements that could bring down your Average Handling time within the week.
Agenda

Introductions – Jonty Pearce, Call Centre Helper
10 tips to reduce AHT (people and processes) – Martin Jukes, Mpathy Plus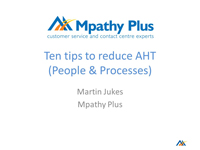 10 tips to reduce AHT (technology) – Mike Murphy, Interactive Intelligence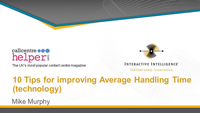 Winning tip – "We went to our Advisers to seek system improvements that they felt would help overall experience for them and the Customer. We gained funding to make the vast majority of the requests. This has helped significantly." – Well Done, David30!
Interactive Q&A – Live questions from the audience
Topics discussed
Quick fixes to reduce Average Handling Time
The habits of highly effective agents
Reducing wrap-up time
Reducing time spent on hold
Training and buddying
Techniques for taking control of runaway talkers
Using First Contact Resolution to drive down call volumes
Ways technology can reduce call times
Top tips from the audience
Original Webinar date: January 2015
---