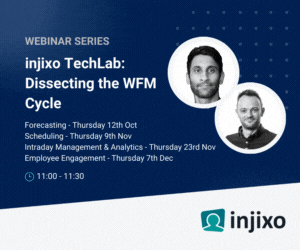 Webinar on multi-skilling.
Multi-skilling gives major advantages to the contact centre in terms of customer service, reducing queue times and improving staff satisfaction.  But it can also be a nightmare to forecast and plan for.
In this webinar master-class we looked at the best ways to forecast and plan for a multi-skilled workforce.
Agenda
Introductions – Jonty Pearce, Call Centre Helper
Multi Skilling Challenges – Maggie Klenke, The Call Center School
Technology Demonstration – Dean Couchman, injixo
Joining the panel discussion – Chris Dealy, injixo
Top tips from the audience
All the tips from the audience have now been turned into an article 20 tips to multi-skill your contact centre
Click here to download our Monthly Forecasting Excel Spreadsheet Template
Winning tip – "We recruit just before our peak seasons and train the staff on the line we know is going to peak, If the CSR works out well we multi-skill them."thanks to Gemma
Interactive Q&A – Live questions from the audience
Topics to be discussed
The benefits and pitfalls of multi-skilling
Dealing with staff reluctance
Training in different contact types
Maintaining service levels
Escalating complex calls
Dealing with call transfers
Whether to remove the IVR
Forecasting different work types
The problem with Erlang
Planning a multi-skilled workforce
The multi-lingual dimension
Mixing inbound and outbound calls, emails and web chat
Using Workforce Management technology
Top tips from the audience – how our audience plan a multi-skilled workforce
Interactive questions and answers

This webinar is brought to you by Call Centre Helper and is sponsored by injixo.
Original Webinar date: February 2013