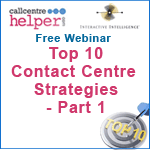 Paul Cooper and Mike Murphy discuss the Top 10 Contact Centre Strategies and how you can deploy them in your contact centre.
We had so much great stuff to discuss that we split this webinar across 2 parts.
Agenda
Introductions – Jonty Pearce, Call Centre Helper
10 Contact Centre Strategies – Paul Cooper, Customer Service Expert & Mike Murphy, Interactive Intelligence.
Click here to view the slides.
Winning tips –
Make performance management a positive experience where it measures gaps and provides opportunity for investment into the individual (i.e. not telling them they are not doing well). Thank people for what they do well, and help them do better in other areas. Link it to strategy and personal career development – Well done Sharon!
Make multichannel a career step, when you got customer service phone right, you can move on to learn chat, then e-mail etc.. you can even include a small raise every time, and even more responsibility – Well done Michael!
Try to get away from the "tall poppy" syndrome and use those successful people to bring up the rest of the teams – Well done Danny!
Make your own internal WIKI and start using Social Media as an internal share/competence channel – Well done Ivar!
Identify CFO's (chief fun officers) within your advisor population, generally some of your stronger personalities to devise quarterly events to give your team something to look forward to. It helps to ensure buy-in from the floor when it is coming from their peers – Well done Sandra!
All the tips from the audience have now been turned into an article 76 tips to improve your contact centre strategy
Interactive Q&A – Live questions from the audience
Topics discussed
Contact Centre Management
Motivation
Technology
Dealing with Attrition
Recruitment
Customer Loyalty
Voice of the Customer
Original Webinar date: January 2014
---