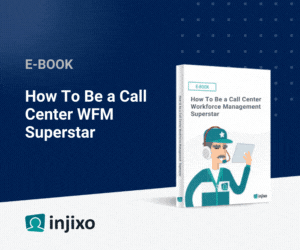 Webinar on WFM myths and provide insights. 
There are many common misconceptions about WFM.
For example, "Overtime is always bad" or "True labour costs are easy to calculate".
In this webinar, The Call Center School and injixo explored the top 5 common WFM myths and provided insights that you can take away to improve your WFM practice without disruptive change (and without spending lots of money).

Agenda
Introductions – Jonty Pearce, Call Centre Helper
5 WFM Myths
– Mythbusters; Penny Reynolds, The Call Center Schoo, Chris Dealy, injixo ,Dean Couchman, injixo
Winning tip – "On quieter days let staff choose to finish early and bank the time back for planned busier periods rather than using overtime, staff love the surprise early finish on nice days." thanks to Mark.
All the tips from the audience have now been turned into an article 5 quick tips for flexible scheduling.
Interactive Q&A – Live questions from the audience
Topics to be discussed
How best to deal with overtime
Hitting daily service level targets
Getting the right shrinkage factors
Calculating the correct staffing requirement
Obtaining consistency in schedules
The best ways to use and deploy WFM software
Top tips from the audience
Interactive questions and answers

This webinar is brought to you by Call Centre Helper and is sponsored by injixo.
Original Webinar date: May 2013