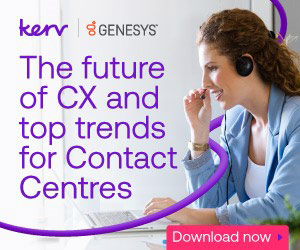 Struggling to deliver a great customer experience across multiple inboxes and touchpoints?
Our Helpdesk 101 may help you.
Helpdesk technology could be the solution you're looking for, so we've pulled together an overview of what you need to know to get started with introducing or upgrading this technology in your contact centre.
What Is Helpdesk Technology?
Helpdesk technology, also known as Helpdesk software or Helpdesk solutions, helps organizations to better manage their incoming customer queries as they scale up and inboxes become confusing and unmanageable.
By switching towards a more efficient system for tracking, prioritizing, and setting reminders, contact centre leaders can better ensure all tasks are visible and carried out in a timely manner.
The technology can also empower customers and frontline agents to self-serve and find the answers they need.
All of this is typically layered with analytics that can help managers better understand volume, customer satisfaction, and resolution times too.
To be effective, a Helpdesk solution needs to:
Log customer problems (often called a trouble ticket) and record if the ticket is open or closed.
Provide a single point of contact for customers, whether internal or external, so they always know where to go when they need help. (This approach can also support hybrid working by making it easier for frontline agents to get answers quickly via a centralized platform.)
Answer questions, either via self-service or being able to contact a Helpdesk agent.
Free up time by centralizing knowledge and workflows to make it quicker and easier to solve customer issues.
Monitor customer satisfaction with customer rating and feedback processes in place.
Common Helpdesk features to look out for include:
Trouble ticketing / case management
Email support
A knowledge base
A self-service portal
Community forums
Reporting and analytics
SMS alerts
Helpdesk automation
Service Level Agreement (SLA) management
Customization
Integration
Artificial intelligence (AI)
Who Typically Works in a Helpdesk Team?
To properly manage and support a Helpdesk solution, you also need people, and so the following roles are typically put in place within a contact centre:
A Helpdesk Manager who leads the day-to-day operations of the Helpdesk.
A Helpdesk Team Leader who supports the Helpdesk manager. For example, coaching new agents and making sure existing agents continue to deliver great customer service.
Helpdesk Agents who respond directly to Helpdesk questions.
★★★★★
Which Vendors Offer Helpdesk Software Solutions?
Here is a quick round-up of some of the Helpdesk software solutions on the market right now:
Freshdesk
Powered by Freshworks, Freshdesk is a unified, intelligent customer support platform.
Capabilities include – converting emails, Facebook posts, and Tweets into tickets, intuitive reporting, and automating the ticket assignment process.
Users include – Hamleys, Lesley University, and Pearson.
---
Salesforce ServiceCloud
Salesforce ServiceCloud is a comprehensive customer support solution that includes helpdesk capabilities.
Capabilities include – case management, intelligent automation, AI-powered tools, knowledge base, self-service portals, reporting and analytics.
Users include – Samsung, KPN, Schneider Electric, Vodafone, KLM, and Fenwick.
---
Front
Front is a customer operations platform that enables teams to streamline communication and deliver exceptional service at scale.
Capabilities include – collaboration, workflow automation, analytics for team performance, workflow and customer insights, and an omnichannel inbox.
Users include – GoDaddy, Dropbox, and Hootsuite.
---
Help Scout
Help Scout helps users manage all customer conversations in one platform.
Capabilities include – supporting customers across email, live chat, and more, a shared inbox to manage and respond to emails as a team, and the ability to create sites with answers to FAQs.
Users include – Spikeball, affirm, and COMPASS.
---
Hiver
Hiver brings email, live chat, a knowledge base, and voice communication inside Gmail.
Capabilities include – delegating incoming queries with a single click, alongside the ability to track key metrics and team performance with analytics. 
Users include – Oxford Business Group, KIWI.COM, and Funding Circle.
---
Zendesk
Zendesk provides an easy-to-use, scalable customer service solution.
Capabilities include – messaging, AI and automation, agent workspaces, ticketing, and more.
Users include – Siemens, Skyscanner, and LUSH.
---
Other vendors include but aren't limited to: Kustomer, Solarwinds Service Desk, Spiceworks, SysAid, and Zoho Desk.
★★★★★
How to Choose the Right Solution
With so much choice, it can be overwhelming to know where to start, so here are some key questions to ask to help you narrow down which solutions would work best for your contact centre:
What Features Do You Need?
What do you feel is missing in your current solution (if you have one)?
Do you need it to be compatible with your existing solutions?
Which channels do you need to offer support on?
Are you looking for AI and more enhanced features, or something simpler and more functional?
Do you need a self-service solution?
Do you need a knowledge base?
Do you need automation to handle repetitive Helpdesk tasks?
What kind of reporting do you need?
What's Your Budget and Timeframe?
What is your timeline for implementation?
What is your budget?
How many resources can you invest in software set-up and maintenance?
How many agents will use the software?
What Will You Expect From Your Vendor and Chosen Solution?
How good is the vendor's own customer support and service if things go wrong? Top Tip – It's worth looking at some customer reviews online to build a picture of the type of customer support your Helpdesk software provider is likely to give you.
How much time will it take to set up and manage?
How quick and easy will it be to train your teams to use?
For more great advice on contact centre technology, you should read these articles next: