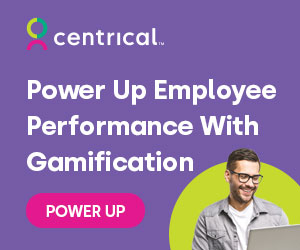 We look at the keys to driving agent engagement in the contact centre and what harms motivation.
Why Focus on Agent Engagement?
Engagement in the contact centre drives motivation and increased performance levels, making it a key factor in any industry.
As the following sequence of events shows, engagement has two key long-term benefits for the contact centre: high performance and high retention.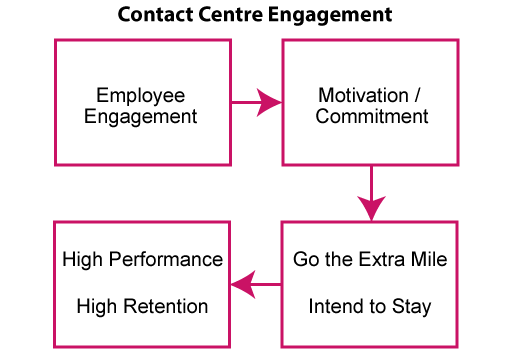 John Aves, Chief Executive at cp2experience, adds: "These two outcomes are indicators of great employee behaviour, and behaviour has a significant impact on customer loyalty which, in itself, is the key driver of financial success."
What Factors Cause Agent Engagement to Increase?
As identified in the book "Primed to Perform" by Neel Doshi and Lindsay McGregor, there are three factors that cause motivation and performance to increase: purpose, potential and play. John Aves comments on each below.
Purpose – Make sure that the ultimate purpose of the organisation is visible to all advisors and drives the priorities and the metrics that get tracked.
Potential – Make sure advisors get something out of doing their work. The payback from the work might be personal, developmental, or it might be to do with satisfaction, reward or recognition.
Play – Make sure that the team have the opportunity to contribute and express their views, while also having the space to experiment, be creative and have fun along the way.
In summary, a first step to improving employee engagement is to follow each piece of advice listed below:
Make the purpose and goals of the organisation clear and relevant to each advisor's role
Talk to them about their personal aspirations and objectives and ensure they get something back for their commitment and effort
Create activities that allow advisors to exercise their creativity at work and give them a voice
What Are the Barriers to Engaged Employees?
The authors of "Primed to Perform" also found that there are a number of factors that cause engagement and performance to worsen.
Three of the key "barriers" to engagement that are particularly relevant to the contact centre are:
1. Emotional pressure to perform – This pressure is linked to feelings of shame, guilt and insecurity. At its worst, this can be about shaming people because they haven't performed as well as the person next to them. This causes insecurity. Contact centres may inadvertently do this when showcasing advisors' scores on leaderboards, right down to the worst-performing advisor.
2. Economic pressure to hit financial targets – You've got to hit the numbers, you've got to hit the real-time metrics and so on. This can lead to mercenary behaviour, as advisors are so focused on hitting their targets that they are stressed and forget about their primary focus, doing all they can in the best interest of the customer.
John Aves adds: "In an operating environment where emotional pressure or economic pressure is at its greatest, motivation and performance will worsen because there is no space for purpose, potential and play." 
3. Inertia – To an advisor, working in a contact centre can often feel like groundhog day. This feeling of repetitiveness can cause advisors to switch off and start offering customers solutions that worked in similar scenarios but may not be best for this particular customer. Variety and play is therefore important.
As John says: "If we create an environment where purpose, potential and play can rise to the top, these factors will automatically begin to fade away."
Five Keys to Driving Agent Engagement in the Contact Centre
Keeping in mind the factors that cause engagement to increase, let's look at five key things contact centre managers and leaders can do to improve advisor behaviour.
1. Start by Hiring the Right People
You will have heard the expression "hire for attitude and train for skills". This is exactly what Zappos, the online shoe retailer, do as they recruit people that share their values.
Zappos is so protective over its culture that it offers new hires $2,000 at the end of week-one training to leave the organisation and that's a test to see whether those individuals are really passionate and committed to the values of Zappos.
Another example John Aves gives is Innocent, the drinks company: "Innocent are very tough on people who join their organisation but do not share the Innocent values. They believe that you have to make decisions very quickly, because if you leave people who are not a good fit for the organisation, what they do is pollute the culture"
In fact, Richard Reed of Innocent Drinks even went on the record to say: "To look after the good people, you have to get rid of those that sit on the bus for the ride."
By focusing your recruitment strategy on attitudes, you can protect your culture and working environment, which is crucial to driving engagement.
Take a look at the video where Herb Kelleher, the Founder of Southwest Airlines, discusses how his company was able to build a people-empowered culture.
For more on creating a good culture, read our article: What Is the Best Model for Contact Centre Culture?
2. Create a Sense of Purpose Around the Customer
Committed advisors are prepared to go the extra mile, so it's important to connect what they do with the greater impact of their work. People like to know that what they do matters.
So, share positive customer stories with the team, showcase great customer feedback and make customer satisfaction your contact centre mission, to highlight the overall goal and purpose of the team's work.
Share positive customer stories with the team, showcase great customer feedback and make customer satisfaction your contact centre mission.
On a broader level, the same applies to the wider organisation. Think about O2. A few years ago, in their industry, churn was high, as customers were lured away from one company by the latest short-term offer in another. But O2 then came across the following piece of customer feedback: "I would rather lose my wallet and my keys than my phone."
This proved to be pivotal for O2. The company created an organisation-wide purpose from this insight, which stated: "To help our customers connect to the people and things that matter to them."
John says: "By changing their thinking from being a supplier of a handset and a price plan to a connector of customers to the people and the things that matter in their life, O2 did things very differently."
"With this change in purpose, O2 started to think about how they could recognise the things that matter in their customers' lives and therefore improve loyalty – before creating their priority structure. This enabled the company to become the market leader in the UK."
3. Systematically Manage the Development Process
To boost advisor engagement, it is important to focus on that individual's progression. This requires a focus on learning and systematically managing their development process.
In the book "Primed to Perform", the authors quoted a variety of empirical studies they conducted in which they dialled down the emotional and economic pressure put on employees and improved the learning environment.
John describes one study, saying: "Each employee had to score their skills and discuss their perceived strengths and weaknesses in regular discussions with their manager or team leader."
"The leader could then create relevant individual learning plans, and the result was that performance problems, when they occurred, weren't met with blame and defensiveness, they were instead met by a culture of learning and teaching. This was because mistakes were now viewed as the key to improving performance."
By running activities like this, the contact centre builds a culture of learning that engages advisors on three different levels, according to John. These "levels" include:
The Head – Why are we doing this? What do our customers value?
The Heart – How will it benefit the employee and the organisation?
The Hands – What new skills, behaviours and tools are required?
An advisor that is engaged at each of these levels will have a positive attitude to learning, which helps to develop technical knowledge, increase compliance and will likely deliver return on investment (ROI) to the bottom line.
To find out more advantages like these, read our article: 8 Benefits of Creating a Culture of Learning in Your Contact Centre
4. Encourage Team-Based Learning
Learning doesn't have to be fully focused on an individual level, as there are many advantages in team-based learning. As well as this, there is a lot of wisdom within groups of advisors which can be spread throughout the contact centre and the wider organisation beyond that.
To engage advisors, it's important to give them a voice. Get them together and listen as they identify things that they see as "wrong" and have them take some responsibility for creating improvement.
The bottom line is that to engage advisors, it's important to give them a voice. Get them together and listen as they identify things that they see as "wrong" and have them take some responsibility for creating improvement – have the team come to you with solutions, as well as problems.
With this in mind, here are three tips for encouraging the team to help improve contact centre performance, which increases their engagement in their role – as suggested by John.
i. Drive employee engagement by involving employees in changes that affect them – This goes beyond keeping advisors informed of any changes to the contact centre. Instead, involve the team in the decision-making process and include selected advisors in the process.
ii. Have them identify and work in teams on external/internal customer improvements – Involve advisors in other areas of the business, so they understand the challenges of other roles and are fully aware of how the company operates. This also helps to spread a communal purpose of helping the customer.
iii. Ensure teams are coordinated, joined up and supported – Make sure the improvement efforts of the various teams are coordinated. There is nothing worse than a team finding the problem they are looking into has been worked on by another team elsewhere in the organisation.  Also, are team leaders learning from each other? Team leaders should get together every month or so to share best practices to ensure that each advisor is evenly supported.
5. Lead From the Top
As leaders, we cannot force people to perform and we cannot sit and watch them 24/7. They have to want to do what's best for the company and the customer, and it is the job of the team leader to inspire them.
As John says: "People pay much more attention to what people do as opposed to what they say. An inspirational leader is one that is constantly around, getting involved (without interfering) in the advisor role, paying attention to what people say and making a difference."
With this in mind, John has created the following behavioural checklist for a contact centre manager.
Behaviour
How to Best Exhibit…
Talk about company vision and purpose

Focus on purpose, not just profits
Motivate by mission rather than fear

Spend time with employees and customers

Be infectious with your enthusiasm
Listen without making judgement
Lead by example rather than the rule book

Act on what matters to employees and customers

Focus on the details that people care about
Be relentless in seeking improvements
Visibly support employees to deliver for customers

Be honest, genuine and authentic

Be honest, genuine and authentic
Bring your warmth and personality to work
Show care empathy

Listen, coach and encourage 

Celebrate employees who demonstrate care for customers and colleagues
Apply the 3:1 ratio (praise/corrective feedback)
Listen and coach rather than "direct and check"
These tips are great, but it is important to be consistent in using them. Inconsistency can be interpreted as lack of authenticity, which is something that will only serve to disengage advisors.
In Summary
If you create a culture that is based on purpose, potential and play, agent engagement will likely increase. This will probably improve performance and retention.
However, many contact centres do not have this kind of culture. Sometimes managers misguidedly create an environment in which emotional and economic pressure on advisors has the opposite effect to the one they are hoping for.
So, consider these five tips above as a starting point to creating the best environment for advisors, which will motivate them to do their best for your customers.
Listen to our Podcast about Employee Engagement
The Contact Centre Podcast – Episode 10:
Employee Engagement – Thinking Beyond Happy Employees Make Happy Customers
For more information on this podcast visit Podcast – Employee Engagement: Thinking Beyond Happy Employees Make Happy Customers
For more ideas on how to improve advisor engagement, read our articles: