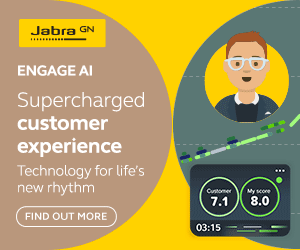 Our panel of experts discuss how technology can be used to boost advisor engagement in the contact centre.
1. Self-Service Can Remove Some Monotonous Call Types
If a customer wants to confirm that a package has been shipped, for example, it can be useful to self-serve and avoid the need to speak to an advisor.
Customers get the information they're looking for and their experience is a more efficient and personalised one, while advisors are "freed up" to spend time focusing on more complex and varied enquiries. This should result in a more rewarding experience.
Basic self-service functions that allow customers to reset passwords, check account balances and view past transactions, can also help to reduce contact volumes while lowering customer effort.
Thanks to John Eng at NewVoiceMedia
2. Cloud Technology Prevents Irritating Application Switches
Cloud integration with CRM systems means advisors can view contact information, activity history and case notes for individual customers in a single solution. This saves advisors from having to switch between applications, saving time and making life easier.
Being armed with this personalised information can improve decision-making and build confidence. When advisors have a total view of a customer's interaction, they can identify individual customer needs along with business development opportunities to up-sell, cross-sell or resolve queries first time around.
A standard interface with access to multiple knowledge sources, FAQs and pop-ups on an advisor's desktop provides the right information to ensure staff are empowered to manage every customer interaction with confidence.
Also, with the integrated multichannel capabilities of certain cloud platforms, advisors can receive and respond to more enquiries regardless of channel – voice, email, social media, SMS and webchat – to boost job and customer satisfaction.
Thanks to Colin Hay at Puzzel
3. Interaction Analytics Ensures Advisors of Impartial Quality Assurance
The traditional approach to performance management of listening to random calls or reviewing random interactions can be seen by advisors as unfair. This can create a negative response, as they know that over 95% of their work has been ignored in making an assessment.
Interaction analytics removes this concern, as it automatically measures and scores advisor performance based on 100% of their interactions, across all channels.
This has the reverse psychological impact to when advisors are told by a supervisor that they are underperforming based on listening to a random selection of calls – because they know the assessment is universal.
Thanks to Frank Sherlock at CallMiner
4. Combining AI and a Knowledge Base Can Boost Training and Guidance
Feeling supported is vital for employee engagement. For this reason, it is important that, through training and guidance, they also feel invested in and valued.
Through features, such as AI prompts on what to say next during a customer request, AI can help behind the scenes. This will ensure that advisors have a "voice" they can turn to in moments of uncertainty.
Many systems champion a knowledge-base feature for root cause analysis to help inform, educate and empower staff members via continual internal training. This can provide the opportunity for employees to use it as a platform and engage with other members of the team by sharing their own knowledge from real experiences, thus further creating a community feel.
Thanks to Susannah Richardson at IFS | mplsystems
5. Comfortable, Connected Headsets Can Improve Conversation Quality
The best headsets will enable team members to connect to multiple devices at once, meaning they can work smarter and in a way that best suits them.
Then, there's connected technology between devices and platforms. Once the headset is plugged into the USB port, calls can instantly be managed and reviewed.
A manager can determine whether an advisor is plugged in and can also provide overall call analytics to the reps in real time, flagging things like cross-talk so they can be addressed immediately.
Most importantly, advisors need a headset that is comfortable and has not only great acoustics but also a high-performing microphone. If the advisor can't hear or be heard, this is already compromising their experience and the experience of the caller.
However, the technology creates a natural flow in conversation between the advisor and customer, which can engage advisors and empower them to provide excellent service.
Thanks to Paul Dunne at Plantronics
6. Smart Desktops Can Provide Quick and Convenient Feedback
Whether it's compliance, process adherence or soft skills, it's unrealistic to expect that team leaders can provide every advisor with their quality results 'in the moment'.
At the same time, how can an advisor be expected to be engaged when they're not receiving performance feedback at all? Or, more likely, when it takes weeks for feedback to be delivered because someone, somewhere, has to populate and then distribute a spreadsheet?
By introducing smart desktops, such as EvaluAgent, contact centre can equip advisors with their own agent dashboard. A dashboard which presents all of their feedback in real time, so the team can go about making adjustments to their performance on the very next call.
In doing so, the contact centre can:
Remove the reliance on "someone else" to provide feedback when it's convenient for them (no doubt once the optimum moment has passed)
Empower advisors to truly own their performance
But, perhaps most of all, the contact centre will spend less time collating spreadsheets, and more time driving performance improvement.
Thanks to Reg Dutton at EvaluAgent
7. Wireless Technology Can Improve the Advisor Experience
Mobility can be a key factor in enabling better engagement within contact centre environments. Being "tethered" to the desk for long periods of time can damage morale, which is why the latest headsets are designed to operate at extended ranges and include noise-cancellation technologies.
Human conversation is an art, and some advances in technology – such as instant messing, Artificial Intelligence (AI) and bots, for example – are putting this at risk.
Instant messaging means we talk to each other much less, while automated bots mean that many customer enquiries are handled in human-to-machine (rather than human-to-human) conversations.
But while bots may take care of day-to-day transactional calls, humans are needed to conduct more complex customer service tasks.
As a result, these knowledge workers need to consult with colleagues more often to find answers to customer queries, and that requires mobility.
Thanks to Nigel Dunn at Jabra
8. Intelligent Call Routing and Specialised Training Improves Advisor Skills
Intelligent and skills-based routing increases contact centre efficiency by allowing customers to be transferred to the most effective advisor for their particular issue.
However, using skills-based routing not only creates a far more positive customer experience, it can help enhance team performance and staff retention.
When advisors are assigned skills based on criteria such as language fluency or product knowledge, contact centre leadership can provide specialised training and even offer incentives to advisors for improvements in these skill sets.
By providing learning opportunities for individuals to enhance their skills, contact centres are able to show their team members that they are willing to invest in their development.

Enda Kenneally
By providing learning opportunities for individuals to enhance their skills, contact centres are able to show their team members that they are willing to invest in their development and provide a career path for advisors. This can improve employee satisfaction and engagement while reducing staff churn.
9. Call Blending Eliminates Idle Time
A blended dialling system allows contact centre advisors to switch between the inbound and outbound queues, depending on the quantity of calls being received at the time. This allows advisors to be more productive and eliminates the idle time that can make the workday drag on.
Workplace boredom is known to impact employee morale, retention and productivity. So, not only is a blended dialling system more efficient, but it gives staff variety over monotony by providing a greater range of tasks and interactions, which many advisors prefer.
Other factors which damage advisor engagement may include screen freezing, not having a clear view of all customer history and interactions or having a rigid script.
Thanks to Enda Kenneally at West Unified Communications
10. Intelligent Gamification Improves Advisor Motivation
There are numerous factors that negatively impact advisor engagement, such as having to follow a set script, handling repetitive calls and dealing with integration problems/system failures.
Contact centres often employ motivational games to counter these issues, but some go even further and partner with a gamification company or buy licensed software that logs points. This allows them to create league tables and recognise which advisors deserve an incentive, while providing clear performance information to boost advisor confidence.
Some interaction analytics platforms also have a gamification capability, which can provide advisors with a daily score for their own performance while highlighting areas where they may need to improve.
Thanks to Frank Sherlock at CallMiner
11. Quality Management Tools Help Advisors Understand How They Are Performing
Organisations must never measure their advisors on metrics that they cannot control.

Jeremy Payne
Organisations must never measure their advisors on metrics that they cannot control. Quality management and real-time reporting capabilities can be brought into play here.
Together, these technologies offer businesses the opportunity to highlight to advisors in real time how they are performing against their pre-agreed daily, weekly, monthly or quarterly targets. It is an open, transparent approach that builds engagement by showing advisors exactly where they stand and exactly what they need to do to achieve their goals.
Critically too, with the latest quality management technology, these measurements can be carried out across a range of different metrics – from customer feedback surveys to net promoter scores, for example.
12. Real-Time Speech Analytics Can Provide on-the-Spot Feedback/Advice
Capturing and recording the engagement itself and correcting problems that occur when an advisor does or says the wrong thing can improve quality across the process.
Within sales-focused organisations, it has helped identify the highest achievers. This is based on how they are positioning the company and its products/services on calls, what phrases they are using, even what tone of voice they employ.
All this information can then be fed into a real-time coaching mechanism, where the rest of the agents can be trained to use the same phrases and a similar approach to the high-fliers.
The result is likely to be an uptick in revenue for the business, but also remuneration for advisors who engage in the process and use it to help achieve their business goals.
Thanks to Jeremy Payne at Enghouse Interactive
13. Advisor Dashboards Can Be Enhanced to Increase Healthy Competition
Healthy competition can increase productivity among the team while reinforcing positive behaviours. This helps advisors to have fun at work, which research shows can:
Boost motivation
Reduce stress
Increase retention
Lower absenteeism
Improve morale
A core component of competition in the contact centre are "leaderboards"—a dashboard displaying top performers and their "scores" (also known as the key metrics you established in your design).
This type of listing fuels the competitive spirit amongst advisors, as they watch to see who rises to the top. This can really help to improve motivation when high performers are given rewards as part of an incentives programme.
However, it is perhaps best to focus on the top of the leaderboard, leaving the bottom half out of sight, to avoid discouraging the advisors who sit at the bottom of the table.
Thanks to Andrew Leatherland at GCI
For more on measuring and improving employee engagement in the contact centre, read our articles: