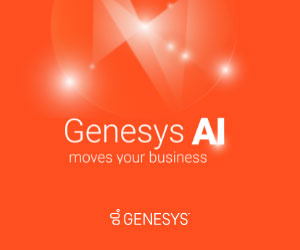 JPIMedia helps people in the UK make informed lifestyle decisions using trusted newspapers, magazines and websites.
Core to its business are multimedia campaigns, and to ensure better outcomes, the organization teamed up with Genesys.
Using Genesys Cloud, the media organization's employees can handle customer service enquiries with maximum efficiency.
JPIMedia had a long-term strategy to move to a public cloud platform with a single interface and open APIs for tight customer relationship management (CRM) integration.
In addition to these requirements, it also wanted to offer its customers more choice by adding communication channels including email, SMS and webchat.
"We needed a simple, intuitive architecture so the team could configure queues, roles and users without involving IT," says Rebekah Avill, head of commercial systems for JPIMedia.
"After benchmarking cloud contact centre solutions from the market, our conclusion was that there was nothing that came close to Genesys Cloud."
Smart Campaigns to Reach the Right People
Working with Genesys partner Foehn, JPIMedia's CRM system is now embedded in Genesys Cloud. This close integration enables its 450 staff to process all incoming enquires faster while handling credit card payments securely through a single interface.
Additionally, due to intelligent routing, incoming calls are directed to the right experts with the right knowledge to handle queries.
Agents also have customer data instantly available to them with full view of the customer's name, location, purchasing and contact history, allowing them to handle interactions with efficiency while delivering a personalized experience to each individual.
One of the benefits JPIMedia has realized is the ability to better target outbound communications.
As a result of the preview dialling feature, employees can see the next contact on the list and tell the system to make or skip the call, at which point it is removed from the queue.
"Running successful campaigns isn't only about increasing dials and connections, it's also vital to make sure you're targeting the right people," Avill explains.
"That's how you convert new leads to build a happy, loyal customer base. Genesys Cloud allows us to easily compile call lists and scripts to build this customer base."
Another key benefit for JPIMedia will be the addition of an outbound SMS channel.
"Many of our customers are busy tradespeople, such as plumbers and builders, who have their hands full and cannot always get to the phone," adds Avill.
"So, instead of placing a call, we intend to send them a text to remind them their advert is due to expire, along with a quick link so they can renew it when they get home from work."
Additionally, making a switch to the cloud has allowed JPIMedia to gain better insight into its operations.
Avill explains: "We used to struggle to measure productivity and customer behaviour. We knew that email was one of our most popular channels, but we could only guess volumes and spot-check for quality."
"Now we have much better reporting and transparency of agent performance, channel management and coaching requirements."
Business Resilience Advantages
The move to a cloud-based contact centre solution has also alleviated pressures from JPIMedia's IT team, who are no longer swamped with requests and can quickly adapt to changing business requirements.
For example, during a temporary closure of one of its offices, JPIMedia simply diverted calls between its Edinburgh and Sheffield contact centres.
"Shortly after going live, we needed to add our customer service teams to Genesys Cloud and move them away from the PBX environment they'd used for many years," explains Avill.
"We created, tested and executed the changes for 60 users and five new IVRs within a couple of weeks."
Having greater autonomy and time back means the IT team can work more with other departments that need support. Onboarding lead times have been reduced.
Today, training only lasts an hour as the user experience is more intuitive.
The cloud-based contact centre was also instrumental in ensuring business continuity during the COVID-19 pandemic.
Following government regulations for UK citizens to work from home, JPIMedia was quick to enable homeworking for its agents with minimal disruption to day-to-day business.
"We successfully transitioned 450 users to a temporary remote-working model within five days of the government advice. This allows our commercial teams to stay connected with our customers," concluded Avill.