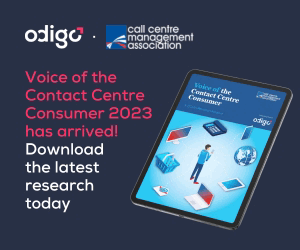 Do you feel you're effectively utilizing Voice of the Customer (VoC) data to drive improvements across the contact centre and wider business?
We asked our LinkedIn Community of industry professionals for their opinions and have put together the results for you.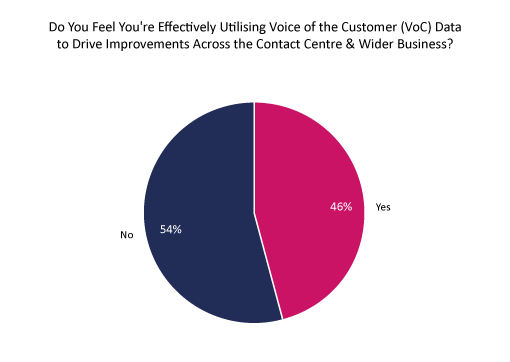 | VoC Data Used Effectively | Response % |
| --- | --- |
| Yes | 46% |
| No | 54% |
Of the 246 responses, the results were fairly close, with 54% saying 'No' they don't feel that they are effectively using VoC data to drive improvements and the remaining 46% saying 'Yes'.
The results suggest that although many companies are effectively using their VoC data to make meaningful improvements, over half are missing a trick.
However, it's unclear how this breaks down amongst survey respondents as to whether or not they are collecting VoC data, aren't using the data effectively to gain insights, or aren't interpreting the data correctly.
☆☆☆☆☆
That being said, a few respondents also provided additional insights into their answers and there were two key takeaways from this:
The Key Is the Application of Technology
For automated channels, natural language processing (NLP) is the key to hearing the actual Voice of the Customer, because it allows us to capture raw intent.
Without NLP, we only know which option the customer has selected from the options we have provided, effectively constraining what we allow the customer to tell us.
For conversations with live agents, similar data insights can be identified via transcription.
The key is not the technology, but the application of the technology.
A bit like anyone being able to buy a soldering iron, but to make something special, one has to know how best to use it.
Thanks to Chad
Very Little Action Is Being Taken
From my experience, the answer is no. Resoundingly, firmly, and emphatically, lots of singing and dancing on this topic but very little action.
Worse, I know many businesses that do not even act like they want their customers, and forget value and support.
In a recent example, a manager asked if we should ask our customers then poo-pooed their own idea as it would cost too many resources.
Thanks to Dr. M. Dave Salisbury