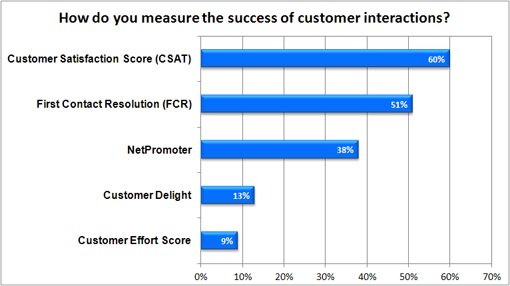 According to our poll, 60% of contact centres use customer satisfaction (C-SAT) to measure the success of customer interactions.
However, many of these will not use CSAT independently, as many participants in our poll gave multiple responses.
Other popular choices for metrics to calculate success in customer interactions include First Contact Resolution (51%) and NetPromoter (38%).
Poll – "How do you Measure the Success of Customer Interactions?" answers
Customer Satisfaction Score (CSAT) – 60%
First Contact Resolution (FCR) – 51%
NetPromoter – 38%
Customer Effort Score – 9%
Customer Delight – 13%
(Multiple answers were allowed during this poll, so the total does not add up to 100%.)
Source: Call Centre Helper webinar: 5 great ways to improve customer satisfaction     Sample size – 85     Date: January 2013
---