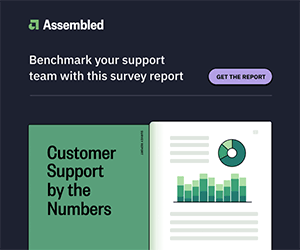 Justin Robbins of CX Effect shares four key habits to develop in your contact centre that will help to improve performance, culture and engagement.
Reflecting on Positive and Negative Habits
Have you ever stopped to think about your habits? You know, the good and the bad ones. The habit of taking a shower after a good workout or procrastinating on doing something important. Have you wondered how you developed those habits over time? What influenced you to behave one way or another?
I've been doing quite a bit of that lately. Wondering why we have the habits that we do and what steps we can take to effectively change old habits or create new ones.
It's each of our responsibility to know which habits will enable our success.
Maybe it's a matter of me getting older, or being a parent, or just being curious, but I've been thinking a lot about the importance of setting positive habits early. Habits take time to build – or break – and it's each of our responsibility to know which habits will enable our success.
But that's not as easy as it sounds, especially when it comes to our habits at work.
In my experience over the past two decades as a contact centre professional, researcher, and consultant, it's not uncommon to meet a contact centre leader who struggles to identify the habits that will truly enable them and their teams to be successful. They understand the basic habits of good business, but what are the unique behaviours that drive positive results for the contact centre?
Also, like any habit, what are the things that should be repeated and reinforced daily to ensure that the behaviours happen with consistency?
Well, as I reflect back on my career in contact centres, and what I've learned from the best and the worst of them, I observed four positive habits that were consistent in the top-performing organizations.
They think and act strategically
They measure with meaning
They empower their people
They leverage technology intentionally
These habits might not surprise you, and yet contact centres neglect to practise them more often than not. Knowing is simply not enough. We must find ways to practise these four habits every day. The following insights and ideas are to help you and your team do exactly that.
Habit 1: Think and Act Strategically
Thinking and acting strategically in the contact centre can take many forms. It's how the contact centre collects, acts on, or shares data; it's how they invest in coaching and development; it's how they're viewed and engaged with by other parts of the business. Ultimately, it's about the contact centre's ability to transform the perception from a cost centre to a competitive differentiator.
Here's one way to regularly demonstrate a strategic mindset:
Connect with a business leader from outside of the contact centre at least once per day. This could be a brief phone call, a text message, or some time together on video. The purpose of the call is three-fold:
Building rapport and trust across the business.
Learning about their current priorities and challenges.
Sharing insights from the contact centre that might benefit them.
This simple exercise provides visibility into problems and priorities across the business, enables you to share data and lessons from your teams' direct interactions with customers, and creates an open and ongoing dialogue.
It's as simple as this – if you want to be a strategic contact centre, you need to take the lead on understanding, collaborating, and contributing to your business's strategy!
For more great ways to bolster your contact centre strategy, read our articles: The Top 10 Customer Service Strategies That Stand the Test of Time
Habit 2: Measure With Meaning
If there is one bad habit that seems to be more pervasive than all the rest, it is how contact centres misuse metrics.
From not knowing why they report on something to having problems with driving specific outcomes, most contact centres could benefit from improving their habits around metrics.
Also, for a part of the business that measures just about everything, we put ourselves in a bad situation when we mis-measure our operations.
For a part of the business that measures just about everything, we put ourselves in a bad situation when we mis-measure our operations.
While I could write an entire series about contact centre metrics, I want to focus my advice for the sake of this article. Our ability to measure with meaning is a direct result of our ability to answer a few questions about each of our metrics.
If we and our team know the answers to these questions, we're already on the path to getting more meaning from what we measure.
Meaningful Metrics – Questions to Ask:
Does this metric align with your goals or strategy? If so, how?
Does this metric measure your progress towards the goal? Or your achievement of it?
Are you measuring the metric in the most accurate and actionable way available? How is the metric calculated or determined? How can you validate your answer?
Is it clear for the person to understand how the metric appears on dashboards or reports? Is there a connection between the result and the behaviours that drove it?
Can the person accountable for this metric actually have an effect on it? How?
Do you know how this metric is impacted by other metrics? What are they and what's the inter-relationship?
How often do you achieve this metric? What are the reasons for the results that you've experienced? What can you do to improve or sustain those outcomes?
By asking these types of questions and engaging our teams in a regular dialogue about what we measure – and why we measure it – we'll find that our employees are more engaged, our results are more consistent, and our ability to understand our businesses is expanded.
To find out more about measuring with meaning, read our article: How to Use Inbound Call Centre Metrics to Drive Performance
Habit 3: Empower Your People
Without the people in our contact centres, we're pretty much helpless. From our frontline to our leadership teams, it's the humans in our business that make the real magic happen. Technology and process are the enablers of how our people do our best work, it's not the other way around. A surprising bad habit, however? Not all contact centres are as great at empowering their people as they could be.
Here are some ideas on how that could be improved.
1. Create a Voice of the Employee Programme
Give employees a place to share their observations, ideas, and lessons learned on the job. In past companies we called it a Voice of the Employee program and it was a simple email that we'd send in each day. It's important to not just ask for employee feedback, but to actually do something with it.
In my previous contact centres, we'd create a plan around the following:
Measuring and evaluating trends on an ongoing basis to help inform future business decisions.
Sharing insights across the organization, particularly the marketing department and executive team, to ensure that decisions consider our customer insights.
Reporting back to everyone about how this information is being leveraged and utilized across the organization.
2. Automate Manual, Repetitive Tasks
Automate the highly repetitive tasks in your employees' daily workload.
One of the most demotivating and resource-draining habits is having contact centre employees work on highly repetitive tasks.
Free your employees to work on the more complicated and nuanced contacts. They'll find greater value from it and be more engaged in their work.
3. Demonstrate Trust
Trust your employees, provide the tools and resources that they need to do their job, and give them a safe space to fail.
Contact centres can be so fixated on mitigating risk, or reducing churn, that they micromanage their employees…
Contact centres can be so fixated on mitigating risk, or reducing churn, that they micromanage their employees and place them under tight scripts, with limited authority, and little room for error.
You may see short-term results, but those types of environments are often marked by high turnover and incredible employee disengagement.
A better approach is to place an emphasis on employee coaching and development, teaching employees how to be successful.
In those types of environments, businesses see greater sustained results in terms of customer satisfaction, as well as higher levels of employee satisfaction and engagement.
Find lots of other ideas for empowering advisors in our article: What Does Employee Empowerment REALLY Mean?
Habit 4: Leverage Technology Intentionally
The last positive habit that I've noticed is how the top-performing contact centres leverage technology intentionally.
Great contact centres are not overburdened by technical debt and end-of-life systems. They think about how systems interact, share data, and reduce redundancy, and they're actively engaging their frontline teams in technology decisions that affect them. They recognize how quickly a technology decision can help, or hinder, their contact centre's ability to deliver results.
Practising this habit regularly, however, can be a bit more complicated and it's not often done alone.
It also involves:
Sitting down with key stakeholders and mapping how technology plays a role in both the customer and employee experience.
Being honest about limitations in capabilities and discussing the impacts of a compromise.
Investing in delivering experiences that scale, that reduce friction, and that make customer experience profitable for the business.
Finally, it's an always-evolving discussion that recognizes there is no finish line in customer experience – only an investment in doing whatever we can to continue to run the race well.
For more guidance on leveraging contact centre technologies, read our article: Call Centre Software: What Should You Be Looking Out For?
A Focus on Positive Habits
It's a great idea to focus on building positive habits within your contact centre. It forces a conversation on what's most important to your business and causes you to consider which right behaviours will drive the best outcomes.
I encourage you to start with trying to build one of these four habits on a regular basis. Involve your team in a discussion on which you think would be most helpful and get to work on creating a plan!
Thanks to Justin Robbins, Chief Evangelist at CX Effect, for sharing this article with us.
For even more great insights from Justin, read our articles: