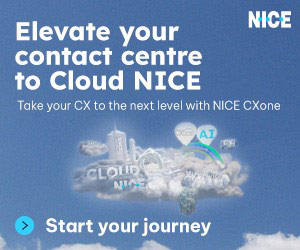 NICE inContact CX Transformation Benchmark finds businesses are optimistic about AI but overrate their own CX success.
NICE inContact today announced the findings of its second annual, global research study that gauges the changing attitudes of business contact centre leaders and consumers in key areas of customer experience.
The 2019 NICE inContact Customer Experience (CX) Transformation Benchmark, polled contact centre leaders in the United States, United Kingdom, and Australia.
The report compares global findings to the 2018 study, and includes year-over-year findings for the US.
Results reveal that businesses are confident in artificial intelligence's (AI's) role in delivering exceptional customer service experiences, but they overrate their own CX performance.
Compared to consumers, businesses over-estimate their own net promoter scores (NPS), and their own CX success, and underperform when it comes to delivering seamless omnichannel experiences.
Some other key findings from NICE inContact's report include:
Businesses Express Confidence in AI
The CX Transformation Benchmark found that 63 percent of contact centre leaders agree that chatbots and virtual assistants make it easier for consumers to get their issues resolved, and 68 percent of those surveyed agree that consumers want to use virtual assistants to interact with them.
Findings show that significantly more US businesses now offer automated assistants/chatbots online, at 54 percent compared to 44 percent the previous year.
Business Overreach in Self-Assigned Net Promoter Score (NPS)
Compared to consumers, businesses give themselves higher net promoter scores for every method of communication tested. Businesses over-estimate most channel-specific NPS by broad margins.
For example:
Automated Assistant/Chatbot: While consumers award automated assistants an NPS of -8, businesses estimate they earn an NPS of 25, a gap of 33 points.
Email: The consumer NPS for email is -9 while the business NPS is 19, a gap of 28 points.
Text: Consumers give text a -2 NPS while businesses estimate 25, a gap of 27 points.
Businesses Overrate Their CX Success
Businesses are 15 percent more likely than consumers to agree that they make it easier for consumers to get their issues resolved in their preferred channels, and that they provide a consistent customer service experience across the purchase journey.
Businesses understand the value of omnichannel experiences, but they underperform. While 93 percent of businesses agree that consumers expect companies to provide a seamless experience when moving between channels, only 24% of businesses globally give themselves an excellent rating on allowing consumers to switch seamlessly between methods of communication.
"We are at an inflection point for AI in the contact centre. AI innovations are at their best when paired with the human touch and deployed to address targeted customer and agent experience opportunities," said Paul Jarman, CEO NICE inContact.
"AI in the contact centre has the potential to add significant value to customer experience outcomes and operational performance."
"The CX Transformation Benchmark shows contact centre leader confidence in AI, and we join them in delivering end-to-end AI capabilities that span the entire customer and agent experience, to empower organisations of all sizes to stay one step ahead of customer expectations."
Companies of all sizes now compete in the experience economy to attract new customers and build customer loyalty and advocacy. The CX Transformation Benchmark shows that companies in all industries can no longer rely on product quality or price alone – they must consistently deliver exceptional customer experience to drive top-line and bottom-line growth.
Closing the perception vs. reality gap between how businesses believe they are executing on their customer experience strategy and how customers are engaging with their brands is critical to sustainable success.
NICE inContact surveyed more than 900 contact centre decision makers in the US, UK, and Australia. The report presents global findings from the business wave of the research and provides comparative results to the consumer study published in 2018.
For more information about NICE inContact, visit their website: www.niceincontact.com