With insights built on hard data, the 19th annual edition of "The UK Contact Centre Decision-Makers' Guide" is the study of UK customer contact operations.
Covering digital service, customer experience, AI, omnichannel, gamification, technology, salaries, attrition and strategy, this 400-page report is a source of information about what is happening in the UK's customer contact industry.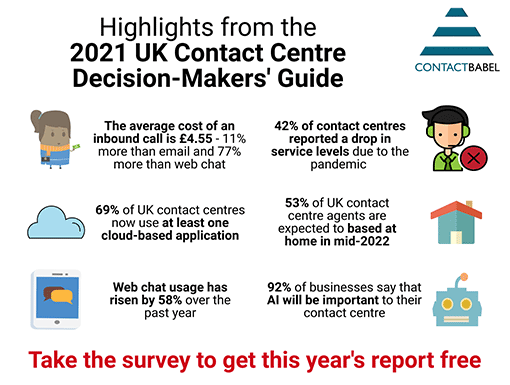 You can receive it for free, along with the detailed "UK Contact Centre HR & Operational Benchmarking" report (which is £350 to non-participants). Findings will be made exclusively available to participants in November 2021.
To take part, please visit: www.smartsurvey.co.uk/s/UKDMG2021-22/
If you have any questions, including seeing a copy of the questionnaire before completion, please email smorrell@contactbabel.com