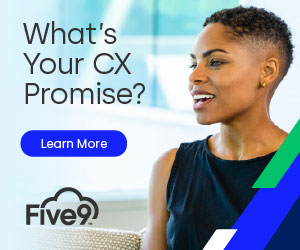 TELUS International has announced it has partnered with Five9 to launch the next evolution of its Contact Center as a Service (CCaaS) application platform.
This enhanced solution is an advanced, end-to-end cloud platform that provides brands with AI-driven, actionable customer insights to help them deliver best-in-class CX, including next-level personalization.
Working together, TELUS International and Five9 are continuing to reshape the customer support industry by delivering advanced omnichannel support, intelligent routing capabilities, and AI-driven insights to mid- and large-sized organizations for faster resolutions.
The CCaaS solution offers clients a full customer experience feature set that provides a variety of inbound and outbound dialing support and deep integrations into leading customer relationship management (CRM) & IT service management (ITSM) platforms, including Salesforce, Oracle, Zendesk, Microsoft, ServiceNow, and more.
"We are proud to further deepen our partnership with Five9 to continue to elevate our status as global leaders in delivering exceptional customer support that leverages the power of AI.
Together, our combined expertise will help propel our clients to the forefront of innovation and empower them to meet the growing demands of their customers effectively," said Beth Howen, Chief Transformation Officer, TELUS International.
"This partnership comes at a crucial time when businesses are looking to reimagine CX in the cloud to achieve more agility and scale while driving performance and cost efficiencies.
TELUS International has a proven track record of delivering outstanding performance metrics, alongside enhanced solutions like Fuel iX, that leverages the power of generative AI (GenAI) to deliver end-to-end CX innovation and AI-fueled intelligent experiences for brands and their customers. Undoubtedly, our partnership with Five9 will continue to build on that success."
TELUS International and Five9 have worked in partnership for more than a year, successfully implementing the TELUS International CCaaS solution for a Canadian financial services company.
"By addressing the evolving needs of global businesses, TELUS International and Five9 will revolutionize the way businesses engage with their customers," said Jake Butterbaugh, SVP, Global Partner Organization, Five9.
"Our match of expertise, experience and strategic focus in delivering the best in customer experience make our combined value proposition a powerful and compelling offer."
TELUS International has been helping businesses migrate from on-premise solutions to the cloud through its feature-rich cloud contact center platforms, TELUS Cloud Contact Center (TC3) and Cloud Contact 360 (CC360) to enable new, innovative digital-driven customer service solutions.
The company's proven track record includes over 400 contact center deployments across various industries and customers.
TELUS International selected Five9 as a strategic global CCaaS partner to further strengthen the overall value and customer experience they provide their global clients, building on its long-running, successful partnerships with Google Cloud and & Verint Systems.
Due to its rapid adoption growth, TELUS International has achieved Five9 Gold Partner status, Five9's highest partner tier.
This blog post has been re-published by kind permission of Five9 – View the
Original Article
For more information about Five9 - visit the
Five9 Website