Here is an interesting idea that we came across – based on Maslow's Hierarchy of Needs.
At a recent conference, we saw Grant Holden give a presentation where he introduced a contact centre version of Maslow's Hierarchy of Needs.
What is Maslow's Hierarchy of Needs?
Maslow's Hierarchy of Needs is a psychological theory which has been used to describe patterns in human motivation.
It suggests that certain basic needs must be met – such as eating and sleeping – before a human being can focus on achieving anything beyond that.
For example, if someone has been up all night they are hardly likely to be at peak performance the following day.
The same principle can be applied to organising your agents' pay, holiday and overtime.
The Contact Centre Hierarchy of Needs
Here is the Contact Centre Hierarchy of Needs: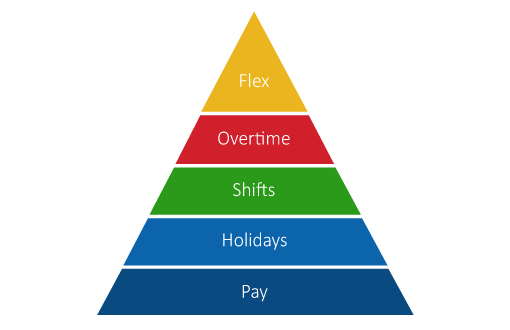 In essence, there is little point in trying to discuss overtime arrangements with your agents until they are content with their pay, holidays and shift patterns.
What is the benefit of applying this theory?
The hierarchy teaches us that you've got to learn to walk before you can run – and that making time to get the basics right can go a long way in creating happy staff and achieving the wider goals of your business.
What has been your experience of motivating agents?