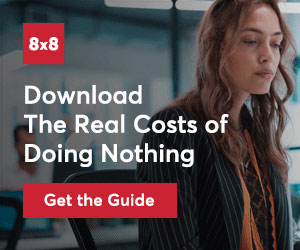 8×8 has announced that Welsh Water has deployed the 8×8 CPaaS Video Interaction API, to improve the organization's efficiency and productivity while also delivering faster service resolution for enhanced customer experiences.
Welsh Water is a not-for-profit company responsible for supplying drinking water and wastewater services to 1.4 million households in Wales and western England.
Supplying one of the world's most diverse geographical regions, Welsh Water faced challenges providing customer support especially when related to triaging customer issues such as leaking or burst pipes.
A lack of visual data made it difficult for staff to know what exactly was needed to fix an issue, including the necessary tools, leading to wasted time and money – a cost of approximately £130 per trip.
With 8×8 CPaaS, which includes SMS, voice, chat apps, video, and performance monitoring, Welsh Water is able to better communicate with their customers through the Video Interaction solution that allows for real-time video communication and a better understanding of customer issues.
Through the use of video, Welsh Water can remotely connect with the customer to better diagnose a problem correctly the first time, judge its severity and priority, and develop an appropriate plan of action, leading to better customer service experiences.
"Resolving issues for customers requires a multistep process to identify the severity, who is best equipped to fix the issue, and where it falls on the list of current priorities," said Peter O'Hanlon, Head of Delivery for Customer Strategy for Welsh Water.
"The 8×8 Video Interaction API allows us to better perform triage when issues and problems arise over the phone or mobile device without needing to send someone out straight away to the physical location. We're now better equipped to solve problems faster, which is a benefit to both us and our customers."
"When a customer has a service issue they want it resolved as quickly as possible. Not identifying and fixing the problem in a timely manner can negatively impact productivity and operating costs as well as employee and customer experience," said Stephen Hamill, General Manager, CPaaS at 8×8, Inc.
"8×8 CPaaS provides Welsh Water with the tools and resources, namely real-time video interactions, needed to do their job efficiently and quickly. When dealing with stressful situations, such as water issues, the right technology makes all the difference to both employee and customer experiences."
For more information about 8x8 - visit the
8x8 Website