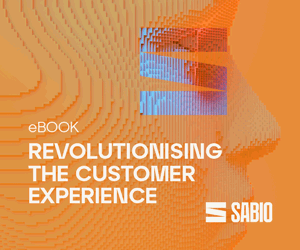 In this video Lynsay McEwen at Sabio defines CCaaS and then explains the benefits.
CCaaS Definition and Benefits
Contact Centre as a Service is a cloud-based platform. Generally used in the contact centre environment to service customers, it's usually agent to customer interactions. It's usually got more functionality.
So it will have things like an IVR, it will have analytics, it may have skill-based routing, call queueing, that type of thing.
Contact Centre as a Service generally has lower upfront costs so you don't have that expensive hardware and software licence, things like that to think about.
You've generally got things like less overheads to think about in terms of management of the hardware, because that's all done usually by the provider. And it's usually much easier and quicker to install, and get you up and running, than things on an on-prem platform would be.
The integrations into the system are usually pretty easy to do, because it's that cloud-based platform, you don't have to worry about on-premise kind of technology, as it's usually on the cloud solution.
And it allows you to do things like remote work, or remote working, really easily because of the cloud-based nature of the platform.
It usually allows you to innovate more quickly because you can generally add features and functionality much more quickly than you would if you were on-prem. And the last thing I would say is it usually allows you to scale up or down based on your business requirements.
So if you have kind of off-peak periods, or maybe higher periods of business, or call volumes, then you can scale your licences up and down.
For some great information on using technology to empower advisors, read Sabio's eBook: Empowering Advisors with Cloud Solutions
If you are looking for more great video insights from the experts, check out these videos next: