It was a quiet weekend day in the contact centre and life was becoming a bit monotonous.  Abhinit Gogia had a good idea about how to shake things up.
Read on to find out what he did…. 
It was a quiet weekend afternoon in the contact centre.  It was in stark contrast to the noisy centre we have on weekdays.  Kumar was cross-selling at the top of his voice and Kelly apologising to the customers for nothing.  Robin threw a piece of paper at me to draw my attention to the pictures that had just been uploaded to our common folder from the last prize distribution ceremony.
I was looking at the pictures and I suddenly realised that the only time we got off calls while we were in office was when we had our quarterly awards ceremony.
All the rest of the time, we were stuck on our chairs with our headsets on, even if call volumes were low. There was nothing else to do during breaks, either you could go down and smoke or just sit in the pantry and think about the next call.
What about a recreational room to go to for a bit of down time?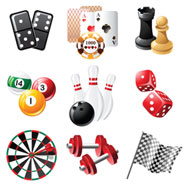 The moment I put this across to the others, I was loaded with suggestions. Someone wanted a dartboard, someone wanted a basket ball, someone wanted to play chess and, to my surprise, a few wanted a punching bag on the floor.
Now, the floor discipline can't be compromised, so I took the idea of a recreational room to our manager. Our kind manager agreed and in fact he set up a budget for it as well.
So now we have a full-fledged recreational room that was previously our locker room.  It is open to everyone in our centre, powered with games, balls, a couch and a punching bag as well with the name tags of our QAs.
The recreational room has been a success so far, with the addition of a music system, with which comes lounge music that helps relax and refresh. I have found people playing games, chit-chatting about sports, and, in fact, the other day I walked in on one of our supervisors using the punching bag. Goodness knows what happened there!
But our recreational room is definitely our RockStar
We are trying to convince our manager to get us a Playstation as well.  I am sure that will be a real hit and people here will love spending time in the office. Of late, our office has turned into a café, where we can find everyone having fun before and after their shifts, even during their breaks.
Recently I confirmed with the WFM team, and, surprisingly, we do have fewer no-shows now, so this recreational room has turned out to be a profitable investment for our company.
And we have more smiles on the floor as well, which eventually transforms into better call quality.
WORKATAINMENT has helped the voice of our company sound better these days!
Abhinit Gogia is a Senior Customer Service Representative working for a bank in the UAE.