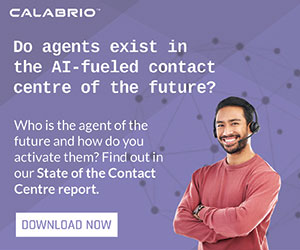 Magnus Geverts shows how to build flexible contact centre teams and meet customer needs using the latest workforce management solutions.
Just over a month into UK lockdown and three-quarters of those who can are now safely working from home at kitchen tables or in makeshift offices, according to Call Centre Helper.
For contact centres facing a deluge of calls in the wake of COVID-19, the challenges are immense.
Days without structure are unsettling for even the most confident self-starters, and without the camaraderie of colleagues, agents soon risk feeling overwhelmed and isolated.
The additional pressures of looking after children while schools are closed or caring for vulnerable relatives combine to make working from a home a real challenge.
However, there are opportunities.  With commute time cut to zero, instead of rushing to catch a train, fighting for a parking space or navigating traffic jams and roadworks, employees can be 'at their desk' the moment they fire up their laptops.
As a result, skilled workforce management practices have never been more important to keep customers and staff happy.
With this in mind, here are five essential rules of homeworking that are important to consider right now.
1. Overcome the Fear of Homeworking Once and for All
If your company still harbours suspicions around homeworking, change the mindset!
When it comes to contact centres, cloud-based WFM technology is accessible at any time and from anywhere, providing the ideal solution for companies looking to support their homeworkers and maintain 'business as usual'.
There's also the added bonus of drastically reducing the high costs associated with running traditional office space.
 2. Introduce Emergency WFM Plans
When disaster strikes, forecasts and previous staffing plans are thrown out of the window.
Now is the time to shake up scheduling, adding a couple of WFM tricks to really protect agents when handling overwhelming call volumes at home.
Be creative with scheduling. Why not consider micro-shifts? These are great for homeworking – no more midday hump or overlap with day/night shifts to contend with!
Remember to build in extra time for agents to tend to family or other domestic issues and add a higher shrinkage to forecasts to compensate for larger numbers of technical issues as agents transition to homeworking.
Then, introduce a health emergency scenario to allow agents to submit absence requests without validation.
3. Flex up to the Future
Take advantage of powerful "What-If" scenario planning to model the impact of emergency situations like COVID-19 on future contact volumes and allocate the right resources quickly and efficiently.
Without an efficient forecasting and scheduling model, particularly during this period of remote working, the contact centre will fall foul of longer wait times, abandoned calls and service level targets not being met.
Organizations should also pay attention to other factors such as how Average Handling Time (AHT) varies between homeworkers and those in the contact centre, to improve staffing calculations.
4. Make Agent Emotional Health a Top Priority
Emotional stresses caused by the loneliness of social distancing and increased or fluctuating call volumes soon add up, making strong employee engagement essential.
Good communication is critical to counteract strong feelings of isolation and uncertainty.  Replace face-to-face huddles with virtual FaceTime meetings and insert new coaching sessions into 'commuter' time to keep agents motivated.
Then introduce "webisodes" to issue regular COVID-19 updates, communicate best practices, highlight key employees or spotlight new outbound campaigns.
Don't forget gamification so that agents can continue to earn badges and rewards based on performance.
However, during the pandemic, focus on team rather than individual performance to promote collaboration and an enhanced sense of inclusivity and connection.
Remember to show empathy by removing the stigma of kids, dogs and doorbells in the background. When things get back to normal, your agents will thank you for it with renewed commitment and loyalty.
5. Maximize WFM Tech Capabilities
Use tools such as automation and dynamic scheduling to help agents manage their time and schedules as new domestic situations arise during the day.
Add self-scheduling to the mix so that agents can move their own lunches and breaks.
All approved requests are automatically added to agent schedules, empowering agents and reducing the need for manual changes by team leaders or administrators.
When these strange times are over, homeworking might well be the new and accepted way or operation for everyone.
Therefore, now is the perfect opportunity to make the most of your WFM skills to protect staff, release the full potential of your contact centre and increase customer satisfaction.
For more information from Calabrio, visit www.calabrio.com