Here are some tried and tested icebreaker activities to help get your inductions for new employees off to a great start.
Corporate Induction Games
These induction games for new employees are great activities for induction ice breakers.
1. Play the 'two truths, one lie' game to get the conversation moving
I usually do the classic 'two truths, one lie' game, where the agents are asked to tell two truths and one lie about themselves. It is then up to the rest of the group to figure out which is which.
This opens up the discussion and also means I can find out interesting things about the group quickly.
With thanks to Sean
2. Ask why they are pleased that they are joining the company
I find a fun induction activities is to start by asking new recruits a question that is relevant to why they are in the room right now.
For example, "If you had to give just one reason why you're glad to be joining this company, what would it be?"
With thanks to Simon
3. Ask your new recruits to draw a 'mundane superhero'
One silly way to help your new recruits relax and get to know each other is to ask them to draw themselves as a 'mundane superhero'.
These drawings should reflect a mundane skill that the individual happens to be exceptionally good at, such as hoovering the stairs or making cottage pie.
After around 5 minutes, get everyone to hold up the pictures of their 'Hoover Man' or 'Cottage Pie Girl' superheroes and explain their mundane skill to the group.
With thanks to one of Call Centre Helper's readers
4. Ask agents to give a brief presentation about bad customer service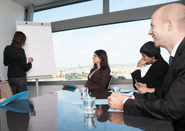 Divide your new agents into smaller teams and ask them to voice an idea by means of a simple chart or presentation.
Simple but effective ideas include 'outline your expectations of this job role' and 'illustrate a bad example of customer service'.
With thanks to Akhilesh
5. New recruits should tell each other 3 things about themselves
Ask your new recruits to talk to as many of their new colleagues as possible in 5 minutes, while telling each person they meet 3 things about themselves.
For example, their best holiday, favourite music and someone they would most like to meet.
This creates a lot of noise and energy in the room, as people start learning small nuggets about each other.
With thanks to Kevin
6. Ask everyone to answer 'what's new in the world?'
At the beginning of each induction, I ask everyone to individually answer 'what's new in the world?'.
This isn't work related, but it does get everyone engaged in thinking about innovation, change and endless possibilities.
With thanks to Nicole
7. Make everyone laugh by sharing bad jokes
We always start by asking our new agents to share a joke, even if it is shamefully bad (like Christmas cracker jokes).
We've found that if an agent gets everyone laughing at their joke, it really helps to get the conversation going.
With thanks to one of Call Centre Helper's readers
8. Play the 'same but different' game
One of my favourite icebreakers is the 'same but different' game.
In groups of four, get people to find out something that they all have in common and something that is unique.
It opens up the conversation and gets people to share information about themselves that they wouldn't normally think of.
With thanks to Cameron
9. Take your new recruits on a guided tour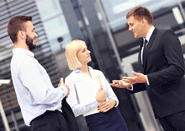 At our contact centre, trainers take the new recruits on a tour of company's facilities and departments as soon as they arrive. This is can be a good example of great icebreaker events.
They also introduce them to different managers and team leaders, and show them some video clips of company activities, before starting the formal training.
With thanks to Taj
10. Keep mixing everyone up until they've all spoken to each other
Divide your new recruits into small groups and encourage them to talk about everything from politics and new technologies to hobbies and holidays.
After a few minutes, mix up the groups so they get a chance to introduce themselves to even more of their new colleagues.
Keep this up until everyone has had a chance to talk to everyone else!
With thanks to Babatunde
What icebreaker activities do you do in your contact centre?