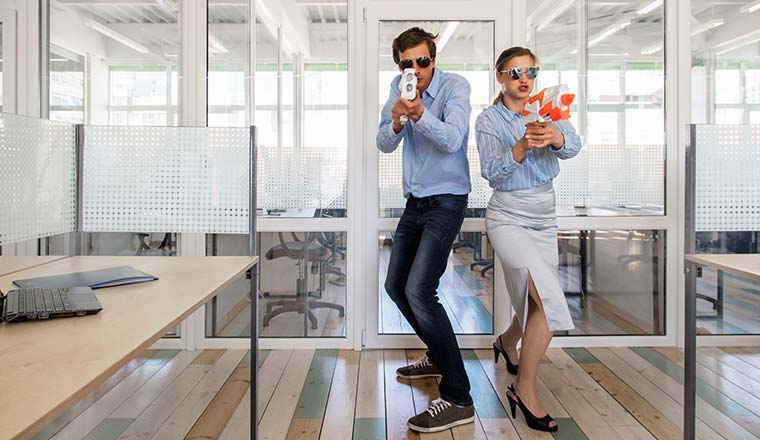 © demphoto - Adobe Stock - 217647983
A great contact centre culture often includes fun, motivational games to engage employees.
Without having this all important element of fun, it's easy for the advisor role to become a little monotonous.
With this in mind, we first discuss the importance of contact centre gamification, share some best practises for using call games, before highlighting six of out favourite fun activities for employees.
Why Is Playing Games In Your Contact Centre a Good Idea?
Always remember that call centre games are decidedly cultural, so how and what you gamify must be in keeping with the overall culture of your organisation.
Making your contact centre environment a fun place to work in will reduce turnover, which decreases cost for hiring and training.
Games can help your agents to enjoy their job a little more. Making your contact centre environment a fun place to work in will reduce turnover, which decreases cost for hiring and training.
But, putting those benefits to one side, for the moment, let's look at what we should be gamifying.
Simply put, you use games to challenge and reward agents for good performance based on the contact centre KPIs of your choosing.
Those KPIs are of course dependent on your contact centre, but here's a couple of examples:
1. In a sales-oriented call centre, your KPIs may be # of sales achieved, # of contracts signed, a revenue threshold, or who made the first (10th, 100th) sale for the day.
2. In a service centre, you'd be look at rewarding First Contact Resolution rates, Customer Satisfaction scores or the first agent for the day / week / month to receive a flawless survey score.
Now, let take a quick look at choosing the right game for you.
Below are six examples of contact centre games for you and your team to choose from, remembering that this is not only your choice to make.
Why?
Well, according to Annette Miesbach, a Senior Product Marketing Manager at NICE inContact, "get buy-in from your advisors, supervisors and managers to generate enthusiasm and make this activity a success." 
"Be open for other suggestions from your team and make sure what you do reflects your contact centre culture."
Our 6 Fun Call Centre Games
Here are six examples of contact centre games, starting with three truly innovative examples, before we introduce three more commercial games.
1. LUDO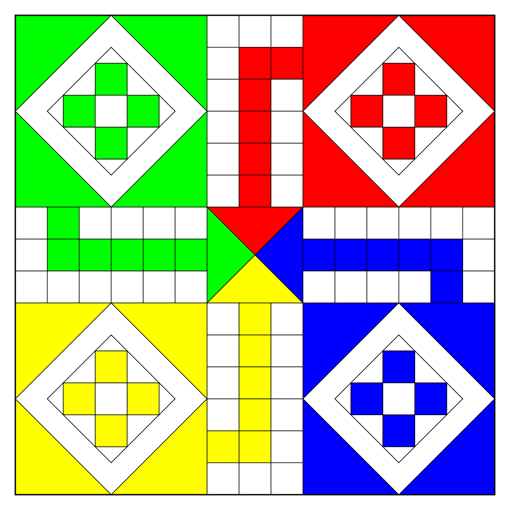 LUDO is a game that Lawrence Lavell, from LSL Property Services, said that their sales agents loved and were always asking for.
LUDO is a simple board game.  If an agent books an appointment they get one roll, if they close off business they get two rolls and if they hit the daily target they can get another two rolls of the dice.
The agents work in teams and the first team to get to the end wins a bigger prize.  This can be something like a £10 Marks and Spencer voucher.
"The thing I love about games is that it promotes healthy competition, which can be transferred onto the phone lines." Lawrence Lavell, LSL Property Services.
2. Space Race
Space Race is a quality-based game, where people get to move forward based on their quality scores.
The game consists of a large roll of paper that is hung from the ceiling to the floor.
There are 7 different levels that move from the Earth through the Stratosphere and up to the Moon.  The exact levels are Launch Pad, Troposphere, Stratosphere, Mesosphere, Thermosphere, Space and the Moon.
The game is played out over a period of 7–8 weeks.  Every week that an agent passes their QA they get to advance one square towards the Moon.  If they fail their QA, they drop back two squares.  If an agent fails a mandatory part of their QA , they drop back to Earth and have to start again.
When a player gets to the Moon they win a reward.
You can adapt the game in a number of ways, for example, with multipliers for the team with the most improved QA score.  You could also have interim prizes for hitting different squares along the way.
3. Virtual Stock Market
Kevin Phoenix recently did a game based on a virtual stock market, where the prices fluctuated based on the demand for stock from other agents.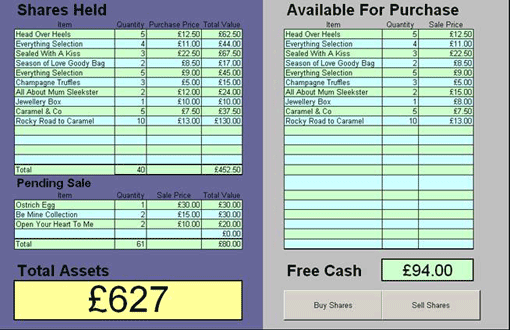 "We based our stock on the products we sell. In a sense it was a stockmarket game, but it was also a market game.  Agents were given credits, which they could spend on products, which they then had to sell, in order to earn more credits. There were only a limited number of each product, though, so if it was a really easy product to sell, people snapped up the stock/shares then sold them back on the market for a profit," explained Kevin.
People didn't have turns, the game was constantly live.  They could buy and sell whenever they wanted, if they had 30 seconds between calls they might check to see what was out there. If they purchased shares in a product they couldn't shift they might put it back on at a lower price to free up some credits that they could then invest elsewhere.
The game ran for a month. It took a week for everyone to get into it, which can be an issue with some of the more interesting games.
"We did it to try something a bit more engaging that would involve tactical play. I think it worked quite well, and most agents seemed to have fun," explained Kevin.
4. Personality Poker
Personality Poker is a commercial card game that is used to help give personality-based feedback to team leaders.  It has to be done with an established group, it won't work on a new one.  One of our readers, Graham Jones, has found it to be highly effective.
All the team leaders sit round a table and are dealt 9 cards each, except for one, who has 10.
The cards say something like, 'humorous', 'thoughtful', 'diligent'.  The words are generally all positive.
Each team leader has three cards face up in front of them saying 'more like this', 'like this' and 'less like this'.
The person who has 10 cards then puts one of their cards against one of the 3 mentioned above to another team leader, saying 'you should be more like this'.
The idea is that each team leader should end up with 9 cards that they feel best describe them in their hand, and in front of them will be how others see them.  They then have the opportunity to discuss it.
"This way they are self-constructive to each other.  This can lead to a wider discussion or it can be used at the next 1-2-1 session," said Graham.
This game would probably not work with call centre agents who may not know each other too well.  It may also be a problem where people don't like others, so it may be hard to accept the feedback.
Personality Poker costs £65.00 and is available from the Hogrefe.
5. Battleships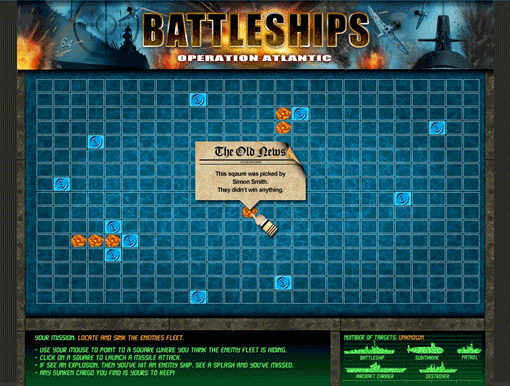 Battleships is an online version of the classic game.
Battleships is all about spending reward points to find hidden ships.  If a game player finds a ship they will be given a randomly selected prize from those entered by the game administrators. Once a ship has been found, other game players can try to add points and pick up additional prizes from the same ship, as long as they can work out which way the ship is lying.
What triggers a 'go' is down to the game administrators.  They can choose what metrics reward points are given for.  It might be for making a sale.  Bonus points may be awarded for up-selling, the choice is completely down to the administrators. Once enough reward points have been accumulated, a game user can then take a turn.
Players win a prize by revealing a square where a ship is hidden.  If the game administrators allow, they can also win a prize for gaining a certain position in the overall points leaderboard at the end of the game.
6. Track Racing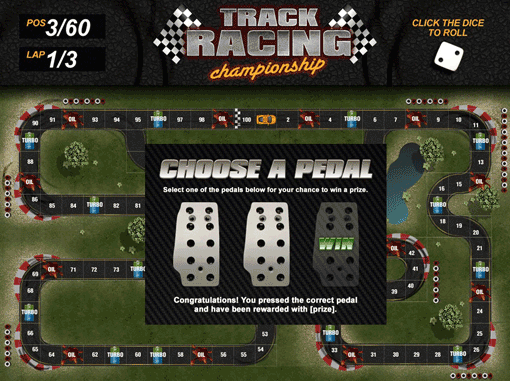 This is in many ways a little like an updated version of snakes and ladders.
The aim of the game is to move around the board as fast as you can.  Along the way you may hit the turbo squares and be given a useful boost.  You'll also be given the opportunity to win spot prizes as you go along.  Be careful, though, as you may hit an oil patch and spin back a few squares.
After a game user has collected enough points to take a go, they can roll the dice and their car will move around the board.  At the end of each go a game user will be given a chance to win a spot prize by car pedal fruit machine.  If they pick the correct pedal they will win a prize. The eventual winner will be the game user who has travelled the furthest when the game deadline has been reached.
There are several ways you can win.  Firstly, you can win spot prizes as you go around by picking the correct pedal in the pedal fruit machine.  You can win the overall game by travelling the furthest around the track. If the game administrators decide, you can also win a prize for gaining a certain position in the overall points leaderboard at the end of the game.
Gareth Whitehead, Corporate Account Manager at Sytner, said about the game "The staff loved it, it was simple to administrate and I constantly get asked about when we are going to be doing the next incentive."
For a template of a snakes and ladders game to play instead, follow the link: Snakes and Ladders Call Centre Game Template
2 Bonus Contact Centre Games
While these games have all been proven to boost employee engagement and help to build a positive culture, they each require a fair amount of preparation.
With this in mind, Annette Miesbach recommends the following two more straight-forward games to play in your contact centre.
7. "Pass the…"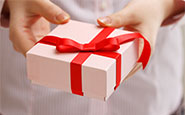 In this game, all you need is an item to act as your trophy (could be anything: a stuffed toy, a trophy, a piece of merchandise – whatever can take the place of the three dots).
The gist of the game is to devise targets based on contact centre KPIs that are important in your environment.
The advisor that first reaches the target will receive the trophy – to pass it on to the winner of the next challenge, based on another KPI (or a better score for the existing challenge, that's up to you).
At the end of the day, the advisor who holds the trophy gets a reward, making it a nice game to use as part of your strategy for incentivising advisors.
8. Noughts and Crosses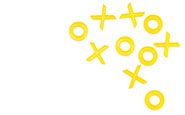 Teams are pitched against each other, and whichever advisor in a team achieves a KPI challenge has the chance to make their team's next move. The team that wins the majority of rounds you want to play wins the game.
The beauty of this game is it helps to spark friendly competition in between two teams and this premise can be applied to other games.
For example, you could have a makeshift contact centre basketball hoop, where the advisor gets to take a shot every time they hit the target. The team with the most "hoops" at the end of the day wins!
For even more ideas, read our article: Motivational Games for Call Centres
Technology-Supported Gamification
While all the games that we have suggested so far have been "low-tech", there are a number of contact centres that bring in technology to support their "game-playing". This technology is usually part of a larger solution called Performance Management.
The main goal for any Performance Management solution is to inspire advisors to improve their performance and encourage them to align with your customer experience goals.
These solutions will allow advisors to have access to real-time data views as well as their personalised challenges and achievements in personalised dashboard views on their desktop.
These solutions will allow advisors to have access to real-time data views as well as their personalised challenges and achievements in personalised dashboard views on their desktop.
You could also have a larger dashboard positioned in the contact centre location and often share within a team or even the whole organisation.
Advisors can collect points for achieving challenges that they can then use to redeem for a reward. This can be anything from time off, over company merchandise to financial compensation.
This is according to Annette, who adds: "Technology-supported gamification can be very sophisticated, including intricate point systems where advisors can collect points for achieving challenges that they can then use to redeem for a reward. This can be anything from time off, over company merchandise to financial compensation."
"Using gamification in this way often has the highest appeal for younger advisors that have grown up in today's online-centric environment and are used to online activities and social interactions." 
Just remember that the underlying goal of these games is the same regardless of whether they are played with "pen and paper" or electronically.
Usually agents or teams are challenged based on contact centre metrics such as achieving a certain CSat level, handling a defined number of contacts, achieving sales numbers, etc. The difference is really whether the activity happens online, or not.
In Summary
Playing games in the contact centre, like eight presented in the article, can help to boost advisor morale, which will likely improve customer conversations and reduce attrition.
However, you want don't really want to tell advisors to "play this game and have fun", ensure that you have their buy-in and let them choose which games they want to play.
Perhaps they can choose from those presented in this article or maybe you can encourage them to come up with their own, as long as the focus remains on improving performance.
One final way to do this through gamification is to install specialist technology, which is another fun, results-focused option.
For more on the topic of gamifying our contact centre, read our articles: 
---