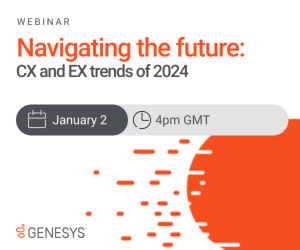 Richard McCrossan shares his tips on implementing a successful web chat policy.
1. Always promote web chat: But be careful not to deflect the customer. It's important to understand that some queries are more complex and therefore less suitable for web chat – so make sure the phone is still available as a communication channel.
2. Personalise chat: No one likes talking to a robot. A personalised customer experience encourages engagement and trust among your customer base, encouraging customers to use web chat again.
3. Always be professional: While the nature of web chat means that a less formal language style can be used, it is important that advisors 'chat' in a professional manner. Bad grammar and spelling reflects very badly on an organisation.
4. Call the customer directly if you can't solve the query: Advisors can't always deliver First Contact Resolution (FCR) via web chat, so it must be easy to seamlessly move the conversation from web chat to a phone call.
5. Have visible knowledge pages: Having more prominent knowledge pages and Frequently Asked Questions (FAQs) on your home page will encourage customers to use self-service and can reduce the volume of phone calls coming in.
6. Use timed pop-ups: Avoid targeting customers as soon as they enter the page, as it causes interruption and frustration. Targeted pop-ups that analyse customer behaviour and pop up at the precise moment of need are more effective.
7. Always have someone there to answer: It's annoying enough waiting on hold on the telephone, so don't make them wait for chat too! If all of your agents are busy, add a capability to grey out the 'chat now' button, instead of inviting customers into a long and frustrating queue.
8. Respond immediately: Web chat queries tend to be less complex, so these queries can and need to be dealt with much more quickly and easily than email.
9. Use short paragraphs: Unlike a phone call, where people stay on the line, when using web chat people have a habit of drifting off mid chat. Use short snappy responses to keep the customer's attention.
10. Decide on a maximum-chat-sessions-per-agent policy: You should have a maximum of three simultaneous chat sessions per agent. Any more and the agent won't be able to deliver a great customer experience!
11. Make it simple and easy to use: If you make web chat too complicated for the customer, there is no point in having it. Complex verifications and instructions will only frustrate the customer further.
12. Don't make customers repeatedly confirm information: If the customer has already logged in to the website, the customer is already authenticated – don't make them repeat information they've already confirmed.
13. Be aware of generational differences: Web chat is typically more popular with the younger generation – so be aware of generational differences. Some customers may not be as used to chat as others, so don't deflect those customers who don't want to use it.
14. Select the right advisors for the job: Not all phone-based service advisors are comfortable handling web chat. Assess the suitability of advisors to handle contacts and provide additional skills training as required.
With thanks to Richard McCrossan, Strategic Business Director for Digital Channels at Genesys.