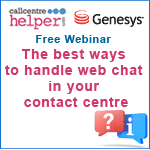 Web chat is exploding in the contact centre. It is the fastest-growing channel, outstripping social media by quite a margin. Our panel looked at the best ways to use web chat in the contact centre.
Agenda
Introductions – Jonty Pearce, Call Centre Helper
The Best Ways To Handle Web Chat in The Contact Centre – Carolyn Blunt, Real Results
Reducing Customer Effort with Web Chat – Richard McCrossan, Genesys
Click here to view the video in Richard McCrossan's slides.
Winning Tip – "To reduce the Web Chat handling time use short, quick responses not exceeding more than a line or two. Send your message at each full stop." Well done Paul!
All the tips from the audience have now been turned into an article Top tips for handling web chat in the contact centre
Interactive Q&A – Live questions from the audience
Topics to be discussed
Web chat response times
How many web chats an agent can handle
Web chat etiquette – formal vs informal, punctuation and grammar
Training employees for web chat
Real-life examples of web chat
Blending web chats with emails and social media
Quality scoring of web chats
Web chat technology
Original Webinar date: December 2013
---