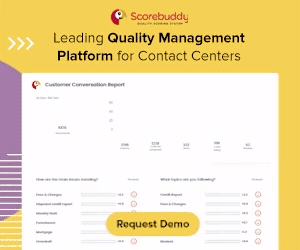 Our panel explain the strategies and technologies you can introduce to better capture the voice of the customer and front-line employees.
1. Send out 30-second surveys to your team on a regular basis
Ask Team Leaders to send out 30-second surveys to their team on a regular basis.
Marketing departments love surveys, so consider involving them in the creation of the survey. This will help to ensure that the agents will be asked the right questions.
You can then share the findings with the other departments outside of the call centre floor. The results can be shown at the weekly meeting and any issues that pop up can be dealt with without too much delay.
With thanks to Brian Griffin at Scorebuddy
2. Daily buzz sessions capture potential problems early on
Try holding daily buzz sessions to capture thoughts around the previous day's performance.
Take a moment to ask what was different today, as this can flag potential problems early on.
3. Incentivise your front line to share customer feedback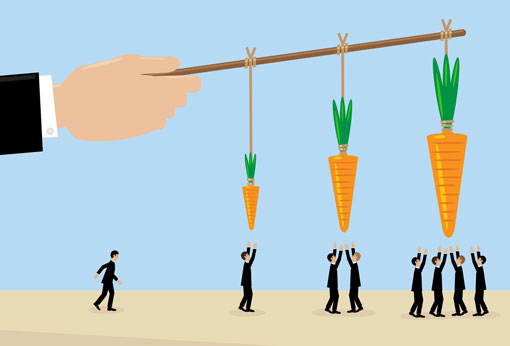 If you want your agents to take the time to listen to your customers and work together to drive improvement, customer satisfaction must be a core incentive measure for everybody in the business.
If you want people to share their ideas, then your scheme must encourage collaboration not competition.
4. Use actors to imitate agent behaviour and help them think like a customer
I know of a contact centre that once used actors to observe their front-line staff and then play back what they typically saw. By doing this they encouraged people to think like a customer.
This has helped them to engage with their customers in a different way and identify opportunities for improvement.
5. Host agent focus groups to discuss what is frustrating customers
Agent focus groups should be regular and time bound – and give agents the opportunity to discuss common call types, what frustrates customers and provide input into possible solutions.
You could also train your front line in continuous improvement techniques and have regular sessions without manager involvement about customers' problems and to recommend solutions.
These meetings can be chaired by a single member of the senior management team, or the ideas can be presented in a "Dragon's Den" approach to the leadership team.
You should also make sure you follow up on any suggestions so agents don't think they are wasting their time.
With thanks to Chris Rainsforth at The Forum
6. Provide free text fields for every question in your surveys
Always provide free text fields for every question in your employee surveys.
This will provide you with a much fuller picture of issues, as well as giving you feedback on things you haven't thought of asking; you don't know what you don't know.
7. Regularly measure the top 10 negative drivers of First Contact Resolution (FCR)
Measure the top 10 negative drivers of FCR every month and make the list visible.
This results in a double win:
Your root cause team gets fresh feedback on what the company is struggling to solve for the customers right now and agents' recommendations on how to fix this.
Agents see that the key things frustrating them are visible and that someone is doing something about it.
With thanks to Mats Rennstam at Bright UK
8. Quality monitoring teams can feedback on your agents' behalf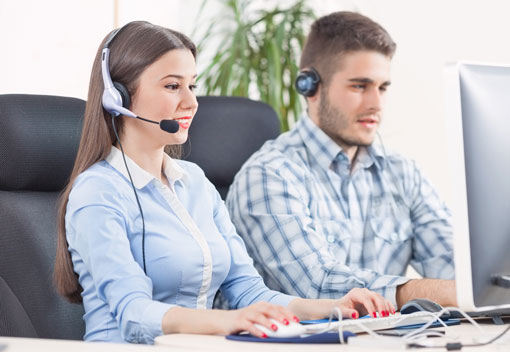 Agents don't always have time to reflect on what the customer said or was trying to say and pass on this valuable feedback to management.
Yet the quality monitoring teams are in a prime position to listen to, capture and report on customer feedback – alongside evaluating agent performance.
Why not ask your quality monitoring teams to feedback on your agents' behalf?
They can create a separate customer experience evaluation form that focuses only on the customer perception and experiences. If this is too time consuming, a customer feedback section or comment box could be added within the existing agent evaluation form.
9. Customer feedback reports
Customer feedback reports can be generated on a monthly basis and distributed to different areas of the business – from contact centre management, marketing and customer experience departments.
Using existing quality monitoring processes (random call monitoring) to locate feedback can be a hit and miss due to the randomness of the process.
Audio analytics can locate feedback that can improve the quality of the feedback obtained and quantity can easily be increased. With word search queries analysts can easily locate specific customer feedback relating to particular products and services.
With thanks to Brent Bischoff at Business Systems
10. Combine Voice of the Contact Centre (VOCC) with Voice of the Customer (VOC)
Using Voice of the Contact Centre (VOCC) and Voice of the Customer (VOC) together can provide in-depth interpretation and understanding of your customers' needs – and will give those needs real context.
This approach can also help you to find out which departments are causing the issues and how to proactively address improvements.
11. Think of your agents as contact centre consultants
Having the most experienced contact centre consultants (that is, your agents) on tap can accelerate management's understanding of what is happening in your business.
There are many ways in which you can unlock the consultancy potential of your contact centre agents. For example, ask them to complete post-call surveys to gain an understanding of what is going on, or use a speech analytics approach.
The latter has the benefit of listening to your contact centre in fine detail. Identifying what is going on, with tactical solutions, can help to fix broken processes in the customer journey.
With thanks to Valur Svansson at IP Integration
12. Adaptive WFO can help agents deliver an improved customer experience
Agents are in a good position to contribute to contact centre process improvements.
Adaptive workforce optimisation (WFO) focuses on providing a personalised agent experience through a series of analytical iterations.
This can help predict the best approach for each employee when it comes to scheduling, coaching, evaluations, performance and incentives.
This can empower agents to perform at their best, as well as reduce attrition, optimise productivity and deliver a better customer experience.
With thanks to Lauren Maschio at NICE Systems
13. Real-time speech analytics can help agents adjust their approach
Real-time speech analytics (RTSA) can help businesses use data from the customer interaction to improve the delivery of customer service, enhance engagement, drive up loyalty and remain compliant.
Some systems can also measure 'soft evaluators' that can evaluate calls to identify if there is any cross-talking or changes in tone, while gauging the speech ratio balance, call volumes and stress levels.
This data can be examined to see what behaviours align to deliver optimum results. The system can then be calibrated to automatically highlight good and bad behaviour to the agent, enabling them to adjust their approach.
With thanks to Konrad Kunze at Enghouse Interactive
14. Analytics can provide insight to other departments
Interaction analytics can capture the insight buried in every customer interaction and make it available to other business functions – by monitoring, scoring and mining the data from all calls and other customer interactions, such as Tweets and texts.
Fix problems – Analytics allows the contact centre to identify faults and rectify the problem before it becomes a major issue.
Identify sales opportunities – An unexpected increase in calls regarding the availability of a specific product could indicate a new seasonal sales trend.
Improve product scoring – Interaction analytics can give you the opportunity to cross-correlate your data. For example, identifying the reason behind negative sentiment by correlating with feedback on product features.
With thanks to Chris Thomas at CallMiner
What have you tried to capture the voice of your front line?
Put your thoughts in an email to Call Centre Helper.