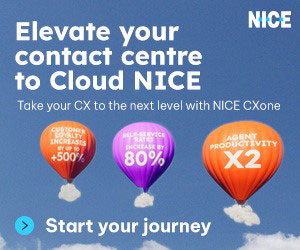 Our panel of experts share their examples of how cloud contact centre technology can improve performance.
1. Allowing Advisors to Work From Home
In modern contact centres, remote advisors have proven exceptionally popular, particularly with the millennial generation who require a certain degree of flexibility in their work–life balance.
Opening up the barriers for remote advisors also offers the contact centre the opportunity to expand its hiring range in terms of location.

Brent Bischoff
Opening up the barriers for remote advisors also offers the contact centre the opportunity to expand its hiring range in terms of location and makes it easier to "draft-in" advisors during unexpected rises in contact volumes.
With a cloud-based contact centre solution, allowing remote advisors is simple and efficient. As these applications are often provided as a service, advisors can simply connect to the platform using a standard internet connection, regardless of geographic location.
2. Reducing Hassle With Less Hardware
With an on-premise solution, the installation and configuration can take up to several months to complete. In the cloud, however, implementations are much faster to deploy.
For example, with a workforce management (WFM) cloud-based implementation, the steps involved are much simpler, requiring only the creation of a new customer account, the loading of data and configuration of the system, which can all be done in a just a few days or weeks rather than months.
Also, with many cloud-based contact centre solutions, there is no upfront investment for hardware or software. The solution can be offered through a monthly subscription user fee which usually includes training, support and maintenance as well as upgrades and new releases of features.
In terms of new features being released and cloud platform upgrades, rather than relying on the IT department to implement the upgrade, upgrades are available to all customers immediately.
Thanks to Brent Bischoff at Business Systems
3. Unifying Fractured Communication Channels
With so many methods of communication at consumers' fingertips – be it voice, video, social media, phone or email – employees are now facing an explosion of disjointed inbound information in addition to their own internal communications channels, such as Slack or Skype.
These various channels lead to disjointed service and a system that is difficult and clunky for staff to use, resulting in substandard customer service and a sub-par working experience.
Unifying fragmented communications channels and contact centre solutions under one roof means different parts of the business are no longer siloed.

Lisa Clark
Unifying fragmented communications channels and contact centre solutions under one roof means different parts of the business are no longer siloed. Instead, there's a steady flow of customer information between departments, resulting in improved cross-collaboration and united staff.
Not only do staff benefit from having all customer information in one place, but customers benefit from dealing with advisors who can deliver outstanding service, every time.
4. Cloud-Based Intelligent Call Routing
One of the main frustrations for customers is being passed between multiple advisors to have their query answered. AI-enabled cloud-based contact centre technology is helping advisors to be more focused and respond to calls quicker.
With intelligent call routing, the caller can automatically be identified along with their reason for calling, and they can be connected by AI directly to the right expert to resolve their call at the first outreach.
Also, AI can automatically show detailed information on previous interactions and a complete customer history while the caller is on the line, so advisors can handle their query quickly and efficiently.
Thanks to Lisa Clark at 8×8
5. Avoiding Scheduled Maintenance Downtime
Customer expectations for response and resolution times keep increasing, with 66% of millennial consumers expecting real-time resolution rather than waiting for answers, according to Pew Research Center. This has elevated the need for "always on" customer service.
Just like consumers went digital, customer service and engagement systems have gone cloud. However, when you look for your next cloud contact centre customer service solution, watch out for the crippling catch—the dreaded "scheduled maintenance" downtime, where vendors curtail or suspend service once a month or even once a week.
Demand always-on availability with no more than one annual scheduled maintenance and that all updates, enhancements and patches across the cloud stack – infrastructure, platform, and application – are performed as needed (planned or ad hoc), without service curtailment or disruption.
Thanks to Anand Subramaniam at eGain
6. Measuring Performance
Cloud-based solutions make it easier to accurately measure various metrics – from customers' preferred channels to employee performance.
Having this visibility and insight enables informed decision making and an ability to compare your business performance on a monthly or yearly basis and see how operations are impacting your business over time.
It also makes it easier to manage and engage your workforce, review advisor performance and workload, as well as identify where employees might need support.
Thanks to Dana Averbouch at NICE
7. Speeding up the Implementation of New Technology
As an operations lead, you are dealing with rapid changes. Maybe you are adding new seats, load balancing during peaks, managing disasters, setting up a work-from-home model. Cloud contact centre apps make it possible to get these done in hours rather than days in premises world.
Also, the cloud empowers you to instantly make changes to routing or IVR scripts without having to wait for IT. Onboarding and training advisors becomes much easier and faster with more intuitive cloud apps.
Today's cloud contact centre apps have an intuitive and integrated desktop for your advisors. With prebuilt CRM integration, advisors get fingertip access to all customer information. It helps them focus on resolving issues faster rather than spending time looking for information across multiple cobbled-up applications in the premises world.
Cloud contact centre turn-ups are extremely fast; days compared to months in premises. With open APIs it gets easier for the contact centre to be integrated with other apps. IT no longer worries about keeping the lights on; they build innovative apps much faster with an open, extensible platform.
Agility is a true winning formula for every contact centre – you transform speed to savings, revenue, and great customer experience.
Thanks to Gayathri Krishnamurthy at NICE inContact
8. Managing Data
The result of today's omnichannel climate is an enormous amount of data that companies can use to improve their business, advisor performance and customer experience.
The real power of the data lies in the predictive capabilities it provides. And many companies would like a solution that can help them tap into that data and analyse customer history and behaviour to deliver highly responsive, predictive, fully contextual and efficient service. This is the only way for brands to deliver the kind of hyper-personalised experience customers will increasingly demand.
The best way to process, in real-time, the vast and ever-growing data resulting from omnichannel interactions is through the cloud.

Shahzad Ahmad
The best way to process, in real-time, the vast and ever-growing data resulting from omnichannel interactions is through the cloud.
Businesses using on-premises contact centre solutions will be hard pressed to process all of that data. That's a primary reason more and more businesses are electing to move to a cloud contact centre solution.
9. Improving Disaster Recovery
With cloud solutions typically available across the globe and within multiple data centres, distributed deployment provides the ultimate in geographic fault tolerance and disaster recovery.
There is no need to worry about updates/upgrades. Instant bug fixing occurs without any downtime. New features and functionality can also be added at an incredible rate with little to no downtime.
A real cloud solution should be built with microservices which are stateless, independently load-balanced and deployed in multiple data centres/regions around the globe with a flawless business continuity approach. A failure in one microservice should have no impact on the others and be capable of scaling.
So, when one tenant needs to send a million transactions, the associated microservice can scale up to meet demand without impact on other functionality or tenants. There is also no need for time-consuming and expensive capacity planning.
10. Integrating Pre-Built Applications
Imagine your business breaks into new markets very rapidly. How will you cope with a flood of enquiries from overseas, or the requirements of setting up a new contact centre in a new territory? Any successful company may soon have customer service provision in many diverse regions of the globe.
So, to meet your new business needs, it is good to make use of pre-built applications, which can be easily integrated into the cloud.
Many businesses don't have the resources to hire an army of developers and engineers, but with true cloud solutions – those built with a stateless, multi-tenant architecture – new functionality can be added in days or weeks instead of months and years.
There is no need to install new hardware or software and the technology will provide instant access to a knowledge base and a set of tools that make it easy and quick for employees to learn about the technology, through text, voice and videos that explain every aspect of the solution.
Thanks to Shahzad Ahmad at Genesys
11. Enhancing Scalability and Flexibility
With on-premise traditional deployment models companies have to scale up to support peak requirements.  This often leaves paid-for capacity lying idle during the rest of the year.
Simply put, the cost centre is static at the highest cost point whilst the profit varies throughout the year.  Cloud-based technology and Software-as-a-Service (SaaS) pricing models can change all of that.
The ability to add advisors across centralised or distributed locations can make the difference between success and failure to respond to customer demand.
An advantage of cloud-based technology is the ability to scale up or down without the need for capital investment or additional hardware or software.
The system is continuously kept up to date with new releases which are automatically applied, leading to fewer disruptions in terms of downtime, while internal IT teams work on upgrades.  This represents a way to reduce costs and avoid the dreaded "our systems are down today" conversation with customers.
Thanks to Colin Hay at Puzzel
12. Boosting Advisor Experience
Bringing user-friendly technology into the contact centre improves an advisor's experience and allows them to provide a personalised and fast service on any channel. It also improves visibility in the contact centre and enables advisors to make changes almost instantly and adapt to situations.
In addition, the cloud enables contact centres to support homeworking, providing additional mobility that adapts to employees' lifestyles and supports retention.
There are also gamification applications that are available in the cloud, which can be used to drive up employee engagement.
As well as this, there has been a huge uptake in providing advisors with cloud collaboration tools that allow them to collaborate with other members of the contact centre team, acting as a driver of productivity as well as improving retention.
Thanks to Sunny Dhami at RingCentral
13. Ensuring Business Continuity
Cloud technology in the contact centre helps ensure continuity in three main ways. First, good cloud solutions deliver a high level of disaster recovery integrally, meaning clients should not require significant additional cover. For clients with existing on-site customer premises equipment, cloud solutions can also provide reserve back-up disaster-recovery protection.
Second, cloud contact centres enable advisors to connect to the technology platform and necessary applications from anywhere that has internet access. Companies can therefore continue to service the client base – even in an outage – reducing the impact of what could otherwise have been a disastrous situation, resulting in dropped calls, negative customer experiences and lost revenue.
Third, cloud-based solutions are ideally suited to supporting homeworkers, allowing businesses to benefit from a pool of advisors dispersed across a geographic territory or region that can 'ramp up' quickly in the event of one or more facilities going down.
14. Offering a Spin-Up Capability at Times of Peak Demand
Cloud contact centres offer customers genuine added value when there is a burst in demand.
The key benefit is the ability to add extra head count quickly and easily.

Jeremy Payne
Whenever there is a spike in inbound customer interactions – in the lead-up to Christmas, for example – when people phone for information about a product or delivery details, or in January when they query credit card transactions or look to arrange returns, that is when cloud contact centres really come into their own.
The key benefit is the ability to add extra head count quickly and easily, either from another office facility or alternatively by bringing homeworkers online to meet the latest burst in demand.
15. Achieving Better Budgeting
Making use of cloud solutions helps businesses to move their financial burden from CAPEX to OPEX.
OPEX budgeting is generally a more financially attractive option for businesses buying new software applications as it helps eliminate the need for significant capital expenditure.
The enhanced budgeting that this provides helps to facilitate better planning and staffing decisions, as well as freeing up in-house IT from contact centre operations.
It is an increasingly strong selling point of cloud contact centres that their OPEX model helps streamline cashflow for the business and provides instant relief from extensive capital expense budget requests.
16. Trialling New Markets
Using cloud contact centre functionality is a great way for businesses to trial new product or geographical markets without investing huge sums in infrastructure to provide backing to speculative ventures that are not certain to be successful.
By allowing organisations to quickly spin up resource and scale it down again just as quickly, they can cost effectively support an entrepreneurial push into new territories.
Thanks to Jeremy Payne at Enghouse Interactive
For more from our panel of experts, read our articles: