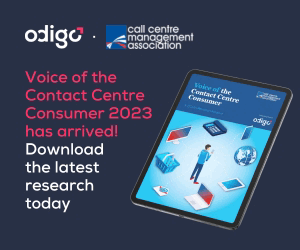 Ian Williams provides a process for creating a customer journey map.
Which type of Customer Journey Map?
There are three potential scopes that can be considered when designing a customer journey map. One is to look at the existing journey and ask how it can be improved. We refer to this as Baseline Plus. Another is to simply start with "a clean slate" and not to consider the existing customer journey, referred to as 'Clean Sheet'.
However, the third and most popular option, according to a recent Call Centre Helper webinar poll, is to map both the existing and ideal journeys and then try to close the gaps between the two. We refer to this as 'Baseline to Future State'.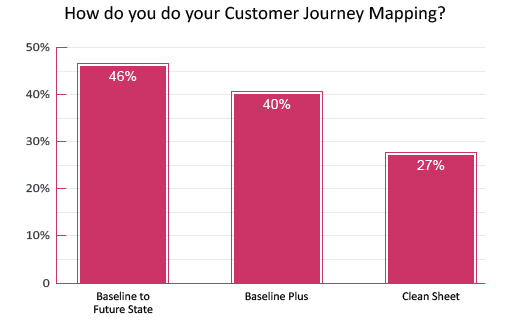 Using this third and most popular approach, here are five steps that can be followed to design a customer journey and then utilise it to drive transformational change.
Step One: Establish a Journey Framework
A journey framework provides the structure on which all journey mapping, insight and transformation activities will be built.
A Journey Map is Different From a Process Map
To establish a journey framework, we first must recognise that a journey map is different from a process map; and it needs to be written from an outside perspective looking in. So, everything is written in the words of the customer.
For example, you should record stages such as "I'm joining" and "I'm using" and then break down each of those stages into a number of smaller steps as well.
By doing this, you will have a list of customer experiences, such as the example below, which was created in the airline sector.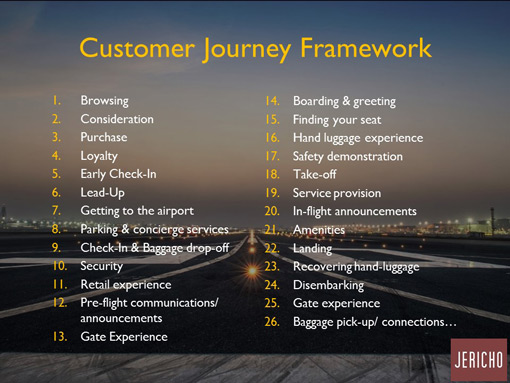 This framework highlights how the customer experience is more detailed than the process, but also provides the underlying structure for executing Steps two to five.
Develop Segments and Personas
Not every customer's journey is the same. For example, different customers will have a different preferred method of communication, which needs to be considered when designing their journey map.
So, you must segment your customers into groups and establish a journey framework for each one.
However, segmentation has now developed, with many organisations evolving their segments into personas, taking both the functional and emotional expectations of customers into consideration.
You can find out more about persona development in Call Centre Helper's article: 6 Ideas About Customer Journey Mapping.
Step Two: Understand the Existing Customer Journey
There are three different approaches that you can take to understand the existing customer journey, which are:
1. Mystery Shopping
Following the framework structure, "mystery shopping" can be undertaken, where a person is able to take an outside-in perspective of the business by walking in the footsteps of the customer, experiencing first-hand what the customer experiences.
For more information, read our article on "How to Implement a Mystery Shopping Program".
2. Business Diagnostics
Business diagnostics has two elements. You can 'walk the process', which is an end-to-end expert analysis of the internal processes of the organisation that mirror and support the journey of the customer. This inside-out approach mirrors the mystery shopping activity.
Then, you can also analyse any existing data that your company has stored, to gain an accurate understanding of the customer's current experience. By doing so, you may be able to identify areas of failure demand (spending time fixing customer issues) and value demand (spending time doing what you should be doing for the customer).
3. Voice of the Customer
In instances where mystery shopping and business diagnostics are felt not to have provided a complete enough picture, VoC (Voice of the Customer research) can be undertaken in support. VoC is undertaken in four stages, as presented below:
Stage 1: Gathering
Using a range of different activities, such as focus groups, this process aims to collect as many functional and emotional expectations that customers have of your business as possible.
You would use the journey framework devised in Step One to provide structure to this exercise. In doing so, you can highlight the functional and emotional expectations of the customer at each of those different points in the journey.
A good activity to use to gather customer expectations is named "Chief Executive for the day", which you can discover more about in our article: "Really Understand Why Your Customers Are Contacting You".
Stage 2: Filtering
This involves prioritising the expectations that you gathered in Stage 1, so that you can determine the most relevant customer expectations. This can be done through sticky note grouping and conjoint analysis.
Below is a group of 25 prioritised customer expectations, which came from research by Jericho, that were filtered from over 200 customer expectations initially gathered from in Stage 1 of the process.
| | |
| --- | --- |
| 1 | My call are always connected and any conversations are always clear |
| 2 | They advertise their offers and messages regularly and clearly |
| 3 | They design innovative products and services that makes my life easier |
| 4 | They design innovative products and services that makes my life easier |
| 5 | They are friendly, caring an respectful to all, irrespective of ethnicity |
| 6 | They treat me as a VIP |
| 7 | They care for my community and for people with special needs |
| 8 | They make it easy for me to stay in contact with my friends & family |
| 9 | They seek my opinion |
| 10 | Their staff are are capable and take ownership of my query and resolve it quickly |
| 11 | Their offers are genuine and provide me with great value for money |
| 12 | My safety, security and privacy are important to them |
| 13 | Their stores are easily accessible and always avaiable |
| 14 | They offer flexible contracts and subscriptions to meet my changing needs |
| 15 | It is an international company that takes care of me inside and outside of Kuwait |
| 16 | Their internet service is always fast & reliable |
| 17 | They delight and reward me as a valued customer |
| 18 | They make it easy for me to pay and provide me with credit options if I need them |
| 19 | They keep me updated about relevant information ising the language and medium of my choice |
| 20 | They have a wide range of attractive offers that suit my needs |
| 21 | They are always transparent and honest |
| 22 | I can do everything onlinne that I can do in a branch or call center |
| 23 | They give me great service and value for money when abroad |
| 24 | It's easy to communicate and deal with this company |
| 25 | I trust them and they trust me |
When you start to map these expectations, you will realise that some of them are applicable to specific touchpoints in the journey, whilst others are specific to the entire relationship.
For example, Speedy Payment is relevant to the "I'm joining" touchpoint, whereas Trust is applicable to the entire journey. So, expectations must be overlaid, either at touchpoint or at a relationship level.
Stage 3: Substantiating
After you have filtered your expectations into a comprehensible number, you can begin to substantiate them. This can be done by using a C-SAT style survey, and by including other metrics such as Net Promoter Score or Customer Effort.
Using surveys and metrics, you will gather data that will enable you to discover how you are currently performing against customer expectations. So, you can find out how far off you are from meeting customer expectations at each touchpoint of the journey.
This data is essential in terms of developing an empirically driven current-state journey map, as seen in Stage 4.
Stage 4: Analysing
Analysis of the data collected in Stage 3 against the journey framework then allows you to plot customer experience curves, similar to the example below.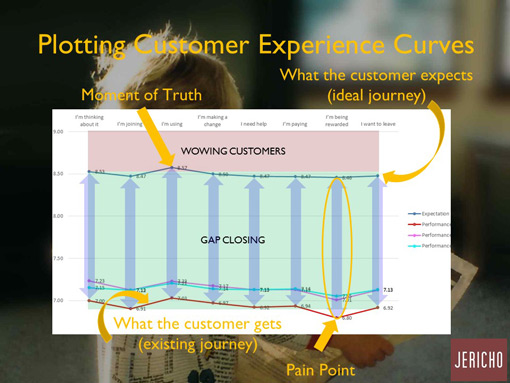 The bottom line of the graph represents the performance of the business, so this is what the customer currently gets, and the top line symbolises the ideal journey, i.e. what the customer ideally expects.
This enables you to identify the gaps between current performance and ideal performance across all the various touchpoints across the journey. By doing this empirical exercise, you can identify pain points, which is either the lowest/worst point of delivery or the biggest gap between delivery and expectation.
Also, you can visualise moments of truth, which is where customer expectations are at their highest. So this scientifically identifies where the pain points and moments of truth exist for your business.
These features allow you to notify specific stages of the customer journey that need to be improved, so you can close the gap between the existing journey and the ideal journey in terms of customer expectations.
You can also plot a customer experience curve through customer journey analytics. To find out more, read our article: What Is Customer Journey Analytics and How Can It Benefit Your Organization?
Step Three: Promises and Commitments
It is important, when you are redesigning your customer experience, to make sure that you develop promises and commitments. This is so you can reposition your brand to indicate how you have made an effort to replicate the ideal customer journey.
Customer experience can be viewed most simply as being the gap between what customers expect and what they perceive they get.
What customers perceive that they get is delivered by the product, the service and the channel experience. What they expect comes from previous experiences, but it also comes from marketing and branding activity.
So, when you seek to change your product, service or channel, you should consequently change your marketing and branding messaging, to reflect that alteration.
Below is an example of a customer promises and commitments statement.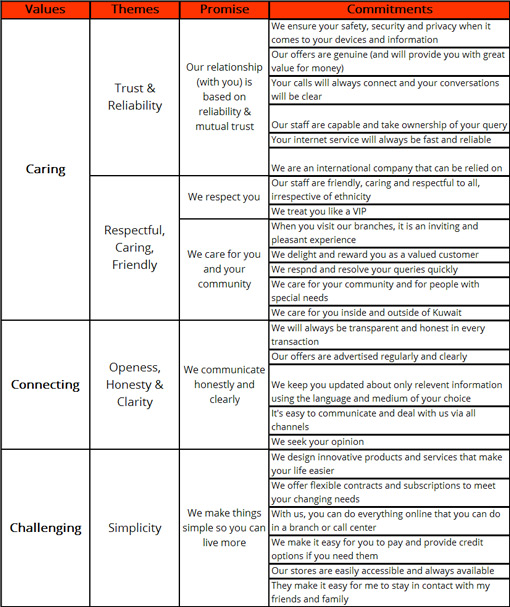 These customer promises and commitments are then used in two ways.
1. When transforming a product, service or channel experience, you can do it in the context of your promises and commitments. So, if customers are telling you that'trust' is extremely important, when you design changes to products, services and channel experiences, you should make sure that trust is embedded in all new propositions.
2. When repositioning the brand, your communications also need to reflect those customer promises and commitments. So as long as you have embedded the promises and commitments into your new propositions, there should be no gap between what you are promising and what you are delivering.
Step Four: Designing the Future Customer Journey
Customer journey maps are often designed on PowerPoint or InDesign, which are useful in helping you to understand what the future journey will look like pictorially. However, behind all of this, you need to find a way of capturing all the detail behind the graphic.
For example, an Excel spreadsheet is also helpful, as you can include lots of narrative about the journey, providing you with a detailed understanding as to what the future customer experience needs to be like.
Fundamentally, what we are doing is a story-telling exercise, because this is not just about the functional side of the customer journey, it is about the emotional side of it as well. Both sides should be reflected within the narrative and detail.
Consequently, it would be better to create an Excel spreadsheet first and then create a visual representation from it.
Step Five: Transformation
To close the gaps between existing and ideal journey, the organisation needs to identify a number of relevant initiatives which can be implemented as a phased approach over a number of years. More complex initiatives, for example IT systems implementations, can sometime take this long to realise. In more recent years, however, agile development is accelerating this activity.
So, you will enter a phase of business transformation, which may include re-engineering your business processes but also transforming your product, service and channel propositions.
So, as long as the development of these propositions has been contextualised by your customer promises, and the business's brand also reflects these commitments, there should be no gap between what the business promises and what it actually delivers.
Conclusion
Following the five steps above will enable you to understand the current customer journey and the customer's expected journey, so you can minimise the gaps in between the two, at varying touchpoints along the customer journey.
This can be done through changes to your brand's promises and commitments or relevant incentives that will drive transformational change.
Have you done anything differently when you deigned a customer journey map? Or would you perhaps add something else to the process?
Please leave your thoughts
Thanks to Ian Williams from Jericho for his help in creating this article.