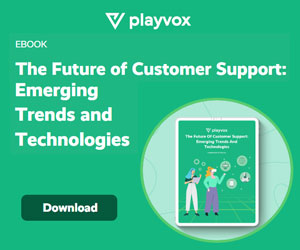 Boost your customer loyalty by increasing your agents' emotional intelligence.
Building an emotional connection with customers through email is a tricky one, as there are not many elements within the message to create a bond.
Here are some key suggestions in order to build rapport:
1. Match the customer's writing style
Identify whether the correspondent has used long or short sentences, and try to mirror this in the response.
Do they write formally or informally? Again, recognise their style of writing and be flexible to mimic their style.
2. Match the customer's paragraph length
According to Bart Zych, the key to building rapport is to mirror the correspondent.
The way to do this is to look at how they have shaped their email, and respond to them in a similar way. For example, if they are using long paragraphs, email back with long paragraphs.
Long paragraphs indicate that the customer wants detail, therefore be sure to give them this.
3. Use positive language
Language affects the emotional state of your customer, so it is best to keep it positive. Try using positive affirmations where appropriate.
For example, "I am glad to hear this good news from you!"
For a handy list of words and phrases we have compiled a useful article –  The Top 25 positive words and phrases.
4. Check spelling!
Be extra careful not to have any spelling mistakes or grammatical errors. Poor spelling or grammar is one of the quickest ways to irritate a customer. Most browsers now have a spell-checking feature. If not, then simply have someone monitor the quality of the email.
It is very easy to adopt a "text speak" approach to email, but it is not a good idea. Email should be kept fairly formal so it is important to avoid abbreviations. You should also make sure that all sentences are properly capitalised and end with full stops.
5. Be personal, write with emotion and empathy
People respond better to positive language and messages that sound personal. When you treat people a certain way, they tend to want to treat you the same way.
Demonstrate that you are interested in their wellbeing. Know and appreciate your customer's needs. This will show that you value your client, building an emotional relationship.
It is important to avoid using responses that have been scripted. To build an emotional connection the email should be individual to the correspondent and include their name to deal with their matter personally.
Try to engage with the customer. For example, if the email received states the customer will be away for a week on holiday, ask them if they are going anywhere nice. This will help to build up that emotional connection.
6. Mirror the greeting and signature
In most cases the greeting should be mirrored in the response. For example, if the email received starts with "Hi John", then respond using a similar informal greeting. If the opening is "Dear Sir", then reply with a more formal salutation.
The signature of an email should try to mirror the person you are corresponding with, but also be unique to you.
So for example if they use "Best Regards" you should also use the "Best Regards".
The greeting and signature are good ways to bring up the energy level of the email.
7. Keep commitments
If you say that you will email somebody on a certain date, make sure you do. Don't make promises that you might not be able to keep.
This way a relationship of trust can be built and the customer will therefore be more likely to email back for your help in the future.
Following these steps will help to build an emotional connection with a customer and make the experience more pleasant for both the client and yourself.
How have you been able to build rapport by email?
Leave your tips
Devon Lunn is a regular contributor to Call Centre Helper.