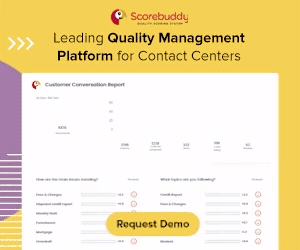 It is impossible to emphasize the importance of call centres to the consumer experience. The call centre is often the first point of contact for customers who have questions or issues about a product or service.
But, on the other hand, how do call centres ensure service quality and identify areas for improvement? All of your queries about call centre quality assurance guidelines are answered in this post.
What Is Call Centre Quality Assurance?
Call centre quality assurance is the continuous process of monitoring and analyzing the interactions of support agents with customers.
To ensure that their teams develop and meet each customer's expectations, leaders score these encounters against quality criteria.
A robust quality assurance procedure should assist the organization in avoiding mistakes and continuing to improve quality standards.
The fitting process can help managers make informed decisions about training, recruitment, staffing, and other internal processes.
The call centre quality assurance guidelines seek to standardize workplace operations and enhance productivity.
A reliable quality assurance system can ensure that call centres work according to company standards.
Although an outstanding client experience is always the goal, businesses will have varied approaches depending on their unique requirements.
As a result, call centre quality assurance guidelines should align with a business's objectives.
What Are the Effects of Call Centre Quality Assurance on the Businesses?
Many customers are more concerned with the quality of the service than with the product quality.
Even if you have a high-quality product, consumers may abandon your brand due to poor service, and you may never get them back.
That is why collaborating with a call centre that provides excellent customer service is critical to your company's reputation and growth.
Maintaining a positive customer relationship results in a positive reputation and long-term loyalty.
Customer service representatives (CSRs) can strengthen bonds between your firm and its customers by following call centre quality assurance guidelines and norms.
They ensure that the company remains competitive and progresses in the right direction by striving for exemplary conduct and performance.
What Are the Most Important Call Centre Quality Assurance Guidelines in Business?
This section offers you 9 of the most essential call centre quality assurance guidelines for managers to ensure measurable excellence.
1. Define the State of Your Organization
Companies should evaluate what customers think about their call centre interactions and how they compare to similar-sized competitors when deciding where to start.
Customers should be allowed to rate their customer service experience by completing a short survey at the end of the interaction.
It is up to each company to decide whether to employ the monetary incentive survey. This allows businesses to access client feedback easily without extensive phone monitoring.
External benchmarking could also be considered to evaluate how their agent performance compares to other call centres.
A third-party quality assurance expert who can remain neutral and objective is sometimes the best choice for outside benchmarking.
It would help if you had a clear image of what you want your customer service to look like before evaluating your call centre interactions.
Some businesses strive to give excellent service to all users across all platforms, while others concentrate on particular consumers or channels.
A call centre is not a "one-size-fits-all" solution. Instead, the company's support plan should align with its vision and objectives.
So, when you create a conversation review process for your call centre, start by defining the state of your organization.
2. Train the Customer Service Agents
Having the right people on the team is crucial to call centre success. Managers who are great at coaching and frontline agents motivated to learn and grow for their careers and the firm are examples of this.
The agent training process should also be thorough, with real-life examples of good and bad encounters.
You should emphasize high-yield behaviors, net promoter score technique, and the same result in decreased average handling time in the training course. Regular coaching or feedback sessions should further reinforce these behaviors.
Involve agents in decisions such as goal setting or scorecard development. Customer support employees are more engaged in a quality assurance system they helped develop.
Consider allowing agents to choose their calls to be reviewed by QA. It removes the uncomfortable aspect of reviewing and can make call selection more efficient.
3. Have an Accountable Person in Charge of QA
QA managers and assessors have their work cut out, with so many agents to monitor and workflow processes to lead.
To get the most out of their workforce, choose someone with experience in call centre quality assurance guidelines.
You can help with performance management by monitoring calls, setting up follow-up coaching sessions, or providing side-by-side coaching to evaluate an agent's performance in real-time. You cannot, however, do everything.
Ensure you have the right tools that allow the accountable person to see how agents handle a live call and read call transcriptions on your own time.
4. Improve and Measure
You can use a call centre quality assurance solution with hundreds of metrics to measure the metrics. It is tempting to measure something because it's possible, but it's not always practical.
Instead, organizations should concentrate on improving business processes and customer service based on information obtained from customer feedback and external benchmarking to improve call centre quality assurance.
They should select relevant KPIs, set reasonable, dynamic goals, and work towards them using the insights provided by the quality assurance tool.
Ensure documentation clearly outlines and explains what is expected for each call type.
It gives the customer service agents a clear direction of expectations and lends transparency and objectivity to call scoring.
5. Monitor All Customer Support Channels
Any quality assurance solution should include monitoring. It is easy to go overboard with on-call monitoring and become so engrossed in listening that the monitoring point is lost, much like the data that a quality assurance solution can potentially gather.
However, the difference between muddled monitoring and clear, actionable insights can lie in just a couple of critical points.
Be sure to have call centre quality assurance guidelines for customer service agents operating on these channels.
If your quality assurance system has a blind spot for digital client interactions, you should address it to assure high-quality customer service on all fronts.
If you provide omnichannel customer service, you most likely have agents specializing in social media, phone support, live chat, etc. A quality assurance procedure is required for all of them.
Customers have their expectations, and the experience differs between channels, so the quality assurance metrics are different.
You can get a bird's-eye view of the issue by carefully monitoring all help channels. For example, you can give agent coaching sessions if the quality of service is inconsistent across channels.
6. Evaluate the Process Consistently
Make time to evaluate your team. It might sound obvious, but you would be surprised at how many call centre managers do not do this. The employees deserve to know how they perform, and the boss wants to know.
Calibration sessions allow you to see if the evaluators use the same criteria when scoring interactions. For example, call centres should calibrate at least one call every week and more frequently when a new assessment form is introduced.
Reviewing as many encounters as possible is also essential to gain a solid picture of call centre effectiveness.
Because even the same agent can perform at various levels on different days, continuous measuring is the only method to make a fair and accurate assessment.
You can monitor conversations in various ways, from simply listening to completely automated systems.
Supervisors use random sample monitoring to evaluate an arbitrary selection of calls or interactions in some call centres.
This method may highlight areas for improvement, but it does not tell the contact centre's overall state.
7. Use In-House and Third-Party QA
Having your own internal quality assurance team can help you save money while increasing agent buy-in, especially if the team has a demonstrated fair and trustworthy record of accomplishment.
At no additional expense to your call centre, an in-house quality assurance staff can update or re-calibrate specific KPIs. However, consulting a third-party quality assurance expert is also necessary.
An outside consultant can give you unbiased, reliable, and standardized data on the functioning of your call centre.
In addition, quality assurance consultants possess specialized training and knowledge that you may not be able to match by using an in-house team solely.
8. Make Reviews Systematic
Remember that consistency is the key to success while conducting conversation reviews at your call centre.
It would help if you approached it well-organized to acquire a picture of how your phone support functions and track it over time.
While a single sentence or even a few seconds in a ten-minute talk could cause an issue on a call, it is only fair to agents that a call is evaluated after it has listened to the entire conversation.
Taking bits and pieces out of context to serve as examples of misbehavior will erode trust.
Before going through the team's recordings, plan how to use the gathered information.
Conversation reviews do not just help you pinpoint your agents' mistakes; it is an opportunity to help the customer service team grow through feedback.
Creating a structured method for agents to express their dissatisfaction with an evaluation and acquire a second opinion from another person offers two significant advantages:
Knowing the agent has a mechanism to make their views known and that action will be made can reduce conflict during the review process.
Offering agents a sense of strength in the face of a solution that could otherwise be viewed as an opponent.
9. Motivate Customer Service Agents by Rewards
When agents perform well, you should always acknowledge and thank them. Using gamification to create challenges and activities for a fun method to attain essential goals is another technique to build agent engagement and loyalty.
Determining which quality criteria are essential and where your team needs to improve is a fantastic technique for proactively guiding and motivating agents to improve performance.
Assign points or scores to agents based on their performance. To proactively guide and push them to perform better, weigh the quality criteria you deem most important with more points.
There are some robust business solutions, and call centre quality assurance is in this category. By focusing on the data collected and analyzing the monitored calls, and handling customer support employees, companies will be well on their way to better quality assurance in their call centres.
For more information about Scorebuddy - visit the
Scorebuddy Website