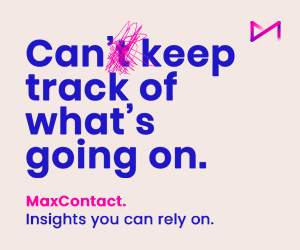 Customer complaints are an expected part of the job when it comes to contact centres. But if you want to reduce complaints and improve the customer experience, you have to be proactive in your approach.
We sat down with CX+EX Coach & Expert Natalie Calvert and MaxContact Product Owner Sean McIver to get their takes on how to reduce complaints and set up winning systems to improve the customer experience.
To hear Sean and Natalie's top strategies, tune in to the full webinar or keep reading.
Why You Need to Know Your Customer Journey
The very first thing businesses should do when handling complaints is to prioritise the customer experience. By putting the customer front and centre of everything, you're naturally going to understand their frustrations and where the bottlenecks in your business are.
The common challenge Sean highlights is that while many businesses talk about the importance of customer experience, many don't know what that journey looks like. That's why companies should proactively test out their customer journeys, whether that's signing up for a new service or making a complaint.
When was the last time you tried to call in or communicate via email as a customer would? By taking some time out to do this, you can understand what the customer experiences and find the snags in the process.
What Businesses Can Do to Reduce Complaints
Customer complaints are becoming much more commonplace. Customers are more vocal and have higher expectations today.
So what can we do about rising complaints?
Natalie says first, you need to create a strategic review of your company. Strategic reviews can help you gain a good picture of what's going on in your business.
You can see what's causing the issues by looking at your processes, volumes, customer types, and key triggers. This will help you understand what's really going on so you can get the whole thing moving towards a resolution.
You can also look at the training quality of your staff. Most staff are trained not in how to deal with complaints, but in how to follow the standards that the company wants to deliver – which are two very different things.
Another thing you can do is calculate the cost versus the value of a complaint. What does it cost you to deal with complaints, and what is the value you get back when you do or don't deal with a complaint?
It's also important to look at this from both a customer experience (CX) and an employee experience (EX) angle as well. Dealing with angry customers all day can take a toll, so it's important that frontline staff get the support they need. By ignoring the EX side of things, you could have issues with high staff turnover and absences.
"Utilising early feedback is a way to identify issues in the customer journey, engage with staff members, and ensure you're catching things nice and early" – Sean McIver, Product Owner, MaxContact
Modelling Your Complaints Procedures on Other Companies
Customer service and handling complaints can vastly differ from company to company. But spend some time thinking of the companies that give great customer experiences and resolve complaints quickly and efficiently.
Does your complaints procedure follow suit? Or does it look more like a company that doesn't return phone calls or has an inconsistent service?
Natalie gives two examples of companies that manage their complaints efficiently – Amazon and Apple. They deliver a consistent, organised experience on a mass scale.
While you may not be able to replicate Amazon's customer service resources, you can take ideas from them and adapt them for your own strategy.
Why Staff Are at the Heart of the Customer Experience
At the heart of your complaints strategy is the staff who deliver the communication and resolutions to customers.
Natalie says that over 60% of complaints are around staff attitude and behaviour. So, it's not just about building a clear customer journey and process. It's also about how the staff themselves deliver that experience.
We need staff to be fully trained in not just the process, but also how to deliver what the customer wants and expects.
Natalie says that contact centre staff need to learn and understand three things:
When customers get the trust and transparency they need, the staff member becomes the customer's hero. Think about how you can become a customer hero.
We should aim for a win-win scenario – so that the resolution is good for both the customer and the organisation.
We have to be trusted advisors. How can staff build their knowledge, resilience, and skills to become that trusted advisor?
How to Get to the Root Cause of Complaints
"We can learn to love complaints through root cause analysis, customer value, and stakeholder management, along with staff training and active listening" – Natalie Calvert, CX+EX Coach & Expert
To understand the root cause, you need to look at those early feedback loops – something that Sean believes is often missed.
The frontline members of staff who talk to customers on a daily basis are a resource that can be utilised. They know which issues are cropping up the most and how they directly affect customers. By utilising this resource, you can find root causes for issues and resolve them before they turn into more complaints.
Another plus side for this is that it ensures frontline staff don't have to deal with the same issues over and over again, because this can make them become robotic. Once you become robotic in your customer interactions, it's harder to display empathy and truly engage with customers, which affects their experience overall.
If you wait until the later stages when those issues have built up over time, it can be too late. You're then fire-fighting problems instead of preventing them, which costs time, money and effort.
So it's important to have a system that helps your team raise early red flags.
Natalie believes this all starts with having a complaints culture in the boardroom. By being proactive and positive about complaints, the entire team can work together to find solutions.
You can do this in three ways:
1. Design the conversation by deep diving into what practices work best and replicating them.
2. Empower your staff to make decisions and resolve complaints without passing them on to other departments.
3. Create good stakeholder management (both internal and external) to keep everyone informed and involved.
Six Strategies for Reducing Complaints and Improving the Customer Experience
1. Staff Training
Once you have proper staff training, you can eradicate a lot of complaints that come through. There are lots of different types of complaints that require different competency levels to handle.
Make sure your staff get the right training and are empowered to tackle those different types of complaints.
2. Active Listening
Active listening is about using empathy to get to the root of the problem and show the customer that you truly understand.
If you actively listen, you can engage with the reasons behind the complaint and be empathetic and transparent about any shortfalls or mistakes in the process.
3. Complaints Culture in Leadership
By building a complaints culture, you ensure that complaints aren't just a number. You can be proactive and look at root causes, staff training, and active listening to boost your understanding of the problems and provide better resolutions for the customer.
4. Proactivity
Don't assume customers know the next steps in the process. Tell them and clearly outline what will come next after they make a complaint.
This can completely transform the customer's experience, especially when you follow up later to check if the complaint has been resolved.
5. Continuous Improvement
Like most things in customer service, building a strategy for complaints is not a one-and-done thing. You should continually look to improve your methodology by looking at data, feedback, quality control, and strategic reviews to reduce complaints.
6. Accessibility
Avoiding complaints from customers just leaves issues unresolved. So ensure that it's easy and quick for customers to make complaints because you're much more likely to resolve that issue quickly and effectively.
Poor processes often mean that the method of making the complaint becomes another problem for the customer.
And this just results in more wasted time and frustration for everyone. Check your own process for making complaints and tweak it to make it as simple as possible.
Complaints might not be anyone's favourite thing to spend time on, but they are an ongoing part of contact centre work.
By being proactive, strategizing, and really taking the time to understand customers and support staff, it's a win-win for everyone involved. For more on this, be sure to watch the full webinar session.
This blog post has been re-published by kind permission of MaxContact – View the
Original Article
For more information about MaxContact - visit the
MaxContact Website