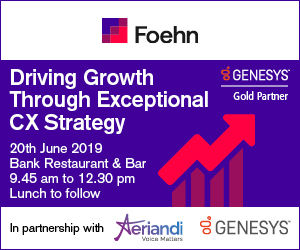 About the Event
in Partnership with Genesys
Learn how to drive growth through seamless customer journeys and exceptional CX strategy
This exclusive event brings together leaders in contact centre technology, market insight and system deployment, giving you the answers you need
This event is for directors of customer experience, CXOs, CTOs or senior decision makers involved in digital transformation and cloud contact centre projects
Speakers
Nick Wingrove, Leading the Solutions Consultants, Architects and the Solutions Leads across Europe, Middle East and Africa for Genesys, the team works every day with our customers and partners, to deliver the best customer experience, improve efficiency, and sales revenues. He is just about to complete his 10th year at Genesys. Prior to Genesys he worked at Nortel, IBM, Philips – where he started out in speech recognition technology.
Matthew Bryars is CEO and Co-Founder at Aeriandi. He has been responsible for building the company from a start-up to a well renowned business – running services for some of the world's largest banks and contact centres.
Dan Slater is Customer Relations and Social Media Operation Manager at Kiwi.com. He is currently working on projects to enhance the Customer Experience via different channels to provide instant responses to their customers in need.
Agenda
09:45 am – Reception
09:55 am – Introduction from Rafael Cortes, Head of Marketing, Foehn
10:00 am – 'Driving growth through exceptional CX strategy using AI' Nick Wingrove, VP Solution Consulting, Genesys
10:30 am – 'PCI Compliance and the Contact Centre' Matthew Bryars, CEO and Co-founder at Aeriandi
11:00 am – Break
11:10 am – 'Using your Expert Customer Experience at the right moment' Dan Slater, Customer Relations and Social Media Operation Manager Kiwi.com
11:30 am – Journey to PureCloud: Customer Testimonial: Damian Hall, Head of Customer Service, Vision Direct
11:50 am – Demonstration: PureCloud by Genesys, followed by an Expert Q&A panel
12:30 pm – Lunch
Date and Time
Starting:
Thursday 20th June 2019
Location
Date and Time
Starting:
Thursday 20th June 2019
Location