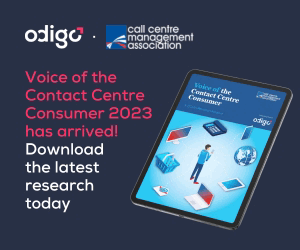 Odigo has announced it has launched an updated version of Odigo for Salesforce on Salesforce AppExchange, empowering customers to connect Odigo to Salesforce Service Cloud Voice product.
Service Cloud Voice brings together phone, digital channels and CRM data in one central view for service agents.
Customers can now connect their preferred phone solutions into Service Cloud Voice with Service Cloud Voice for Partner Telephony, creating a unified agent and digital channel experience to deliver faster, smarter and more personalized service.
Odigo for Salesforce
Odigo has been providing an open computer telephony integration (CTI) with Salesforce for 7 years, with worldwide coverage and advanced features such as callbot, SMS, callback, outbound campaigns, call-and-pay, recording and monitoring, associated with the full range of powerful enterprise-scale tools of Odigo (supervision, analytics, etc.).
The new Service Cloud Voice for Partner Telephony option will enable Odigo to offer a Call Centre as a Service (CCaaS) solution that combines data-driven design and natural language processing (NLP) capabilities with Einstein artificial intelligence (AI) capabilities.
According to Thibaud Pietri, Chief Product Officer at Odigo: "The Odigo team is excited to integrate our proprietary Odigo CCaaS technology with Salesforce.
"The clients we support will be able to get benefits from our continuous innovation, including increased contact centre efficiency, memorable customer journeys and a rewarding agent experience."
"Odigo for Salesforce is a welcome addition to the Service Cloud Voice ecosystem," said Patrick Beyries, VP of Product Management, Service Cloud.
"The expansion of Service Cloud Voice for Partner Telephony enables customers to integrate the telephony experience natively within the agent workspace, combined with CRM data, process and voice intelligence."
For more information about Odigo - visit the
Odigo Website