THE DATE: 28th June 2018
Time: 12pm – 2pm
THE LOCATION: 5th Floor, 60 Trafalgar Square, London, WC2N 5DS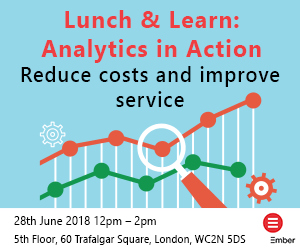 THE DESCRIPTION: Regardless of your position on CX league tables, there is always an opportunity to reduce costs and improve service. Often organisations are able to only focus on one, at the detriment to the other. During this lunch and learn, we will discuss how the insight from your customer data such as telephone conversations, webchats, emails, customer surveys and social media interactions, can be used to achieve both these objectives.
Using case study examples we will discuss strategies for:
Determining demand drivers and opportunities for cost savings
Using data to gain insights into the customer experience
Developing actionable insight to drive improved operational performance
Defining a clear action plan to lower costs and improve the customer experience.
THE ORGANISERS: Ember Services
THE WEBLINK: http://www.embergroup.co.uk/our-events/analytics-in-action/
---