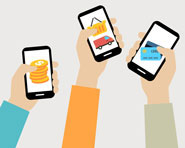 Aspect Software has released its CXP 15 Customer Experience Platform.
The release adds integration with the company's consumer engagement platform Unified IP, and can transfer self-service interactions to live agents when needed. Other enhancements improve the speed and ease of creating intelligent self-service applications – Interactive Voice Response (IVR) and Interactive Text Response (ITR) applications can be designed once and deployed anywhere.
Aspect's CXP Designer also includes a set of tools targeting technical developers, designers, and non-technical staff that allows for direct collaboration between IT, operations, and business on a single platform. It can take a simple, text or message-based "call me" request and route a voice call to any number of unified IP systems. It can then find the best available agent across different contact centres and regions.
The platform also includes new reporting that shows the customer journey across IVR, ACD queues, and agent-based interactions in both Aspect CXP and Unified IP. A series of reports provide insight into customers' reasons for calling, if and how customers achieved their goals, and quantify dropout rates in the IVR and in the queue, from high level statistics down to the analysis of individual interactions.
"Aspect's mission is to design technology that makes it easy for our customers to engage with consumers on text or messaging-based platforms and through both self-service and agent-assisted interaction," said Joe Gagnon, Global GM of Cloud solutions and Chief Customer Strategy Officer at Aspect. "The new easy-to-use Aspect CXP Designer makes it possible for developers or non-developers to design simple, customer-friendly self-service applications for the channels that consumers want to use, such as text, Twitter, messaging apps and IVR."
For more information about Aspect Software, visit their website.
---