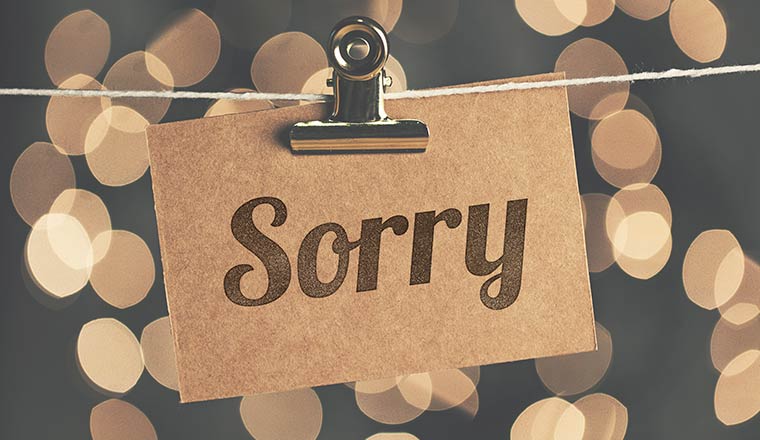 © ink drop -Adobe Stock - 123449191
We take you through the key stages of saying sorry in the contact centre, while offering examples of customer service apology statements and phrases.
Listen to Personalise the Apology
For authenticity, advisors have to be sure what they are apologising to the customer for. This also benefits the advisor, as they can personalise the apology, to increase the sincerity.
The keys to understanding exactly what you are apologising for are listening well and asking the right probing questions. By doing this, the advisor can assess and clarify the situation to ensure that everyone is on the same page, while seeming attentive and genuine.
You can use the TED principle to help set up probing questions. TED stands for the words: Tell, Explain and Describe – which are used before the question an advisor wishes to ask.
Some examples of TED questions that help to set up a sincere apology include:
1. Tell me, has this happened before?
2. Explain to me, what impact has this had on your…?
3. Describe how you felt about that
However, remember to sound empathetic when asking these questions, so you remain respectful – especially before you have offered your apology.
To do this, consider using a phrase such as "Just so I can understand the full extent of the problem, could you…" to lead into your TED questions.
Avoid Assumptions
Effective listening is key to setting up an apology, but many advisors cut corners during this phase and make assumptions based on previous experiences with customers who have had a similar issue.
These assumptions are the enemy of a good apology and often lead to advisors reaching conclusions that are not in the best interest of the individual customer, according to Stuart Harris, a Customer Service Speaker and Coach (thestuartharris.com).
Stuart says: "Advisors often make assumptions about what the customer is talking about, because they have heard it a dozen times before. Sometimes to save the customer's time and sometimes to reduce their Average Handling Time (AHT), the advisor will jump in with what they perceive to be the solution, believing it to be in the customer's best interest. But, generally, it is not."
"In my time as a Training & Quality Assurance Manager, we recognised that most angry and frustrated customers just want to get that feeling off their chest. They want to vent. By jumping straight to the solution and not hearing them out, you're taking that away from them."
"The first step is to let the customer vent, which also will allow you (through listening and probing questions) to find out what the full extent of the problem is, which adds authenticity to your apology."
Say Sorry
An authentic apology requires two key elements; empathy and personalisation.
Empathy
Showing empathy helps to demonstrate a mutual understanding and create trust, meaning that it has an important role to play in an apology.
As Stuart Harris says: "Put yourself in the customer's shoes and understand where that frustration is coming from. Customers just want to feel as though they have been heard. They want to feel as if the person that they are speaking to understands what the problem is and they want someone to apologise genuinely."
Empathy also helps to legitimise the customer's feelings. If they feel appreciated, it makes it much easier to turn around a tricky situation.
For examples of empathetic phrases, read our article: 18 Empathy Statements That Help Improve Customer–Agent Rapport
Personalisation
A general principle of rapport building is to use the language that the customer uses, and this is also a good practice when apologising to a customer – which is why it is important to assess and clarify the customer's issue before offering your apology.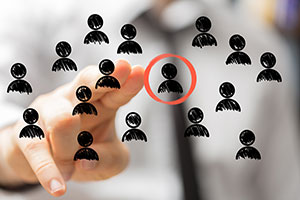 By reflecting back on the customer's issue in your apology and using their language, you demonstrate a mutual understanding and that you have listened to their issue thoroughly.
Stuart calls these snippets of the customer's speech that you repeat back to them "conversational offers" as they add depth to your apology.
Stuart says: "'Conversational offers' are also used to refer to any interesting information that a customer gives to you, which gives you something to fall back on when there is dead air."
What to Say
Here are a few of examples that show how empathy and personalisation can be fused together to form an customer service apology phrase. These can be made customisable to different situations.
4. I'm sorry, I can see how [INSERT PROBLEM] must have been frustrating for you.
5. I'm very sorry, I appreciate how difficult it must have been for you to deal with [INSERT PROBLEM]
6. Thanks for alerting us to [INSERT PROBLEM]. I recognise that this can't have been an easy thing to deal with and I'm so sorry that we have caused you to feel [INSERT EXPRESSED EMOTION]
What Not to Do
There are many mistakes that advisors often make when apologising to customers, which only serve to escalate the problem further.
While the apology statements above will help you to avoid these pitfalls, it's important that you are conscious that you don't do any of the following.
Don't say: "Sorry for ANY inconvenience" / "I'm sorry IF you FEEL THAT WAY"
Using words/phrases like "any", "if" and "feel that way" casts doubt on any feelings that the customer may have expressed previously, taking sentiment away from the apology.
Don't say: "We're sorry"
An apology should use pronouns such as "I" and "you" to indicate to the customer that you are on their side. Using "we", as in the advisor and the company, doesn't transmit to the customer that you are personally interested in them.
Don't use overly formal language
Say "I'm sorry" instead of "I am sorry" and try to use other conjugations instead of individual words. This will help your apology to sound more authentic, as you do not want to sound robotic when saying sorry.
For more advice on offering a great customer service apology, from expert Liz Doig, read our article: "Sorry for the Inconvenience" – How to Offer a Genuine Apology
Provide Reassurance and Create a Sense Immediacy
Once a sincere apology has been made, everything is not automatically "okay". At this time, you have only acknowledged their issue, it is now time to state your future intentions to ensure that your apology seems genuine.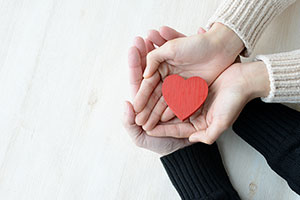 It is important to next remove all uncertainty and indicate that you are striving to resolve their issue and that you are their "personal helper" within the wider organisation. This creates the notion that you are on the customer's side, strengthening rapport.
To reassure the customer of this, it is important to use active verbs to assure the customer that you are already actively working on solving their query. For example say: "I will resolve this for you before Friday" instead of "This will be resolved before next Friday."
Taking all this into account, here are some reassuring statements that also help to provide a sense of immediacy, which will ideally be used alongside your apology.
7. What I'm now doing to help you is [INSERT ACTION]
8. You were absolutely right to bring this to my attention, so I can immediately [INSERT ACTION]
9. As I investigate, I can see that…
While these statement will likely all prove helpful, if you give promises to customers – such as offering time expectations – make sure that they're promises that you can keep. This will help you to avoid aggravating an already disappointed customer.
Take Ownership and Make a Commitment
The incident that led to you having to make an apology may or may not have been intentional. Nevertheless, the customer deserves an explanation of what went wrong. By taking ownership of the situation and making a commitment to the customer, you can begin to rebuild trust.
While we have been using personal pronouns such as "I", "you" and "me" to help imply that we are taking ownership of the issue – making a direct statement of responsibly helps to reinforce your apology.
Gestures of commitment can also be used for this purpose, while helping to comfort customers, as it is made clear to them that their problem is a personal priority of yours.
Statements that establish ownership and offer commitments include:
10. I will try everything I can to get this fixed by the end of the day
11. I will contact you as soon as I have an update
12. I will work to on resolving the problem and I will be in touch shortly, so you can enjoy your (vacation/birthday/holidays etc.)
Taking Responsibility Begins With Giving Your Full Name
There is also a case for saying that ownership should be taken before the apology is made, as part of the initial greeting, in fact.
Advisors should give customers their full name and this subconsciously gives the customer a signal that 'they've given me their name, so they're going to look after me – they're going to take ownership for this'.

Stuart Harris
Stuart Harris says: "Advisors should give customers their full name and this subconsciously gives the customer a signal that 'they've given me their name, so they're going to look after me – they're going to take ownership for this'."
"I coach a technique called 'the double hand-shake' where, after an advisor's greeting, they say: 'In case you missed my name at the start of the call, I'm John Smith (for example) and I'm here to look after you today'. The customer will, in most cases, instinctively say 'Hi John' before continuing with the conversation."
"We all know that using the customer's name is a big rapport builder, but if we can interact with the customer on a first name basis, we are really strengthening that bond – making the apology that comes after much more personal."
For more guidance on how best to open a customer service call, read our article: The Best Customer Service Greeting Phrases – With Examples
Demonstrate Cooperation in Giving a Solution
We've now given our apology, reassured the customer and taken ownership of the call, now it's time to focus on turning the negative situation into a positive and finding the solution.
The focus so far has very much been on using "I" as in the advisor and apologising to "you" as in the customer. But now it's time to bring in the "we" when looking for a solution, according Stuart Harris.
Stuart says: "Go from the 'I to the you to the we', as in what do I need from you, so that we can resolve this problem together. We want to signal that this is a joint-fix instead of it all being 'me, me, me', as this helps to build a much stronger relationship." 
With this in mind, let's take a look at a couple of interesting examples of how to present solutions to customers and turn negatives into positives.
13. This situation is difficult, but one solution that we could try is to [INSERT SOLUTION]
14. Now that I'm aware of the situation, we can look to fix it by [INSERT SOLUTION]
15. If I were in your situation, I would feel the same. What I would try, and I suggest that we do too, is to [INSERT SOLUTION]
As a final tip for giving a solution, remember that this is now where your emphasis should lie, instead of reverting to the problem. This helps to keep the interaction upbeat.
Closing the Apology
Repeat the apology to highlight your regret to the customer that they've had to call in, before summarising your solution and letting them know what happens next.
Summarising your solution is a key step as you can highlight to the customer all that you've accomplished, while next steps are helpful for customers who want to go about planning their busy lives.
Summarising your solution is a key step as you can highlight to the customer all that you've accomplished, while next steps are helpful for customers who want to go about planning their busy lives.
However, while repeating the "sorry" is good in this case, try not to do it too often during the call, as it may decrease the value of your original apology.
Here is some one final statement that you could consider using to "close the apology".
16. I'm sorry that you've had to call in today, but we have managed to [INSERT SOLUTION]. Now we have done that, our next steps are [INSERT NEXT STEPS]
All that is left to do once you have closed the apology is ask the customer if they have any other queries and then to finish off with a courteous call-closing statement.
For examples of courteous call-closing phrases, read our article: The Best Call-Closing Statements
In Summary
Customer service apologies aren't as simple as saying sorry. Apologies need to be personalised so that they avoid sounding rehearsed.
In addition to that, your actions after saying sorry will influence whether or not the customer believes that your apology was authentic.
So, it's important that an advisor follows this six-stage process and feels confident in what to say in each:
Stage one – Listen carefully and respectfully ask probing questions to fully understand what you are apologising for.
Stage two – Personalise and say sorry, referring back to the customer's account and adding empathy.
Stage three – Provide reassurance and a sense of immediacy to ensure the customer that they are in good hands and to highlight that you really meant your apology.
Stage four – Make a commitment and take ownership of the customer's issue to relieve them of "the weight" of their problem.
Stage five – Share the customer's problem and work together to find a solution.
Stage six – Summarise the call after repeating your apology and say what happens next to ensure that everyone is on the same page.
A Quick Cheat Sheet
For a quick run-through of all of the customer service apology phrases presented in this article, take a look at the following table.
Customer Service Apology Statements
When…
Use a Phrase Like…
Tell me, has this happened before?
Listen to Personalise the Apology
Explain to me, what impact has this had on your…?
Describe how you felt about that
I'm sorry, I can see how [INSERT PROBLEM] must have been frustrating for you.
Say Sorry
I'm very sorry, I appreciate how difficult it must have been for you deal with [INSERT PROBLEM]
Thanks for alerting us to [INSERT PROBLEM]. I recognise that this can't have been an easy thing to deal with and I'm so sorry that we have caused you to feel [INSERT EXPRESSED EMOTION]
What I'm now doing to help you is [INSERT ACTION]
Provide Reassurance and Create a Sense Immediacy
You were absolutely right to bring this to my attention, so I can immediately [INSERT ACTION]
As I investigate, I can see that…
I will try everything I can to get this fixed by the end of the day
Take Ownership and Make a Commitment
I will contact you as soon as I have an update
I will work to on resolving the problem and I will be in touch shortly, so you can enjoy your (vacation/birthday/holidays etc.)
This situation is difficult, but one solution that we could try is to [INSERT SOLUTION]
Taking Responsibility Begins With Giving Your Full Name
Now that I'm aware of the situation, we can look to fix it by [INSERT SOLUTION]
If I were in your situation, I would feel the same. What I would try, and I suggest that we do too, is to [INSERT SOLUTION]
Closing the Apology
I'm sorry that you've had to call in today, but we have managed to [INSERT SOLUTION].

Now we have done that, our next steps are [INSERT NEXT STEPS]
For more language tips for your contact centre advisors, read our articles:
---